The academically rigorous Sport Management curriculum combines program-specific courses with professional electives and liberal arts requirements, providing students with the tools to pursue a career – or graduate study – in sport. Coursework covers areas including marketing, management, communications, societal influences and impacts, ethics, event management, and law.
The 124-credit bachelor of science (B.S.) program includes up to 15 elective credits, allowing students to pursue a concentration or minor tailoring their studies according to their professional interests.
For example, to enhance business skills, students can minor in accounting, finance, marketing or management studies. Or, they may sample Syracuse's multitude of courses in communications, law, social sciences, and foreign languages, tailoring a program that meets their interests and needs.
In addition, the required 12-credit Sport Management Senior Capstone experience provides students with the opportunity to gain hands-on experience in the industry before they graduate.
Recent News
SPM team places second in Sabermetrics Competition at Columbia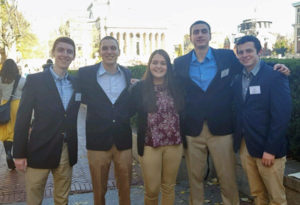 The Syracuse University Baseball Statistics and Sabermetrics Club sent five students to compete in SABR Diamond Dollars Case Competition at Columbia University in late November. The team was given the prompt of finding the three most valuable position players in ... Read more
SPM students win iSchool's MLB Challenge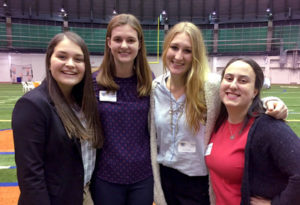 Sport Management students Olivia Lavelle '19, Caitlin Burke '18, Sarah Lundmark '18, and Mallory Miller '17 teamed up to win the 7th Annual iSchool MLB.com College Challenge on November 13. The winners were given 24 hours to tackle real-world problems ... Read more
Assistant professor Patrick Walsh named Sport Marketing Association Research Fellow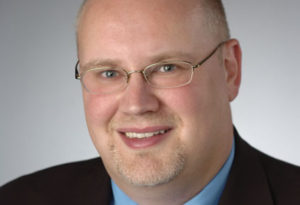 Dr. Patrick Walsh, assistant professor of sport management, has been named a 2016 Research Fellow of the Sport Marketing Association (SMA) for excellence in sport marketing research. Walsh and his fellow honoree, Dr. Stephen Shapiro of Old Dominion University, were ... Read more
McMahon/Ryan Child Advocacy Center named beneficiary of 2016 Charity Sports Auction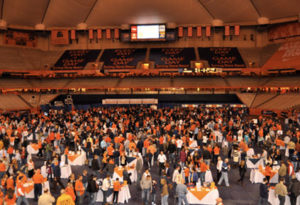 The Sport Management (SPM) Club at Syracuse University announced McMahon/Ryan Child Advocacy Center as the beneficiary of its 12th Annual Charity Sports Auction. Slated for December 10 in the backcourt of the Carrier Dome, silent bidding on hundreds of ... Read more
View all Sport Management News
Upcoming Events