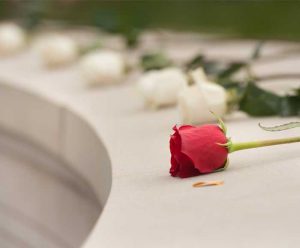 Syracuse University's Remembrance Scholar Selection Committee has chosen the 35 students who will be the 2019-20 Remembrance Scholars.
The scholarships were founded as a tribute to—and means of remembering—the 35 students who were killed in the Dec. 21, 1988, bombing of Pan Am Flight 103 over Lockerbie, Scotland. Those students, who were returning from a semester of study in London and Florence, were among the 270 people who perished in the bombing. The scholarships are funded through an endowment supported by gifts from alumni, friends, parents and corporations.
Significant support for the Remembrance Scholarships has been provided by C. Jean Thompson '66 and Syracuse University Board of Trustees Chairman Emeritus Richard L. Thompson G'67 in memory of Jean Taylor Phelan Terry '43 and John F. Phelan, Jean Thompson's parents; by Syracuse University Board of Trustees Chairman Steven Barnes '82 and Deborah Barnes; and by the Fred L. Emerson Foundation.
Remembrance Scholars are chosen in their junior year through a rigorous, competitive process. Applicants submitted an essay and another response in multimedia, artistic, musical or written format as part of a comprehensive application, and finalists were interviewed by members of the selection committee, composed of University faculty, staff and current Remembrance Scholars. The $5,000 scholarships are awarded on the basis of scholarship, leadership and service to the community.
"This year's Remembrance Scholars are an extraordinary group of Syracuse University's outstanding rising seniors," says Lawrence Mason, Jr., professor of visual communications in the Newhouse School and chair of the Remembrance Scholar Selection Committee. "They demonstrate excellence in scholarship, representing a wide diversity of academic interests, and come to Syracuse University from both local and global locations. As Remembrance Scholars, they are bound together through their lifelong commitment to serving others. We are excited to work with this wonderful group in the coming academic year."
The scholars will be recognized during a convocation in Hendricks Chapel on Friday, Oct. 25.
Additionally, two students from Lockerbie come to Syracuse each year for one year of study through the Syracuse-Lockerbie Scholarships, jointly funded by Syracuse University and the Lockerbie Trust. Brodi Chambers and Rowan Chisholm were recently selected as the 2019-20 Lockerbie Scholars.
This years Falk College scholars include:
Cleo Hamilton of Syracuse, a sport management major;
Alizée Mclorg, of San Diego, California, a neuroscience major in the College of Arts and Sciences, a public health major in Falk College and a member of the Renée Crown University Honors Program;
Molly Murphy of Rochdale, Massachusetts, a social work major.
Learn more about the 2019-2020 University Remembrance Scholars