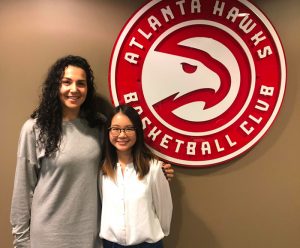 As an exciting close to winter break, the inaugural Sport Management Students and Professionals Meet Week, or S.P.M. Week, gave sport management students the opportunity to learn more about careers in sport with the help of alumni who hosted them at their workplaces, including sports agencies, universities, and professional leagues and teams, from January 7-11.
Cherie Hong, a graduate student in the sport venue and event management program, visited sport management alumna Blake Johnson '16 at the Atlanta Hawks. "I had informational meetings with professionals and assisted with various tasks in the office and at Game Day Clinic," says Hong. "I learned about community relations, basketball operations, public relations, corporate social responsibility, partnership marketing, sales, video production and all the moving parts involved with working in sports."
"I am very grateful to the Department of Sport Management for organizing this incredible opportunity for us," she adds.
Alumni hosts introduced the students to their industry and organization, providing an opportunity for the students to observe their daily responsibilities and ask questions along the way. S.P.M. Week is intentionally designed to be flexible, so each shadowing experience fits the interests of the student and their alumni host.
"I liked the flexibility that I had to shape the experience to fit my job, department, and the activations we had going on at the time," says Johnson. "The experience went great! Cherie was absolutely delightful and up for whatever. It was clear that she had done her research prior to her first day with me and prior to her informational interviews with my coworkers."
Syracuse University's Falk College offers professional degree programs in the Department of Sport Management which prepare students for careers in sports administration and business, marketing and sales, sport analytics, venue management and event planning, and more.