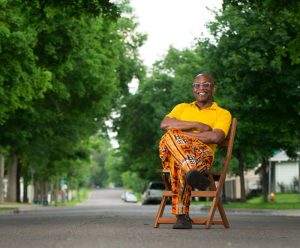 Falk College's food studies program, together with the Syracuse University College of Visual and Performing Arts (VPA), Canary Lab, and the Humanities Center, partnering with Brady Farm in Syracuse, are pleased to welcome artist Seitu Jones to campus for a lecture and a workshop October 4 and 6, part of the Humanities Center's 2018/19 Stories Symposium.
Jones will give a lecture, "CREATE: Art, Act & Eat," on October 4 in Watson Auditorium from 6:30 to 8:30 p.m. where he will discuss how he draws from both food and activism to inspire his public art projects, and how these components bring about new community stories. On October 6 from 2:00 to 4:30 p.m. at Brady Farm in Syracuse, Jones will lead a hands-on workshop connecting food stories and community art. Reservations are required for participation in the Saturday workshop.
About Seitu Jones
Seitu Jones was born in Minneapolis in 1951. Working on his own or in collaboration, Jones has created over 30 large-scale public art works. He's been awarded a Minnesota State Arts Board Fellowship, a McKnight Visual Artist Fellowship, a Bush Artist Fellowship, a Bush Leadership Fellowship, and a National Endowment for the Arts/Theater Communication Group Designer Fellowship. Seitu was awarded a 2001-2002 Loeb Fellowship at the Harvard Graduate School of Design and was the Artist-in-Residence in the Harvard Ceramics Program. He was Millennium Artist-in-Residence for 651 Arts in Brooklyn, NY, and was the first Artist-in-Residence for the City of Minneapolis. In 2014, he integrated artwork into three stations for the new Greenline Light Rail Transit system in the Twin Cities. A 2013 Joyce Award, from Chicago's Joyce Foundation allowed Seitu to develop CREATE: The Community Meal, a dinner for 2,000 people at a table a half a mile long. The project focused on access to healthy food. Seitu is working with members of his neighborhood to create a 5-acre farm in a new St. Paul city park. For 18 months Seitu was a Senior Fellow in Agricultural Systems in the College of Food, Agriculture and Natural Science Resources at the University of Minnesota. Jones received an MLS in Environmental History and a BS in Landscape Design from the University of Minnesota.