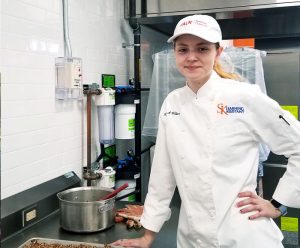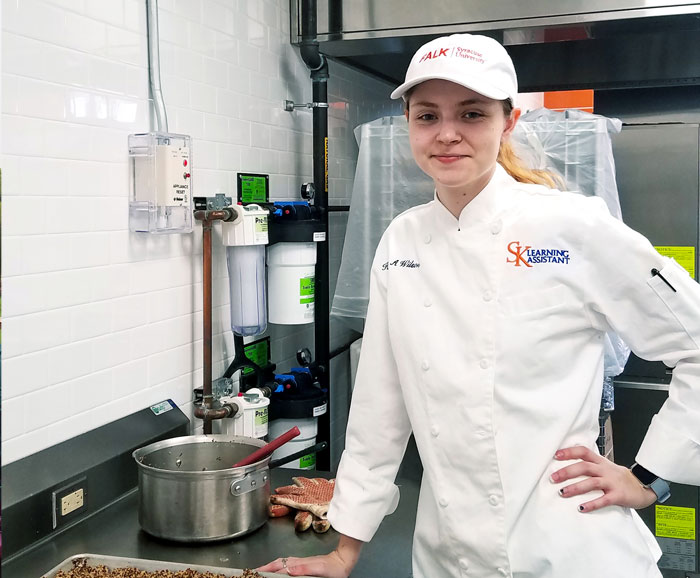 In February, Kelsie Wilson '20 was part of the first team to represent the Syracuse Chapter of the American Culinary Federation in the Baron H. Garland Regional Knowledge Bowl Competition in Atlantic City, New Jersey, a Jeopardy-style competition that tests culinary knowledge.
Wilson, a student in Syracuse University's nutrition science and dietetics program in Falk College, was recruited for the team by one of her professors, Chef Mary Kiernan. "After much deliberation and convincing by my family and Chef, I decided to become a part of the Syracuse ACF Chapter team."
Wilson was joined by Jessica Czyz, resort and recreation services management student at SUNY Morrisville, Rose Thompson and Grace Beard, hospitality management students at Onondaga Community College, and coached by Joseph Visser, a SUNY Morrisville culinary arts alumnus. The Syracuse Chapter was one of eight teams representing the Northeast region.
"Jessica, Rose, and Grace were a lot of fun to work with. We were not really sure what to expect going into this competition, as we were the first team the Syracuse Chapter had ever sent to this competition," she says. "We agreed that we would all do our best and have fun," says Wilson. "In the end, we were able to beat out two of the eight teams, so we felt very proud of what we accomplished."
Wilson will start her senior year in the fall, and the competition was just one of many experiences that highlight her time at Syracuse University. One of her favorites, she says, was working as a teacher's assistant for cooking labs in the Susan R. Klenk Learning Café and Kitchens, a 5,000-square foot commercial kitchen and experimental food lab. "My passion is and will forever be in the kitchen. It is where I have always felt the most comfortable. I greatly enjoyed helping students broaden their culinary skills and knowledge about food," says Wilson.
After high school, Wilson had her eyes set on culinary school. "All my life I have wanted to be a chef and work in my very own kitchen," she says. "I applied and was accepted into the Culinary Institute of America."
But she decided to take her career path in a new direction when she was inspired by a dietitian. "During my senior year of high school, my mother was diagnosed with breast cancer. It took a major toll on her and my family." During my mother's recovery, I saw how her dietitian was able to help her through her nutrition. This led me to change my career path so that I could help people in the same way."
Wilson continues,"I looked up the best schools in the country to go for my nutrition degree and I was led to SU. Being raised in the Syracuse area I had always heard about how great the local university was, and how some of the best minds in the world attended school here, so naturally it was not a difficult decision to make."
Wilson is studying to become a Registered Dietitian. "I want to educate people on how to make food for themselves and their family that is not only delicious but also healthy for their body," RDs work in private practice, hospitals, schools, and government agencies helping improve health and wellness for individuals and communities.
With her years of experience working in restaurants and her nutrition education from Syracuse, Kelsie plans to pursue a career in the culinary field and give the world a fresh, new take on preparing healthy, appetizing food. she says. "I do not yet know where I want to end up in my career But I do know that whatever I do and wherever I do it, it will be with me having a knife in one hand and a pen in the other—cooking and educating about the joy of healthy cooking."
Falk College offers undergraduate and graduate programs in nutrition science and dietetics, as well as other fields that promote health and well-being.