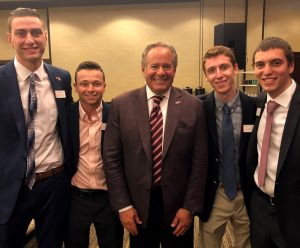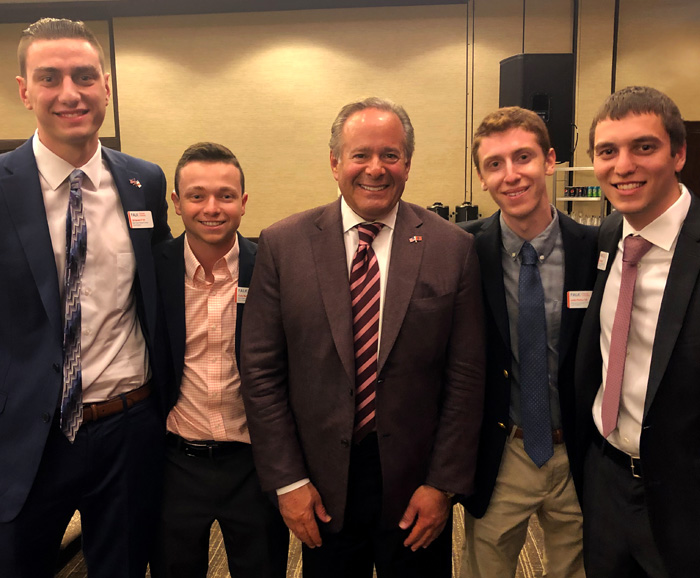 "Calculating the Future of Sports Through Analytics" was the featured theme of the Inaugural Andrew T. Berlin Sport Analytics Symposium, hosted by Syracuse University's David B. Falk College of Sport and Human Dynamics on April 3 at the Westin Michigan Avenue Chicago.
Now more than ever, information and data are driving the sports industry, the fifth largest economic sector in the U.S. economy that generated slightly less than $500 billion in 2016-17. Scouts and agents rely on sport analytics to identify unusual talent and athletic capabilities. Performance data helps professional athletes monitor fitness and predict likelihood of injury. Sport marketing executives value data analytics to improve the fan experience.
The Berlin Sport Analytics Symposium brought together leading industry innovators and Syracuse University faculty members to take a closer look at the critical issues in sport analytics. Chicago Cubs senior vice president of player development and amateur scouting, Jason McLeod, gave the keynote address. McLeod began his front-office career with the San Diego Padres and served as scouting director for the Boston Red Sox.
A panel discussion was moderated by Michael D. Veley, founding director and chair of Falk College's Department of Sport Management at Syracuse University, and the Rhonda S. Falk Endowed Professor of Sport Management, with remarks from Dr. Rodney Paul, sport analytics program designer, director, professor, Syracuse University. Panelists included:
Dafna Aaronson, founder, Be Sports Minded;
Sean Ahmed, analyst, research and development, baseball operations, Chicago Cubs;
Kevin Brilliant, business strategy and analytics senior manager, Chicago Bulls;
Dr. Shane Sanders, sport analytics associate professor, Syracuse University;
Dr. Robby Sikka, professor, associate director, data analytics for sports medicine, Mayo Clinic, and;
Hart Zwingelberg, manager, business intelligence, Chicago Fire Soccer Club.
Berlin Scholars participated in a senior thesis poster presentation during the pre-event reception. The featured student presenters included Syracuse University sport analytics seniors Cody Barbuto, Charles "CB" Garrett IV, Justin Perline, and Evan Weiss. Falk College's Department of Sport Management also presented the inaugural "Pioneer in Sport Analytics Award" honoring Theo Epstein, president of baseball operations for the Chicago Cubs.
Falk College's bachelor of science in sport analytics provides students with a deep understanding of math, statistics, research methodology, sport economics, database management, finance, and computer programming. The degree incorporates a mandatory foreign language requirement to prepare students for the global sport industry. The U.S. Bureau of Labor Statistics reports that the job market for various data analyst disciplines is growing at 27 percent annually, far exceeding the national job growth average of 11 percent.
Since it was launched in 2016, sport analytics at Syracuse has celebrated many successes. The program has established student-industry collaborations with EDGE10, XFL, Spotted, and Syracuse University Athletics. Students have secured professional job placements prior to graduation with teams in Major League Baseball and the National Football League. Students and faculty have published and presented research internationally, most recently at the European Sports Economics Association Conference in Liverpool, England. In addition, they have competed and placed in prestigious industry and academic competitions, including SABR Diamond Dollars Case Competition, MIT Sloan Sports Analytics, ACC Meeting of the Minds, and the NFL's inaugural Big Data Bowl earlier this year.
In addition to a bachelor of science in sport analytics, Falk College's academic portfolio of programs in the Department of Sport Management includes sport management (BS), and sport venue and event management (MS). For more information about Falk College, visit falk.syr.edu.
The Berlin Sport Analytics Symposium event was made possible by the generosity of Syracuse University Trustee and alumnus, Andrew T. Berlin '83. Berlin is a partner investor of the Chicago Cubs, chairman and owner of its minor league Cubs affiliate, the South Bend Cubs, and chairman and CEO of Berlin Packaging. For more information on the Symposium, visit cc.syr.edu/BerlinSymposium.