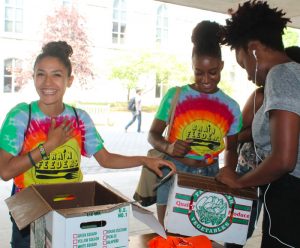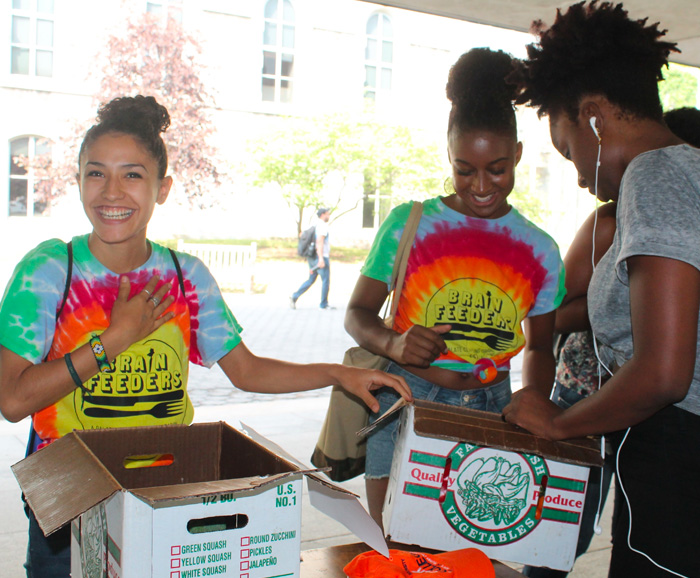 This fall, fresh, locally-grown produce made its way to campus each week through the Community Supported Agriculture (CSA) program at Syracuse University, founded and operated by BrainFeeders, the first academically-recognized food studies student organization in the nation.
By connecting the campus to local farms, BrainFeeders hopes to deliver more than just great produce to the Syracuse campus. They strive to increase food access and sustainability, while encouraging peers to be more involved in food choices at Syracuse.
A CSA is a partnership between farmers and community members in which individuals purchase a share of a farm's harvest, and in turn, the farm provides shareholders with seasonal produce. Direct exchange between farmer and consumer can help make fresh produce more affordable.
Laura-Anne Minkoff-Zern, Ph.D. is an assistant professor of food studies and advisor for BrainFeeders. "The CSA model helps farmers sustain themselves through the season, while also connecting consumers, in this case university students, faculty, and staff, with a more intimate connection to a particular farm," she says. "These consumers also learn what is available throughout the local growing season and are challenged to adjust their diets to seasonal availability, thus supporting our region's agrarian economy and community."
A standard CSA share from Common Thread Community Farm in Madison, New York feeds 2 to 3 adults and includes 8 to 10 items of produce each week. Common Thread has delivered $22,957 in shares to members of the Syracuse University and SUNY College Environmental Science and Forestry campuses since BrainFeeders created the CSA in 2015.
Falk College's food studies program explores the political economy of food. Students are challenged to critically question who has access to farmable land, how food is produced, processed and transported to restaurants and homes, who has access to nutritious food, what happens to food waste, and what these factors mean for people and the planet.
"BrainFeeders strives to provide opportunities for students and faculty alike to build a stronger relationship with their food, where it comes from, and the people who provide it," says BrainFeeders president Caitlyn Colton '19. "We want to make a lasting impact on our campus by increasing access to local foods and opening a gateway for our community to learn about our food system so they can make more educated choices for themselves and their environment."
A vibrant community of active student organizations brings Falk College to life, from the Nutrition Education and Promotion Association (NEPA) and the Society for Public Health Education (SOPHE), which promote health education and awareness on campus and in the community, to sport management special interest groups, such as the Sport Professionals of Color and the first collegiate chapter of WISE (Women in Sports and Events). The broader University is home to more than 300 student organizations.
Members of the Syracuse University and SUNY ESF campus communities who are interested in participating in the CSA fall 2019 may email brainfeederscsa@gmail.com to add their name to the waitlist. For more information about BrainFeeders' campus CSA, visit the Falk College website.