In spring 2020, South Campus became home to six honeybee hives, which house over 300,000 honeybees.
In their first year on campus, the bees harvested enough nectar from campus plants and trees to create over 300 pounds of honey. The honey is harvested twice a year and has been bottled for sale on campus. A small initial offering of campus honey in early 2021 proved immensely popular, with the honey quickly selling out across campus.
In the next few weeks, University community members will be able to purchase the honey in the Campus Store in the Schine Student Center, as well as in campus convenience stores.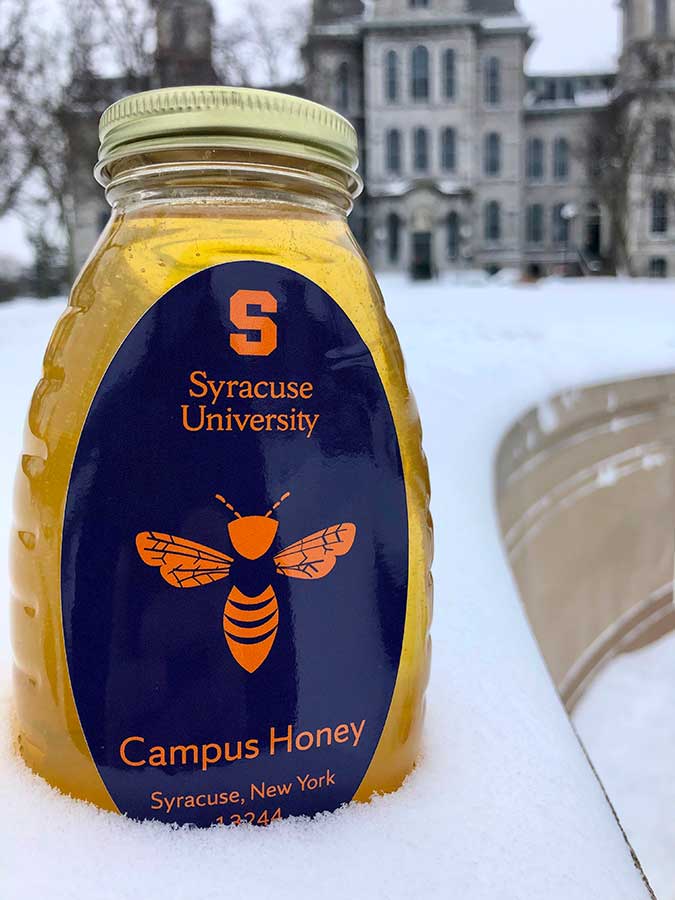 The product for sale is raw honey, meaning it is not processed and contains only one ingredient: honey. Raw honey retains beneficial nutrients, pollen and antioxidants that processed honey does not. The honey has a distinctive Syracuse University flavor due to the unique plants in the area of the hives. A jar of honey costs $12, with all proceeds of its sale going back to support the honeybee hives overseen by Sustainability Management.
Currently, the University has 965 acres, of which 624 acres are green space, supplying bountiful habitats for pollinator species that encourage their critical existence. The establishment of honeybee hives in an area helps to support pollinator-dependent plants, including native plantings and agriculture-producing plants.
The campus hives are part of a Campus as a Lab for Sustainability (CALS) project run by Sustainability Management and awarded to associate teaching professors Lisa Olson-Gugerty and Mary Kiernan of Falk College. Their proposal, titled "Bee Orange," coincided with the aim of the CALS grant, which strives to seamlessly integrate the academic and research mission of Syracuse University within the facilities and operations of the campus. "Bee Orange" supports the University's efforts as a Bee Campus USA affiliate, including boundless opportunities for research around the honeybees and pollinator plant species, no matter the area of expertise of faculty and students.
To learn more about the University's sustainability efforts and to become involved with these initiatives, visit the Sustainability Management website.
Read a related article about the bees in the Daily Orange.
A Syracuse University News story by Jennifer Horvath originally published on Tuesday, August 10, 2021.