Human Development & Family Science News
Falk Students Named Syracuse University, Falk College Scholars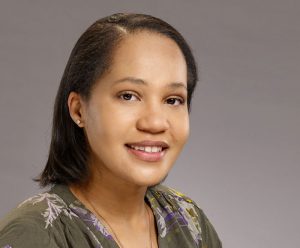 Noelle Kendra-Leah Rowe '19, graduating with a degree in human development and family science in May, is one of 12 Syracuse University Scholars who will represent the Class of 2019 at the May 12 Commencement ceremony. Syracuse University scholars are selected by a University-wide faculty committee from among the candidates nominated by each of the undergraduate schools and colleges. Based on certain criteria, including their coursework and academic achievement, independent research and creative work, and evidence of intellectual growth and/or innovation in their disciplinary field, Syracuse University Scholars exhibit outstanding achievement within their chosen field of study.
"A McNair Scholar and Honors Program student, Noelle is a model global citizen, setting an excellent example through community engagement activities that include service as a peer partner with the Taishoff Center and volunteer with the Lutheran Campus Ministry and Success Saturdays programs, among other activities," says Diane Lyden Murphy, dean, Falk College.
Falk College Scholars from the Class of 2019 represent undergraduate students in the College who display academic excellence, exceptional campus and community engagement, and personal integrity. They include:
Caitlin Burke, Sport Management
Angela Gallina, Social Work
Daniel Christopher Hamilton, Sport Management
Tatiana Inkeles, Nutrition Science
Madeline Johnson, Public Health
Danielle Lippman, Human Development and Family Science
Amelia Lu, Public Health
Anushruta Neupane, Public Health
Justin Taylor Perline, Sport Analytics
Noelle Rowe, Human Development and Family Science
Carly Sheffer, Nutrition Science
"Congratulations to our students named Syracuse University and Falk College Scholars. Their outstanding accomplishments exemplify academic excellence, creativity, personal achievement and commitment to the campus and local communities, and they are exceptional role models for their peers," adds senior associate dean of academic affairs, Eileen Lantier.
Learn more about the 2019 Syracuse University Scholars
---
Congratulations 2019 Falk Student Research Celebration Winners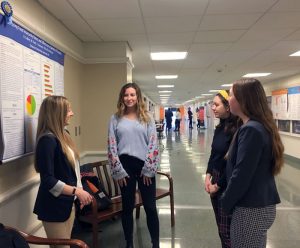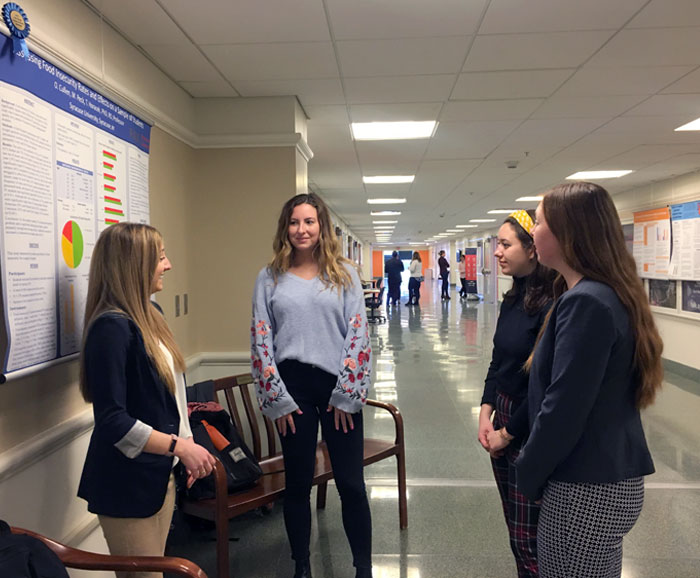 Falk College congratulates the following winners of the 2019 Falk Student Research Celebration:
Undergraduate Winners
Name: Bridget Clark
Kelly Brown, BS; Heather Brubacker, MS, Dietetic Intern; Laura Brown, MS, RD; Baylee Carroll, BS, Dietetic Intern; Elizabeth Gardner; April Hill; Sarah Mihalko, BS; Katie Obojkovits, BS, Dietetic Intern; Madeline Peck; Tanya Horacek, PhD, RD, Professor; Syracuse University, Syracuse NY.
Program/Major: Nutrition Science
Faculty Research Mentor: Tanya Horacek
Title: Process Evaluation of the Healthy Campus Environmental Audits
Name: Olivia Cullen
Madeline Peck; Tanya Horacek, PhD, RD, Professor; Syracuse University, Syracuse NY.
Program/Major: Nutrition Science
Faculty Research Mentor: Tanya Horacek
Title: Assessing Food Insecurity Rates and Effects on a Sample of Undergraduate Students
Name: CB Garrett
Program/Major: Sport Analytics
Faculty Research Mentor: Rodney Paul
Title: Impact of Birthplace on Player Performance in Different Weather Conditions
Graduate Winners
Name: Jennifer Guzzy
Program/Major: Master of Social Work (MSW)
Faculty Research Mentor: Ryan Heath
Title: Extracurriculars and Teachers as a Substitute for Parents: Do they support strong academic outcomes in students without parental involvement?
Name: Madeline Hilton
Program/Major: MSPH Global Health
Faculty Research Mentor: David Larsen
Title: Indoor Residual Spray Campaigns in Community Protection Against Malaria
Name: Ying Zhang
Program/Major: Human Development and Family Science
Faculty Research Mentor: Rachel Razza
Title: Positive Development in Adolescence: the Reciprocal Relationships Between Facets of Self-Compassion and Self-Regulation
---
Falk students, founders of Calm Connections host information session April 5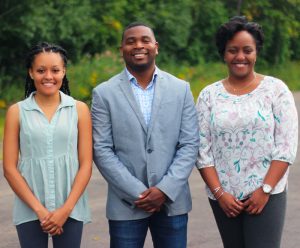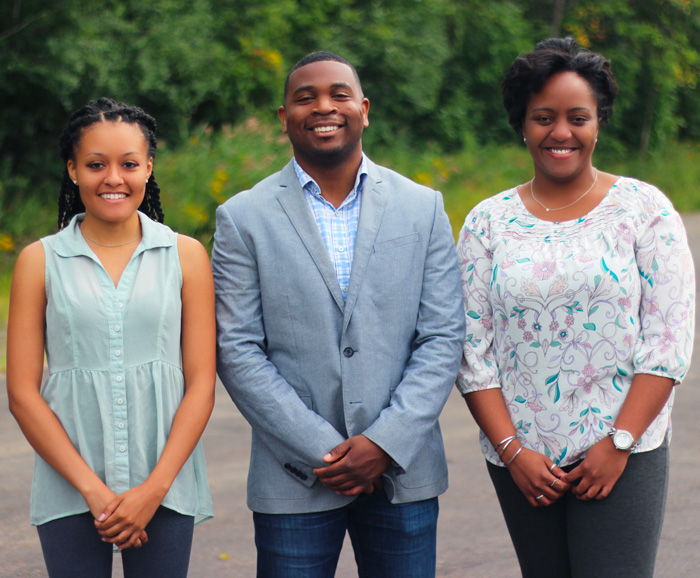 Three doctoral students are on a mission to bring simple mindfulness techniques to children and teens in the Syracuse area to help them manage big feelings. Last year, Staceyann Reid, Aysha Mabin, and Brandon Hollie of Falk College co-founded Calm Connections, a Syracuse-based nonprofit organization that teaches youth mindfulness exercises and yoga techniques such as breathing, attention training, relaxation and stretching, which they can use as tools to help manage emotions at home and at school.
By facilitating mentoring and mindfulness instruction, Calm Connections encourages systemic change by teaching compassion and empathy for one's self and others to reduce traumatic responses such as anxiety, social isolation, and headaches, and promote healthy responses such as self-awareness and resilience, ultimately building more connected communities. The co-founders intend to expand their presence in the community over time with a specific goal of providing weekly programming in the Syracuse City School District.
The idea for Calm Connections was inspired by a meeting with campus guest speaker, Andres Gonzalez, co-founder of the Holistic Life Foundation, Inc., hosted by Syracuse University's Contemplative Collaborative and local school teachers, which explored systematic methods of integrating mindfulness education and practice into Syracuse area classrooms.
The Contemplative Collaborative supports Syracuse students, faculty and staff engaged in mindfulness and contemplative research, teaching, and practice. Rachel Razza, Ph.D., associate professor in Falk College's Department of Human Development and Family Science (HDFS), is the associate director of the Contemplative Collaborative and one of its founding members. "The goal of the Collaborative is to provide a mechanism for promoting contemplative-based work across the campus and within the community," says Razza. "Calm Connections reflects this goal by addressing the critical need for evidence-based and trauma-informed programming for at-risk youth in the city of Syracuse."
Razza's research in the benefits of mindfulness programming in schools is what drew Reid to Syracuse University. "I always had a passion for working with children and adolescents, which I have done in different capacities over the years–most recently as a mental health counselor," says Reid, who serves as the executive director of Calm Connections. From Queens, New York, she earned an M.S. in clinical mental health counseling from Long Island University Post. "I always knew that I wanted to do more, and I felt that delving into my research interests, which are social-emotional development and mindfulness, would be just what I needed to elevate my career and be able to make a greater impact."
Fellow HDFS Ph.D. candidate, Mabin, is Calm Connections' fundraising director. She is from Los Angeles, California where she earned a B.A. in psychology from California State University, Fullerton. "Through my experiences working in the public school system, I became more interested in the influences on youth academic achievement. The Syracuse University HDFS program provided a great opportunity to obtain my Ph.D. with support for my research goals."
Hollie is pursuing his Ph.D. in Falk College's Department of Marriage and Family Therapy. "I selected the marriage and family therapy program at Syracuse because of the renowned faculty, commitment to social justice, and their excellence in the field," he says. "I did a lot of community work and wanted to be in a place where faculty would continue to support me in trying to bring services to the community. Syracuse was the perfect fit for this." Hollie is from Chicago, but raised in Iowa. While earning a M.A. in marriage and family therapy from Mount Mercy University, he co-founded Recess, which delivered mindfulness training to help relieve stress among undergraduate students. Now, Hollie serves as the marketing director for Calm Connections.
Falk College is rich in mindfulness and contemplative work across several disciplines, including human development and family science, marriage and family therapy, as well as public health, social work, food studies, and nutrition. The College's Research Center supports an active community of faculty and student researchers, both graduate and undergraduate. To learn more about Calm Connections, visit calmconnectionsinc.org.
Calm Connections will host an information session Friday, April 5, 2019 in the Wildhack Lounge, room 336 in the Falk Complex, from 4:30 p.m. to 6:00 p.m., followed by a reception with light refreshments. RSVP to calmconnectionsinc@gmail.com is encouraged, but not required to attend. Community members can park free for this event in Irving Garage. Please mention "contemplative event" at the gate. For accommodations requests, please contact Bonnie Shoultz at bshoultz@syr.edu or Kathy Rainone in the Department of Human Development and Family Science at 315.443.2757 by April 2. The event is co-sponsored by Syracuse University's Contemplative Collaborative and Hendricks Chapel.
---
2019 Falk Student Research Celebration Takes Place March 26-29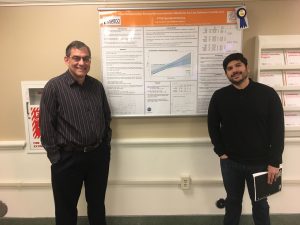 Falk students are invited to submit posters for completed or in-progress empirical, exploratory, policy analytic or hypothesis-driven research projects using qualitative, quantitative, or mixed methods for display, judging, and awards in the 2019 Falk Student Research Celebration March 26-29. The multi-day event will highlight Falk students' research collaborations and their dedication to advancing research knowledge.
Poster entry forms are due March 7 and poster submissions are due March 21. Posters will be on display beginning March 26 near the second floor student lounge and the Falk Café on 2 in the Falk Complex, with judging and awards taking place March 27. Students will present their posters from 12 to 1 p.m. on March 27 and 28.
The Falk College Research Center promotes a robust, collaborative research community in which students play an active role. At Falk, graduate and undergraduate students have the opportunity to work directly with faculty to collect data, analyze findings and draw conclusions on relevant topics surrounding public health, food studies, nutrition, sport management, human development and family science, social work, and marriage and family therapy.
"Conducting research as a student has many benefits, including building a strong relationship with Falk faculty members, improving writing and statistical analysis skills, and creating connections both on and off campus," says instructor Jessica Redmond. "Because much of the research in Falk College has real-world implications, we want students to be able to share their findings publicly, and the Falk Student Research Celebration is the perfect opportunity to do so."
"The student research days is a great showcase of the work our students are doing to understand the world and the human condition," says assistant professor David Larsen. "It's always fun to see the new ideas that our students have, and how they are seeking to improve the world we live in."
Assistant professor Bhavneet Walia agrees. "It's a great way to quench your curiosity," she says. "Come see what our students are up to at the Falk Student Research Celebration."
Winners of the 2018 Falk Student Research Celebration, held March 27-30, 2018, included research in a wide range of topics, such as maternal health, accessibility, and PTSD.
For more information about the 2019 Falk Student Research Celebration, contact Amy Dumas adumas@syr.edu at the Falk Research Center.
---
Contemplative Collaborative hosts February 15 Panel Discussion
How Do We Know it Works? Reflections on Empirical Studies of Contemplative Practices
Those who engage in contemplative practice know its positive effects, but documenting its value to others is not always easy. The Contemplative Collaborative will host a book talk on Friday, February 15, 2019 from 12:30 to 2:00 p.m. in Sims Hall Room 123 with Syracuse University authors who have contributed to a new volume, Empirical Studies of Contemplative Practices. The panelists will discuss how they research contemplative practice to better illustrate its value. The event celebrates the book's editors and authors from five Syracuse colleges, including the College of Arts and Sciences, Falk College, the iSchool, School of Education, and College of Visual and Performing Arts.
There is a reception following the presentation. To request accommodations, contact Diane Grimes at dsgrimes@syr.edu or (315) 443-5136 by February 5. This event is supported by the Syracuse University Humanities Center and the Contemplative Collaborative. Co-sponsors include Communication and Rhetorical Studies and Writing Studies, Rhetoric, and Composition.
Read more about the book and the discussion on the SU News website.
---
New Falk Office of Career Services opens with events for Falk students Feb. 1 and 8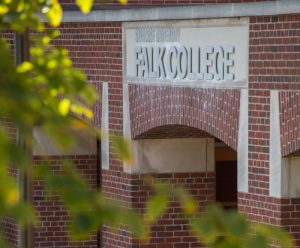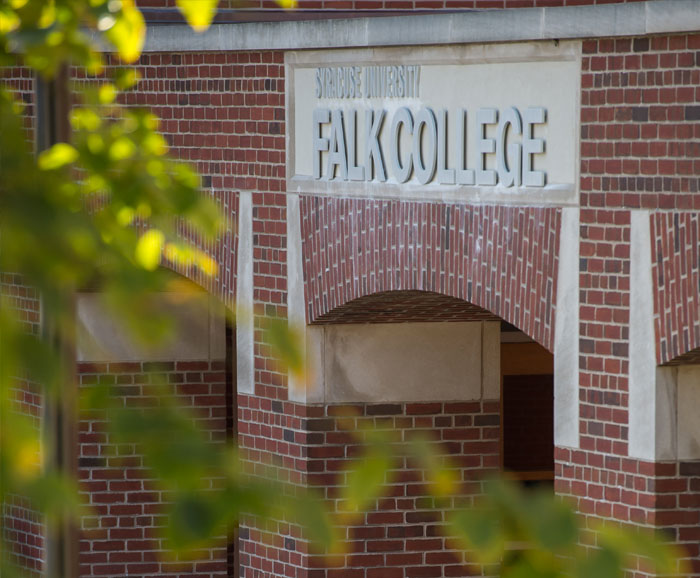 The new Falk College Office of Career Services will provide Falk students with personalized guidance and resources to help them achieve their post-graduation goals, start new careers, or pursue graduate study. Services include one-on-one resume and cover letter consultation, interview coaching, job search strategy and negotiation preparation, digital presence and branding assistance, as well as skill-building guidance in professional communication and networking. Falk Career Services will also provide support to Falk alumni throughout their careers, and act as a liaison between Falk College and employers seeking to recruit Falk students, recent graduates, or experienced alumni.
To celebrate the grand opening, first year and sophomore Falk students are invited to an opportunity fair on Friday, February 1 from 1 to 3 p.m. The event will feature several on-campus clubs, professional organizations, and community volunteer groups with employment, service, and social opportunities to share.
The following Friday, February 8 from 1 to 3 p.m., Falk juniors, seniors, and graduate students are invited to a networking mixer to meet with alumni, area employers, and professional organizations, expand their professional networks, and prepare for the career and internship hiring process.
Both events are free of charge and take place in Grant Rotunda in the Falk Complex. Refreshments will be served.
The Falk College Office of Career Services is integrated with Handshake, Syracuse University's new career management tool. Using Handshake, students can schedule career counseling appointments, find event details for career fairs and employer visits on campus, and discover job and internship opportunities with over 300,000 employers. Students who wish to receive information from Falk College Career Services should join Handshake.
Falk Career Services is housed within the College's Student Services unit, which includes 10 staff members dedicated to providing a caring, comfortable and confidential environment where students can discuss academic, social and emotional concerns. Falk Student Services also provides advising for undeclared students and tracks all requirements for degree completion.
Contact Falk College Career Services at falkcareers@syr.edu or (315) 443-3144, or visit Suite 300 MacNaughton Hall. Read the full announcement on the SU News website.
---
The role of play on child development across cultures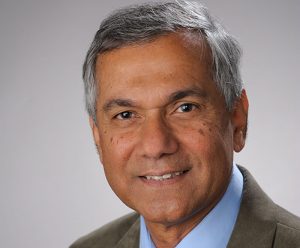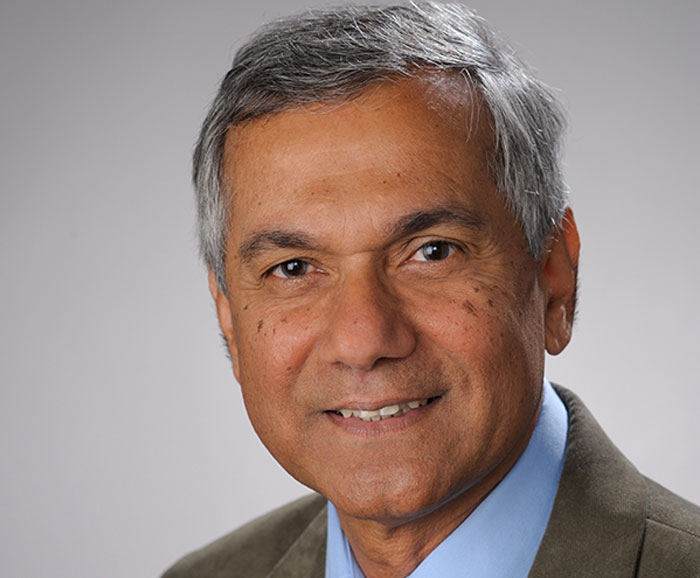 A recent feature on the Child and Family Blog written by Pearl S. Falk Endowed Professor of Human Development and Family Science, Jaipaul L. Roopnarine, identified the significance of play on child development across cultures. In some cultures, Roopnarine notes that play is a pivotal building block. In others, it is considered an incidental activity. Roopnarine's research article is available on the Child and Family Blog.
His research specialties include fathering and father-child relationships in diverse cultural and ethnic groups around the world; immigrant families-mental health, schooling, and identity; children's play in diverse cultural settings; early childhood education in international perspectives; parenting styles and child outcomes in Caribbean and Caribbean immigrant families in the United States.
The Child and Family Blog is focused on transforming research on cognitive, social and emotional development and family dynamics into policy and practice. It reports on important research on how family influences social/emotional and cognitive child development.
---
Falk College expands graduate merit scholarships beginning Summer 2019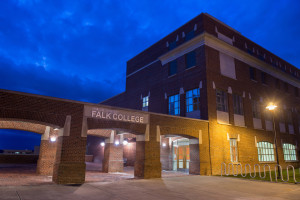 Graduate merit scholarships have been expanded for prospective students interested in matriculating into master's degrees, either full- or part-time, offered in Falk College effective Summer 2019 (includes MAYmester Summer Session I, Summer Session II, Combined Summer Session). Incentives include no application fee, GRE waiver where applicable, and a 25 percent tuition discount incentive, which is applied after any other scholarships, scholarship credits, assistantships and remitted tuition credits are applied.
Eligible matriculated students include:
All Syracuse University alumni applying to master's degree programs in Falk College (see list below), including members of the Class of 2019;
Children of current full-time Syracuse University employees (notarized supplemental forms required);
Any Advanced Standing MSW-enrolled student from any accredited BSW/BSSW program throughout the nation, and;
Current Falk master's program students who are Syracuse University alumni; children of current full-time Syracuse University employees are also eligible.
Falk graduate programs include:
Food Studies, M.S.
Global Health, M.S.
Human Development & Family Science, M.A., M.S.
Marriage and Family Therapy, M.A.
Nutrition Science, M.A., M.S.
Public Health, M.S.
Social Work, Advanced Standing Program, M.S.W.
Social Work, M.S.W.
Social Work and Marriage and Family Therapy Dual Degree, M.A./M.S.W.
Sport Venue & Event Management, M.S.
Interested students should contact Falk Admissions, submit their application, and must formally matriculate. For more information, please contact the Falk College Office of Admissions at 315.443.5555 or email falk@syr.edu. Award is subject to change.
---
Falk announces Graduate Merit Scholarships for Syracuse University students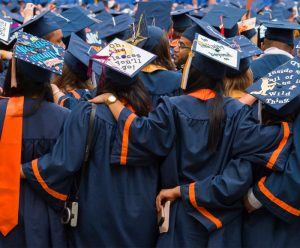 Falk College is pleased to announce the Falk College Merit Award Scholarship for current Syracuse University students interested in applying for a Falk College master's degree.
Incentives include no application fee, GRE waiver where applicable, and a 25% tuition discount incentive, which is applied after any other scholarships, scholarship credits, assistantships, and remitted tuition credits are applied.
To be eligible for the scholarship, students must be a current Syracuse University student in good standing with an overall GPA of 3.4 or higher applying for part-time or full-time study in one of the following degree programs:
Interested students must contact Falk Admissions and submit their application by February 15. Successful applicants will be officially admitted by the academic department and must formally matriculate for a 2019-2020 term.
"Falk College graduate degree programs allow undergraduates of all majors to tailor and enhance their career opportunities," says Falk College director of admissions, Felicia Otero. "For example, bachelor's degrees in psychology and sociology pair especially well with a master's degree in social work (MSW), marriage and family therapy (MFT), or the SWK-MFT dual program, as well as human development and family science, public health, and global health.
"Undergraduates studying business, management, advertising, and public relations can apply their skills directly to our sport venue and event management master's program. Students with skills in these disciplines might also apply to public health, global health, and food studies master's programs, alongside students with bachelor's degrees in communication & rhetorical studies, English, advertising, and education," Otero continues. "Undergraduates in biology and chemistry programs often pursue graduate study in nutrition science, as well as public health and global health programs at Falk."
"Falk graduate degrees lead to a variety of careers and end-credentials," says Deborah Golia, assistant director of admissions at Falk College. "You'll find Falk alumni working as counselors, therapists, social workers, community advocates, community educators, public health specialists, nonprofit program directors, managers, nutritionists, dietitians, sustainability program educators, and in limitless other roles."
"Falk College graduate degrees also lead to research professions and continued study in doctoral programs," she adds.
Falk Admissions will host a Graduate Information Session on Friday, November 2 in Falk Complex, White Hall, Room 335 at 4:00 p.m. In addition to review of Falk graduate programs, interested students can learn more about Falk Graduate Scholarships. For more information, please contact the Falk College Office of Admissions at 315.443.5555 or email falk@syr.edu.
---
Syracuse researchers study mindfulness in elementary schools
Falk College Associate Professor of Human Development and Family Science, Rachel Razza, and Joshua Felver, Assistant Professor of Psychology in the College of Arts and Sciences, are working collaboratively on new mindfulness interventions research. Through a partnership with Meachem Elementary school in Syracuse, New York, Razza and Felver are studying the impact of daily mindfulness activities, like yoga and meditation, in elementary classrooms.
---
Page 1 of 10