Human Development & Family Science News
Falk College offers graduate program scholarships for 2020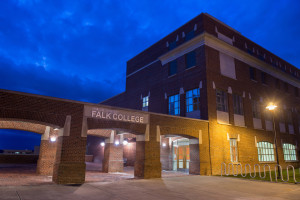 Alumni admitted to any Falk College master's program for 2020: All Syracuse University alumni are eligible for a scholarship equivalent to 25% of tuition for one of Falk College's residential master's degrees. In addition, GRE tests and application fees waived.
Admitted students to the MSW Advanced Standing program for 2020: All applicants admitted to the Advanced Standing program for 2020 are eligible for the 25% tuition discount scholarship. No application fees or GREs are required.
Scholarship is for residential programs, only.
Eligible matriculated students include:
All Syracuse University alumni applying to master's degree programs in Falk College (see list below), including members of the Class of 2020;
Any Advanced Standing MSW-enrolled student from any accredited BSW/BSSW program throughout the nation, and;
Current Falk master's program students who are Syracuse University alumni; children of current full-time Syracuse University employees are also eligible.
Falk graduate programs include:
Food Studies, M.S.
Human Development & Family Science, M.A., M.S.
Marriage and Family Therapy, M.A.
Nutrition Science, M.A., M.S.
Public Health, M.P.H., M.S.P.H.
Social Work, Advanced Standing Program, M.S.W.
Social Work, M.S.W.
Social Work and Marriage and Family Therapy Dual Degree, M.A./M.S.W.
Sport Venue & Event Management, M.S.
Interested students should contact Falk Admissions, submit their application, and must formally matriculate. For more information, please contact the Falk College Office of Admissions at 315.443.5555 or email falk@syr.edu. Award is subject to change.
---
Advancing scholarly inquiry into connections between religion, spirituality and social change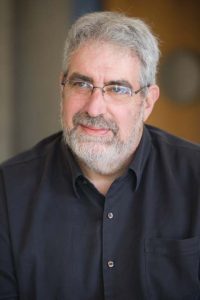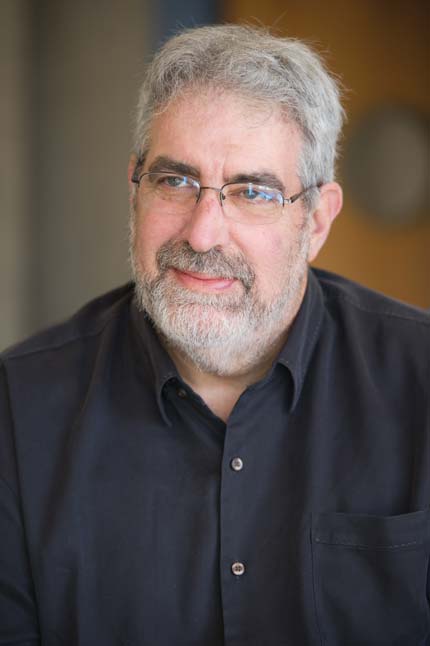 Approximately one-third of millennials and post-millennials—young adults born 1981 and later—profess to have no connection to religion, according to the Pew Research Center. Yet evidence points to their strengthened humanitarian values and prominent spirituality. The degree to which religion is decoupled from prosocial goals and spirituality in contemporary young adults is one of many research questions to be addressed in the project Spirituality and Prosocial Values in the Absence of Religion Among Millennials and Their Families.
This study, led by Merril Silverstein, the Marjorie Cantor Endowed Professor of Aging Studies at Syracuse University, is made possible by a $2,898,748 award from the John Templeton Foundation and could very well reframe the debate on generational change as it addresses aspects of religious devolution about which relatively little is known.
According to Silverstein, "values traditionally associated with religion may have remained constant or strengthened in the contemporary cohort of millennials even as the religious basis for those values has weakened." By studying the religious orientations of the millennial generation within the larger context of spirituality and prosocial values compared to previous generations, the researchers will have a deeper understanding about prosocial values and spirituality and their decoupling from religion.
In the classroom, Silverstein's course Aging in the Context of Family Life explores trends and changes in families with an emphasis on intergenerational differences, similarities, and influences. Says Silverstein, "millennials have often been portrayed in the media as part of an egocentric, narcissistic, and amoral generation. Often ignored, however, is the reality that millennials are linked to earlier generations through their family lineages. Our focus on intergenerational family influence is what makes our investigation unique," notes Silverstein.
This project includes Falk College co-investigators Maria Brown, assistant research professor, School of Social Work, and a faculty associate, Aging Studies Institute and Sara Vasilenko, assistant professor, Department of Human Development and Family Science. Collaborators also include Vern Bengtson, professor emeritus, University of Southern California, Joseph Blankholm, a religion scholar at University of California, Santa Barbara, and Christel Gärtner, University of Münster, a well-known scholar embarking on a multinational study of the intergenerational transmission of religion. Three Syracuse University doctoral students, one enrolled in the Maxwell School's Sociology Department and two enrolled in Maxwell's Social Science program, and a post-doctoral scholar who was formerly a graduate student in Falk College's Department of Human Development and Family Science, will be involved in analyzing data and writing journal articles.
The Longitudinal Study of Generations (LSOG)–a multi-panel, multi-generational study that has collected data on three-generation families from 1971 to 2016–will be used to address research questions advanced in this project. Building on the almost 50-year LSOG study, this research team will collect survey and interview data from millennials who are members of the fifth generation in families who have participated in the study since its inception in 1971, as well as from their parents and grandparents who participated in earlier surveys that were supported by the National Institute on Aging and the John Templeton Foundation.
Silverstein's previous Templeton-supported research indicated baby-boom parents with no religious identification tended to beget children with no religious identification. This relationship with respect to millennials and their parents and grandparents is largely unknown, despite the large percentage of religiously unaffiliated in this youngest generation. The outputs and outcomes of the project will broaden the body of knowledge around the millennial generation in relation to their parents and grandparents.
Silverstein recently received a $393,372 award from the National Institute on Aging of the National Institutes of Health to investigate the care adult children provide to their older parents under various conditions of vulnerability, especially those related to Alzheimer's disease and other dementias. The researchers believe there may be links between early parental investments of time, money and emotion and how parents' later-life needs are met by their adult children. Data for this project are derived from the LSOG. In light of changing family structures and growing uncertainty about reliable sources of care in later life, this project, Intergenerational Antecedents of Care to Older Adults Approaching the End of Life With and Without Dementia, will inform researchers and public policy professionals about the family as a reliable source of extended care in later life.
Jointly appointed in Syracuse University's Falk College, Department of Human Development and Family Science, and the Maxwell School of Citizenship and Public Affairs, Department of Sociology, Professor Silverstein is a faculty associate in Syracuse University Aging Studies Institute. Earlier this year at the American Sociological Association's Annual Meeting, Silverstein was honored with the Matilda White Riley Distinguished Scholar Award by the organization's Section on Aging and the Life Course. This annual award honors a scholar in aging and the life course who has shown exceptional achievement in research, theory, policy analysis, or who has otherwise advanced knowledge of this field.
---
Class of 2020 Falk Convocation and Syracuse University Commencement Ceremony update
Due to complex construction projects underway on campus, specifically the Stadium Project, various Commencement Weekend 2020 ceremonies will occur at alternative locations and at different times than in recent years. Specifically:
Commencement 2020 will take place Sunday, May 10, 2020 at 9:30 a.m. on the Shaw Quadrangle.
There are no changes to the Falk College Convocation ceremony, which will take place Saturday, May 9, 2020 at 4:30 p.m. in Manley Field House, as in previous years. Plans are already underway to celebrate the Class of 2020 during Falk's Convocation with many special traditions, including each graduate being individually announced by name to walk across the stage. Tickets are not required. Parking is free. Family and friends who are unable to attend in person can watch the Convocation live online. Questions specific to Falk Convocation can be directed to Annette Hodgens ahodgens@syr.edu.
All pertinent details for Commencement Weekend 2020 will be made available on commencement.syr.edu as they are announced.
The Stadium Project is one of several University projects underway as part of the Campus Framework, a visionary roadmap meant to guide future campus planning and development for the next 20 years. For more information about current projects, visit the Campus Framework website.
Learn more about Convocation & Commencement
---
Falk alumna advances career in research, higher education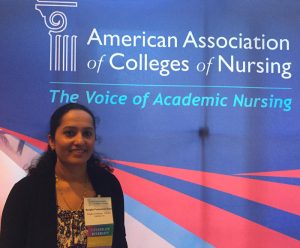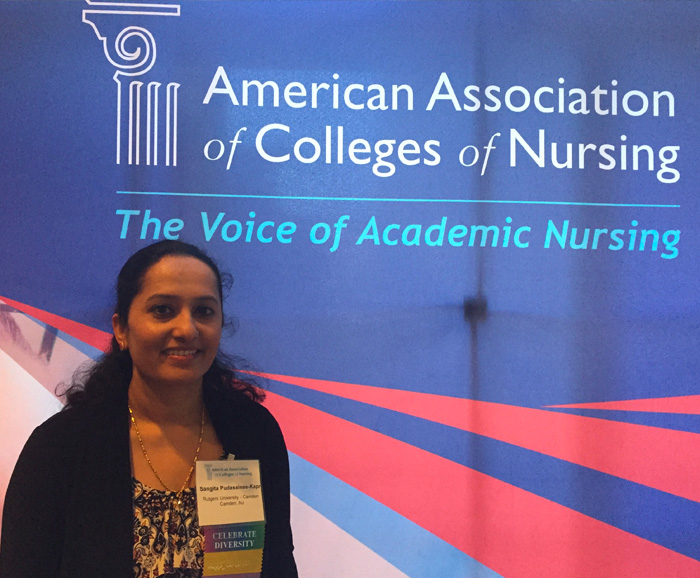 Sangita Pudasainee-Kapri '12, M.S., '14 C.A.S., '17 Ph.D. came to Syracuse from Nepal, where she worked as a registered nurse. "Working at central and local-level hospitals and health centers in Nepal, my interests leaned towards exploring and working with children and families," she says. That's what inspired her to pursue higher education in the United States. In 2010, she came to the Department of Human Development and Family Science in Syracuse University's Falk College, where she earned her master's degree and Ph.D. "A Ph.D. from Syracuse University means a lot for me—for my personal life as well as for my professional career. I acquired theoretical knowledge, research skills, teaching skills, and personal life skills during my study at Syracuse."
Now, Sangita is currently pursuing Doctor of Nursing Practice degree from Rutgers University, where she also teaches as a part-time lecturer in the School of Nursing. "I am utilizing my research skills, knowledge and experience that I gained during my graduate training at Syracuse University."
As a Ph.D. student at Syracuse University, she was awarded the Human Development and Family Science Doctorate Award for Research Excellence for her dissertation. "My dissertation examines the longitudinal associations among low birth weight, parenting factors, and children's developmental outcomes within an at-risk sample," she explains. In 2019, her dissertation work was published in the Journal of Early Child Development and Care.
"Syracuse University has a great structured program, honored faculty members and a very student-friendly, supportive environment. I am honored to have worked with Dr. Rachel Razza, my advisor for the M.S. and Ph.D. programs, and with Dr. Sandy Lane, my advisor for the global health C.A.S. I am grateful for all the faculty and staff at Falk College, and in particular the Department of Human Development and Family Science."
Last year, Sangita was selected by the American Association of Colleges of Nursing (AACN) and Johnson & Johnson as one of the 2018 Minority Nurse Faculty Scholars.. The program's purpose is to address a faculty shortage while also increasing diversity among nursing educators. According to the AACN, only 16 percent of full-time nursing faculty are from ethnically diverse populations. The scholarship program provides leadership development opportunities and financial support to rising educators from these populations.
"I am deeply committed to research and university teaching," she says. "I am very grateful to be selected as a Minority Nurse Faculty Scholar. It helps me to further my education, research, and university teaching. Since there are very limited minority faculties in the field of nursing, I hope it would make me able to mentor and inspire my colleagues to further their education and, as a result, join in academia and research."
The Department of Human Development and Family Science in Syracuse University's Falk College offers B.S., M.A., M.S., and Ph.D. degree programs which study human growth and development across the lifespan in diverse social and cultural settings.
---
New HDFS newsletter now available online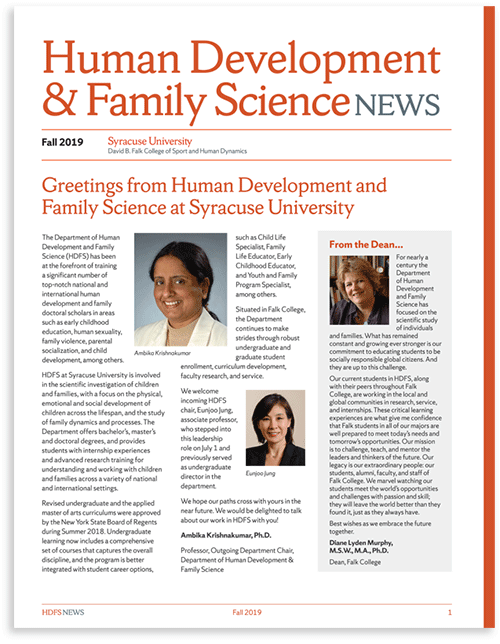 From the latest news and events in the Human Development and Family Science (HDFS) program to highlights of student and faculty, read the latest edition of Human Development and Family Science News covering the HDFS programs in Syracuse University's Falk College.
Click on the link below to download a PDF copy of the most recent newsletter or view an accessible, text-based version of the Newsletter.
---
Dean Murphy welcomes Falk students to campus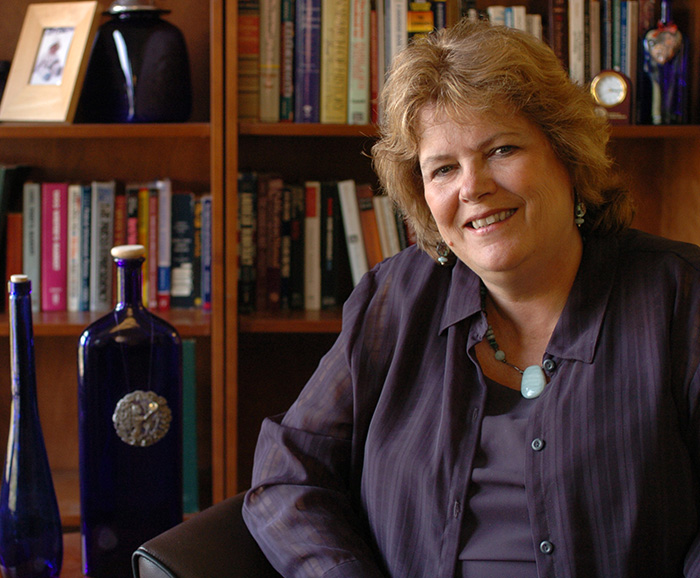 Dear Falk Students,
Welcome back to campus, returning Falk students! Let's give a very special welcome to the Class of 2023, as well as new transfer and graduate students. We are thrilled to have you join us. I hope you each enjoyed an adventurous and restful summer.
What a special time to be at Syracuse! There are plenty of exciting events planned on campus this semester, including a very special Orange Central homecoming and reunion on September 12-15, which will commemorate 150 years of Syracuse University history.
As we jump right into the Fall 2019 semester, I would like to remind you of some important information that will help you as you begin—or continue—your studies here at Falk College.
Falk College Student Services is your support system. Student Services counselors are here to provide you with private academic advising and help you meet your requirements and goals. In addition, they are your resource for private consultation related to student social and emotional concerns. If you have any concerns throughout your academic career, please contact Student Services or visit Suite 300 MacNaughton Hall in the Falk Complex.
I encourage you to connect with the staff at Falk Career Services, who can help you prepare for life after college through career exploration, internship and job searching, professional networking, and more. They are also located in Suite 300 MacNaughton Hall, or you can search for opportunities through Handshake, the University's job search and professional events portal.
In addition, you can connect to spiritual life on campus at Hendricks Chapel, as well as health and counseling services now open in the Barnes Center at the Arch. Visit news.syr.edu to keep up with Schine Student Center renovations and other important University updates.
The Student Lounge, located in Falk 216, is available to you anytime the Falk Complex is open. The lounge has a microwave, refrigerator, and vending machines for student use. Across the hall is the Falk Café on 2, open 8:00 a.m. to 3:00 p.m., Monday through Friday. In addition to smoothies, make-your-own salads, and wraps, the Café has a grill for sandwiches, hamburgers, veggie burgers, and many other items. Just down the hall is Falk 229, the quiet student lounge.
There are several computer labs in the Falk Complex. Falk 113 is a PC lab, Falk 253 is a Mac lab. Both are available to students at any time. Falk 400 and 407 are PC labs that are also used as teaching classrooms. When class is not in session, they are open for student use. You may check their schedule of availability using the Orange Events website. You may also use the quick-print stations in Falk 216 and 229 for printing and email. These stations log out automatically after 15 minutes of use.
The Student Involvement Fair will be held Wednesday, September 4 on the Quad from 11:30 a.m. to 3:00 p.m. (Rain location: Goldstein Auditorium in Schine Student Center). With more than 300 student organizations on campus, you are sure to find something that interests you. I highly encourage each of you to attend.
You can discover activities and events on campus by visiting the University's new community calendar. You can also follow Falk College and other campus groups on social media.
Syracuse University email is the primary communication method at the University. Your professors and University offices will contact you with important information using your Syracuse University email address (ending in "@syr.edu"), not your personal email address. So, it is essential to read your University email at least once every day.
While I hope this list is helpful, there are many other resources available to you at Syracuse University. Please visit syracuse.edu/life/students to review a more inclusive listing of valuable student resources to enhance your experience at Syracuse.
With that, I wish you the very best for the upcoming Fall 2019 semester. Once again, welcome to Falk College and the Syracuse University family.
Go Orange!
Diane Lyden Murphy, M.A., M.S.W., Ph.D.
Dean
Falk College
---
Falk College welcomes new faculty and staff
Syracuse University's Falk College is pleased to announce the appointment of new staff members who have joined Falk College in the past academic year, including Karen Goebel, office coordinator in the School of Social Work; Meredith Groman, administrative assistant and Jamie Rhoades, assistant teacher in the Bernice M. Wright Child Development Laboratory School; Kevin McNeill, internship placement coordinator in the Department of Sport Management; Megan Myers, assistant director of development in the Office of Advancement; Kathleen Nasto, office coordinator in the Department of Human Development and Family Science; Jessica Pitcher, career advisor and David Sly, associate director of career services in the Office of Student Services; Laura Sauta, administrative assistant and Megan Snow, internship placement coordinator in the Department of Public Health, and; Zachary Schuster, assistant director of undergraduate admissions and recruiting in the Office of Admissions.
It also welcomes five new faculty members, Justin Ehrlich, Chandice Haste-Jackson, Jeremy Losak, Stefanie Pilkay, and Xiafei Wang.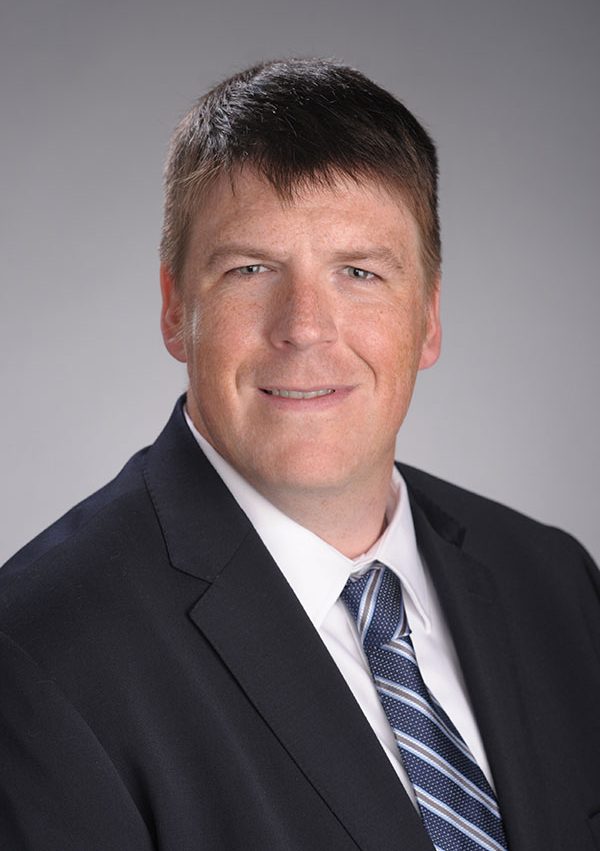 Justin Ehrlich
Assistant Professor, Department of Sport Management
Justin Ehrlich joins Syracuse University's Falk College Department of Sport Management as a tenure-track assistant professor in Fall 2019, where he will teach in the area of sport analytics.
Prior to joining Syracuse University, Ehrlich taught as an associate professor at Western Illinois University, School of Computer Sciences, since 2010 in Macomb, IL. There, he specialized in data visualization, visual analytics, sport data computation and analysis, machine learning, computer graphics, virtual reality, server-side development, languages and technology. He taught several courses such as Topics of Computer Science: Data Visualization, Operating Systems, Advanced Computer Graphics, Server-Side Development, and served as chair of the Council for Instructional Technology and chair of the IT Governance Executive Committee. He previously worked as an AViSSS (Animated Visual Supports for Social Skills) lead software developer for the University of Kansas and has held roles such as ASP.net developer for Nomise Systems and lead developer for HSSportsTV.net, both in Wichita, KS.
Ehrlich has published several papers in sport data visualization and analysis in Public Choice, Mathematical Social Sciences, Games, and the Journal of Quantitative Analysis in Sport. He has conducted many talks and live demonstrations on sport data computation, visualization, and analysis that incorporate use of Tableau (with VizQL), R, Python, and D3.
Ehrlich's research has received support from the U.S. Department of Education, the U3E, and from Falk College. He was awarded the Moore Best Ph.D. Dissertation Award from the University of Kansas School of Engineering, the Provost's Award for Academic Excellence in Teaching with Technology from Western Illinois University, and several awards from WIU's College of Business and Technology.
Ehrlich earned a Ph.D. in computer science from the University of Kansas in 2010. His dissertation was titled, "The Effect of Desktop Illumination Realism on Presence and Generalization in a Virtual Learning Environment." He also holds a computer science M.S. earned in 2007 from Wichita State University, and an accounting and business administration B.B.A., earned in 2004 from Friends University in Wichita, KS.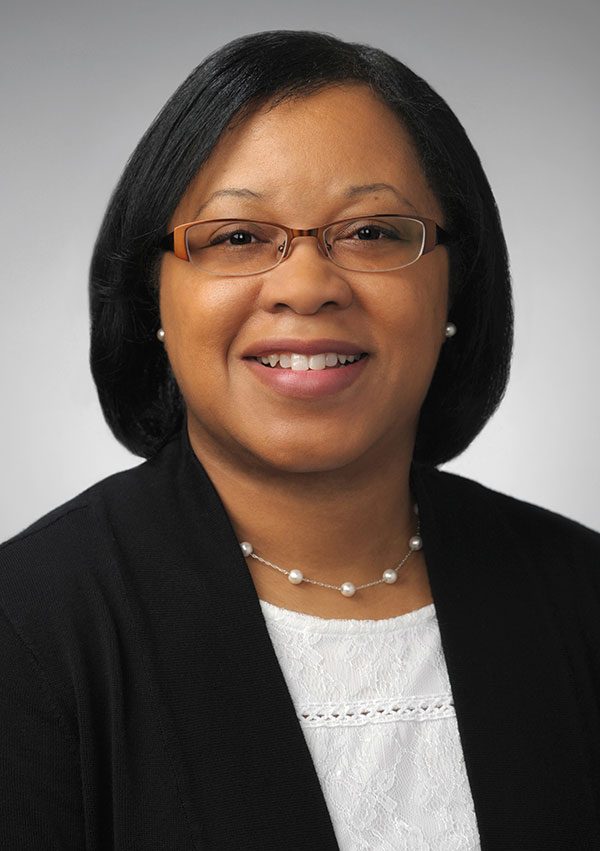 Chandice Haste–Jackson
Associate Teaching Professor, Department of Human Development and Family Science
Chandice Haste–Jackson is an associate teaching professor in the Department of Human Development and Family Science beginning Fall 2019.
In addition to working as internship coordinator in Falk College since 2016, Haste-Jackson has served as adjunct faculty in the Department of Human Development and Family Science since 2005, teaching courses such as Intimate Relationships and Gender Roles, Family Development, and Diversity, Equity and Inclusion. She has also taught as adjunct faculty for Onondaga Community College and the American Public University/American Military University System Department of Human Development and Family Science. She previously served in Syracuse University's School of Education as director of the Liberty Partnerships Program and has held positions at the Chadwick Residence, Inc., the Dunbar Association, and Syracuse Model Neighborhood Facility, Inc.
Haste-Jackson serves on the School Counselor Advisory Board for the Syracuse City School District and is a consultant for My Brother's Keeper Syracuse initiative founded by President Obama.
Haste-Jackson has presented for the Society for Research on Adolescence in San Francisco, CA and the National Council on Family Relations in Orlando, FL. She has given presentations for the U.S. Department of Education Office of Innovation and Improvement in Washington, DC, the New York State Education Department Empire State Youth Summit in Albany, NY, Ethiraj College and Women's Christian College in Chennai, India, as well as for the National Diversity Council's Upstate New York College Diversity Summit in Syracuse, NY, among others.
Haste-Jackson's work in urban youth development, vulnerable families, cross-cultural family dynamics, and diversity education has received support from the United States Department of Housing and Urban Development, New York State Office of Temporary Disability Assistance, New York State Legislature-Joan Christensen, Onondaga County Department of Long-Term Care and Aging Services, Onondaga County Youth Bureau, Onondaga County Department of Health, Onondaga County Department of Social Services, United Way of Central New York, and Syracuse University.
Haste-Jackson earned a Ph.D. in child and family studies from Syracuse University in 2013. Her dissertation was titled, "Strengths and Risk Factors for Romantic Relationships: Perspectives of African American Women." She also holds a M.S. in behavioral sciences with a concentration in psychology, earned from Cameron University in 1999, and a B.A. in cultural anthropology, earned from Syracuse University in 1996.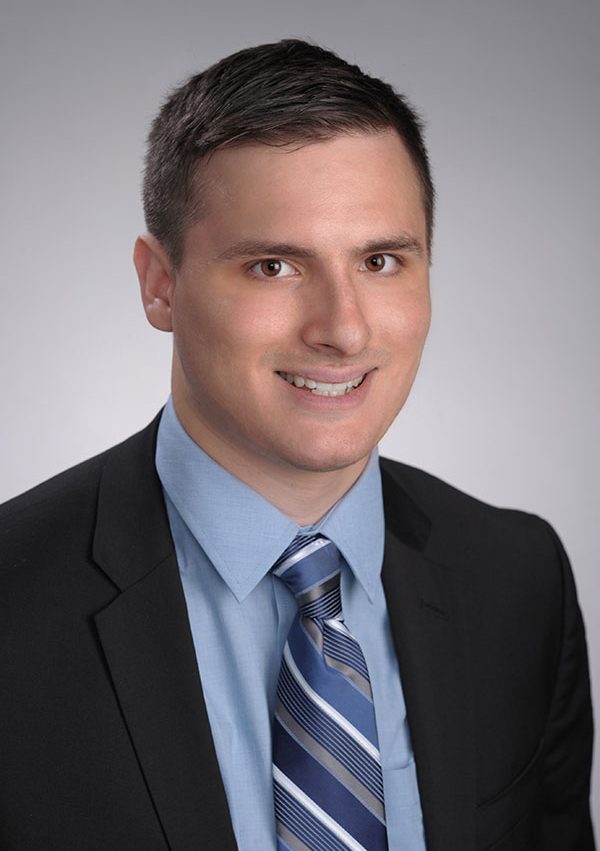 Jeremy Losak
Assistant Professor, Department of Sport Management
Jeremy Losak joins Syracuse University's Falk College Department of Sport Management as a tenure-track assistant professor in Fall 2019, where he will teach in the areas of sport management and sport analytics.
Prior to joining Syracuse University, Losak was a graduate assistant in the John E. Walker Department of Economics at Clemson University. His teaching experience includes positions as teaching assistant for Sport Economics, teaching assistant and later head teaching assistant for Undergraduate Principles of Microeconomics and Principles of Macroeconomics, and teaching assistant for Managerial Economics. In the sports industry, he was a baseball analytics consultant for Wasserman Media Group, marketing analytics consultant for The Madison Square Garden Company, and analytics intern for the Auburn Doubledays.
Losak's research focus is in sports economics, particularly sport labor markets and betting markets. He is published in Managerial Finance and in the Academy of Economics and Finance Journal. He has given several presentations at venues such as the 2019 Eastern Economic Association Conference in New York, NY; the 2018 Southern Economic Association in Washington, DC; the 2018 Missouri Valley Economic Association's Sports Economics Session in Memphis, TN, and; the Center for Research in Sports Administration's Sports, Data, and Journalism Conference at the University of Zurich in Switzerland.
Losak is the recipient of a Junior Researcher Award for the 2018 Sports, Data, and Journalism Conference at the University of Zurich and the Distinguished Student Paper Award at the 2018 Missouri Valley Economic Association Conference. He is also the recipient of travel grants from the Institute for Humane Studies Hayek Fund and Clemson Graduate Travel Grant Service. He was named a 2016 Falk College Class Marshal and a Falk College Scholar while at Syracuse University.
Losak earned a Ph.D. in economics from Clemson University in 2019 where he was a Koch Fellow in the John E. Walker Department of Economics. He also earned a B.S. in sport management from Syracuse University's Falk College in 2016.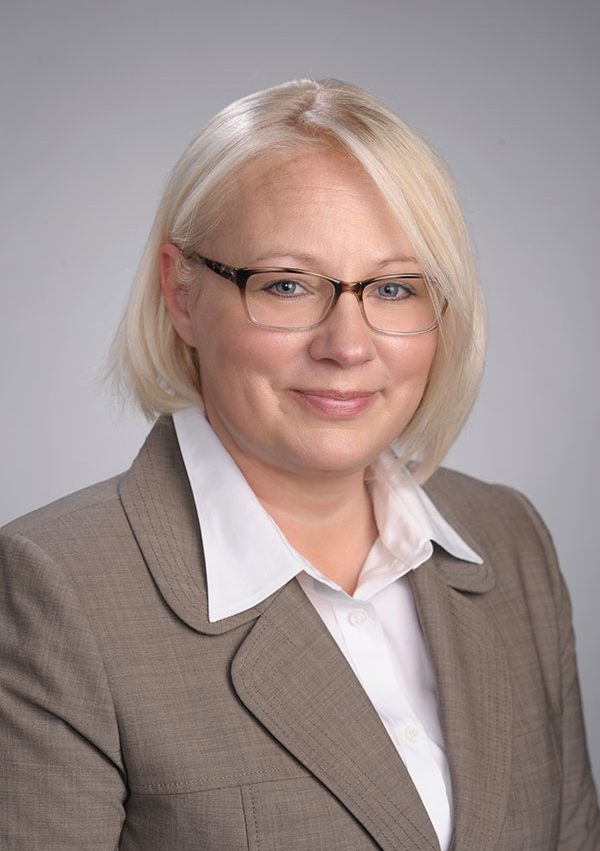 Stefanie Pilkay
Assistant Professor, School of Social Work
Stefanie Pilkay joins Syracuse University's Falk College School of Social Work as a tenure-track assistant professor in Fall 2019.
Before joining Syracuse University, Pilkay served as an adjunct lecturer at both Yeshiva University's Wurzweiler School of Social Work in New York, NY since 2018 and the University of Tennessee, College of Social Work in Knoxville, TN since 2015, teaching research methodology, trauma theory and practice, lifespan and neurophysiological development, and human behavior in the social environment. She was also a postdoctoral fellow at the Emory University School of Medicine, Department of Gynecology and Obstetrics in Atlanta, GA since 2017. She has served as a court-appointed special advocate for Anderson County Tennessee Juvenile Court. In 2014, she was a forensic social worker for the Community Law Office, Knox County Public Defender's Office. Specific to her research experience, Pilkay has served since 2018 as an early investigator trainee on "Developmental Origins of Health and Disease," an international cross-discipline research study with collaborations between Canada and the U.S.
Pilkay's research interests include trauma, early-life adversity, inter-generational transmission of adversity, adversity and trauma mechanisms for risk and resilience in human development. She is published in the Journal of Social Work Education, the Journal of Social Service Research, and has given several peer-reviewed presentations, most recently at the 64th Annual Program Meeting of the Council on Social Work Education in Orlando, FL, Connecting for Children's Justice Conference in Murfreesboro, TN, the International Congress on Child Abuse and Neglect in Prague, Czech Republic, and the 73rd Annual Scientific Meeting of the Society of Biological Psychiatry in New York, NY. Pilkay's work has been supported by the National Institute of Health/National Institute on Minority Health and Health Disparities and the University of Tennessee Health and Science Center.
Pilkay earned a Ph.D. in social work with a minor in graduate statistics from the University of Tennessee, Knoxville in 2017. She holds a M.S. in social work, an evidence-based interpersonal practice major with trauma treatment graduate certification, and a B.S. in social work with majors in honor's social work and psychology, earned in 2014 and 2013, respectively, from the University of Tennessee, Knoxville.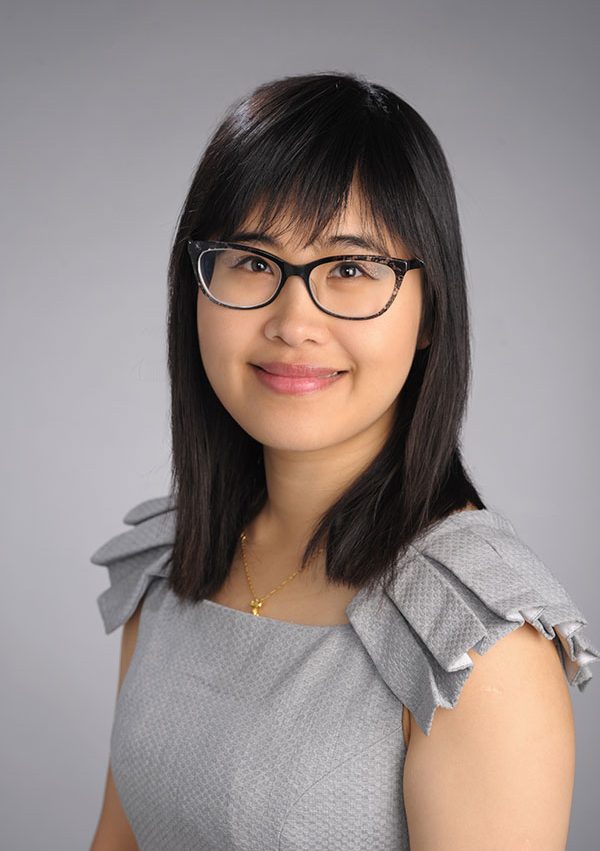 Xiafei Wang
Assistant Professor, School of Social Work
Xiafei Wang joins Syracuse University's Falk College School of Social Work as a tenure-track assistant professor in Fall 2019.
Prior to joining Syracuse University, Wang served as a research assistant on "Evaluation of Chinese National Working Committee on Children and Women & the United Nations Children's Fund Joint Child Friendly Spaces Project in China," funded by the United Nations Children's Fund: China since 2017, and on "Improving Child and Adolescent Mental Health and Health Outcomes: Integrative Family and Systems Treatment (I-Fast) Integrated Episode of Care Model" since 2014, funded by the Ohio Department of Mental Health & Addiction Services and Department of Developmental Disability.
Wang has published peer-reviewed articles in Social Work Research, Journal of Social Service Research, The Journal of Health Disparities Research and Practice, Children and Youth Services Review, Journal of Developmental Behavioral Pediatrics, PsyCh Journal, Community Mental Health Journal, Child Psychiatry and Human Development, Child Abuse & Neglect, and Social Work in Mental Health, as well as multiple book chapters.
Wang recently presented at the 32nd Annual San Diego International Conference on Child and Family Maltreatment in San Diego, CA, the Council of Social Work Education 64th Annual Program Meeting in Orlando, FL, National Association of County and City Health Officials 2018 Annual Meeting in New Orleans, LA, the Joint World Conference on Social Work, Education and Social Development 2018 in Dublin, Ireland, ResilienceCon 2018 in Nashville, TN, and the Society for Social Work and Research 22nd Annual Conference in Washington, D.C., among other presentations.
Wang's work has received support from the Society for the Psychological Study of Social Issues, Big Cities Health Coalition, Central Benefits Health Care Foundation, and the Ohio State University College of Social Work.
Wang earned a Ph.D. from The Ohio State University in 2019. Her dissertation was titled, "Breaking the Cycle of Intergenerational Trauma: A Mixed-Methods Study." There, she also earned her M.S.W. in 2015. She earned a M.A. in social work and social policy from Peking University in 2012 and a L.L.M. from the Peking University Law School & The Raoul Wallenberg Institute of Human Rights and Humanitarian Law in Beijing, China and Lund, Sweden in 2011, where she was named valedictorian. She also earned a B.A. in social work from Peking University in 2009.
---
Welcome Class of 2023!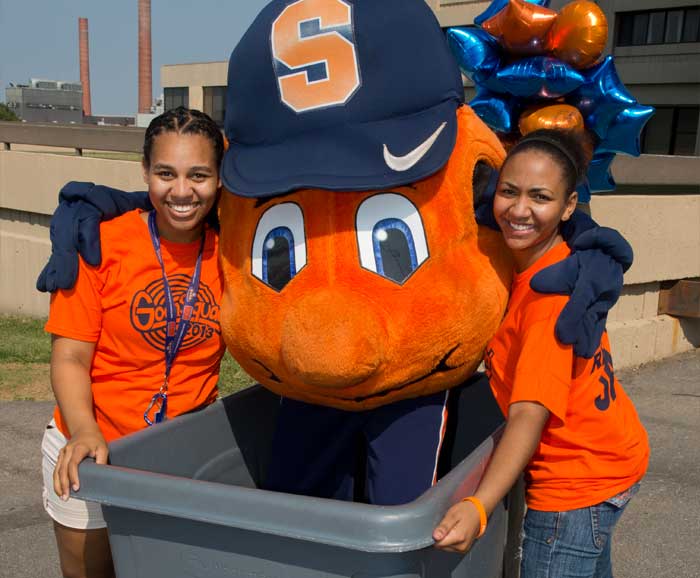 Falk College welcomes the Class of 2023 including 307 first-year and 20 transfer students who join 140 graduate students who are new as well. Welcome back to all Falk students who, this year, represent 40 states and 30 countries!
The entire welcome week schedule for new students can be found by visiting the Syracuse Welcome website.
---
Falk Students Named Syracuse University, Falk College Scholars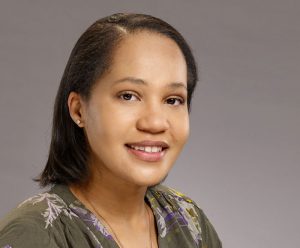 Noelle Kendra-Leah Rowe '19, graduating with a degree in human development and family science in May, is one of 12 Syracuse University Scholars who will represent the Class of 2019 at the May 12 Commencement ceremony. Syracuse University scholars are selected by a University-wide faculty committee from among the candidates nominated by each of the undergraduate schools and colleges. Based on certain criteria, including their coursework and academic achievement, independent research and creative work, and evidence of intellectual growth and/or innovation in their disciplinary field, Syracuse University Scholars exhibit outstanding achievement within their chosen field of study.
"A McNair Scholar and Honors Program student, Noelle is a model global citizen, setting an excellent example through community engagement activities that include service as a peer partner with the Taishoff Center and volunteer with the Lutheran Campus Ministry and Success Saturdays programs, among other activities," says Diane Lyden Murphy, dean, Falk College.
Falk College Scholars from the Class of 2019 represent undergraduate students in the College who display academic excellence, exceptional campus and community engagement, and personal integrity. They include:
Caitlin Burke, Sport Management
Angela Gallina, Social Work
Daniel Christopher Hamilton, Sport Management
Tatiana Inkeles, Nutrition Science
Madeline Johnson, Public Health
Danielle Lippman, Human Development and Family Science
Amelia Lu, Public Health
Anushruta Neupane, Public Health
Justin Taylor Perline, Sport Analytics
Noelle Rowe, Human Development and Family Science
Carly Sheffer, Nutrition Science
"Congratulations to our students named Syracuse University and Falk College Scholars. Their outstanding accomplishments exemplify academic excellence, creativity, personal achievement and commitment to the campus and local communities, and they are exceptional role models for their peers," adds senior associate dean of academic affairs, Eileen Lantier.
Learn more about the 2019 Syracuse University Scholars
---
Congratulations 2019 Falk Student Research Celebration Winners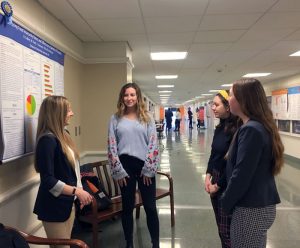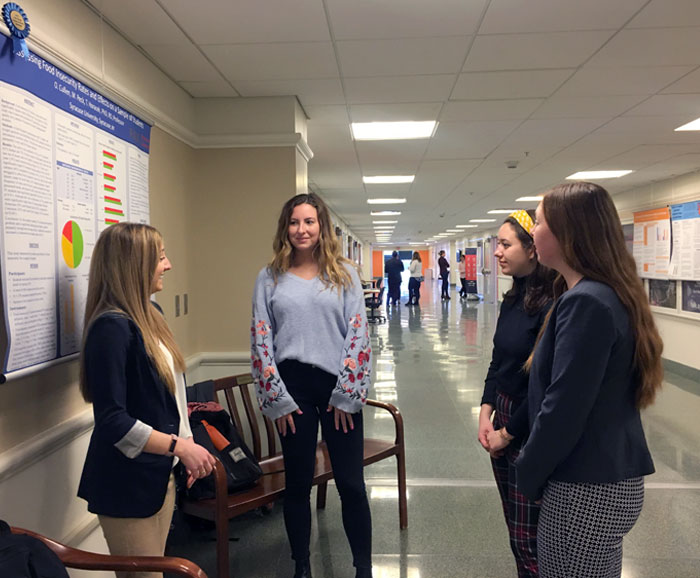 Falk College congratulates the following winners of the 2019 Falk Student Research Celebration:
Undergraduate Winners
Name: Bridget Clark
Kelly Brown, BS; Heather Brubacker, MS, Dietetic Intern; Laura Brown, MS, RD; Baylee Carroll, BS, Dietetic Intern; Elizabeth Gardner; April Hill; Sarah Mihalko, BS; Katie Obojkovits, BS, Dietetic Intern; Madeline Peck; Tanya Horacek, PhD, RD, Professor; Syracuse University, Syracuse NY.
Program/Major: Nutrition Science
Faculty Research Mentor: Tanya Horacek
Title: Process Evaluation of the Healthy Campus Environmental Audits
Name: Olivia Cullen
Madeline Peck; Tanya Horacek, PhD, RD, Professor; Syracuse University, Syracuse NY.
Program/Major: Nutrition Science
Faculty Research Mentor: Tanya Horacek
Title: Assessing Food Insecurity Rates and Effects on a Sample of Undergraduate Students
Name: CB Garrett
Program/Major: Sport Analytics
Faculty Research Mentor: Rodney Paul
Title: Impact of Birthplace on Player Performance in Different Weather Conditions
Graduate Winners
Name: Jennifer Guzzy
Program/Major: Master of Social Work (MSW)
Faculty Research Mentor: Ryan Heath
Title: Extracurriculars and Teachers as a Substitute for Parents: Do they support strong academic outcomes in students without parental involvement?
Name: Madeline Hilton
Program/Major: MSPH Global Health
Faculty Research Mentor: David Larsen
Title: Indoor Residual Spray Campaigns in Community Protection Against Malaria
Name: Ying Zhang
Program/Major: Human Development and Family Science
Faculty Research Mentor: Rachel Razza
Title: Positive Development in Adolescence: the Reciprocal Relationships Between Facets of Self-Compassion and Self-Regulation
---
Page 1 of 10