Human Development & Family Science News
Falk announces Graduate Merit Scholarships for Syracuse University students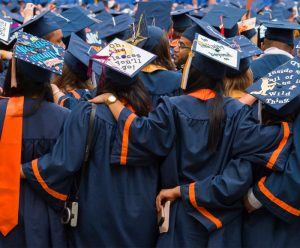 Falk College is pleased to announce the Falk College Merit Award Scholarship for current Syracuse University students interested in applying for a Falk College master's degree.
Incentives include no application fee, GRE waiver where applicable, and a 25% tuition discount incentive, which is applied after any other scholarships, scholarship credits, assistantships, and remitted tuition credits are applied.
To be eligible for the scholarship, students must be a current Syracuse University student in good standing with an overall GPA of 3.4 or higher applying for part-time or full-time study in one of the following degree programs:
Interested students must contact Falk Admissions and submit their application by February 15. Successful applicants will be officially admitted by the academic department and must formally matriculate for a 2019-2020 term.
"Falk College graduate degree programs allow undergraduates of all majors to tailor and enhance their career opportunities," says Falk College director of admissions, Felicia Otero. "For example, bachelor's degrees in psychology and sociology pair especially well with a master's degree in social work (MSW), marriage and family therapy (MFT), or the SWK-MFT dual program, as well as human development and family science, public health, and global health.
"Undergraduates studying business, management, advertising, and public relations can apply their skills directly to our sport venue and event management master's program. Students with skills in these disciplines might also apply to public health, global health, and food studies master's programs, alongside students with bachelor's degrees in communication & rhetorical studies, English, advertising, and education," Otero continues. "Undergraduates in biology and chemistry programs often pursue graduate study in nutrition science, as well as public health and global health programs at Falk."
"Falk graduate degrees lead to a variety of careers and end-credentials," says Deborah Golia, assistant director of admissions at Falk College. "You'll find Falk alumni working as counselors, therapists, social workers, community advocates, community educators, public health specialists, nonprofit program directors, managers, nutritionists, dietitians, sustainability program educators, and in limitless other roles."
"Falk College graduate degrees also lead to research professions and continued study in doctoral programs," she adds.
Falk Admissions will host a Graduate Information Session on Friday, November 2 in Falk Complex, White Hall, Room 335 at 4:00 p.m. In addition to review of Falk graduate programs, interested students can learn more about Falk Graduate Scholarships. For more information, please contact the Falk College Office of Admissions at 315.443.5555 or email falk@syr.edu.
---
Syracuse researchers study mindfulness in elementary schools
Falk College Associate Professor of Human Development and Family Science, Rachel Razza, and Joshua Felver, Assistant Professor of Psychology in the College of Arts and Sciences, are working collaboratively on new mindfulness interventions research. Through a partnership with Meachem Elementary school in Syracuse, New York, Razza and Felver are studying the impact of daily mindfulness activities, like yoga and meditation, in elementary classrooms.
---
Explore Falk Graduate Programs at November 2 Info Session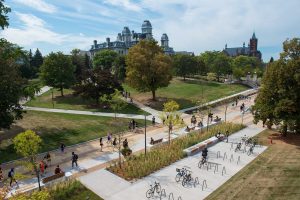 Syracuse University's Falk College will host a Graduate Information Session on Friday, November 2 in Falk Complex, White Hall, Room 335 across from the Falk College Admissions Suite. Faculty, staff, and current students will welcome potential graduate students interested in helping professions in counseling, therapy, public policy, and advocacy; health professions such as public health, epidemiology, nutrition, and wellness; as well as careers in sport and sporting events management. The two-hour event will start at 4 p.m. and will include a brief overview presentation, a question and answer session, and time to meet with faculty and students. Light refreshments will be served.
Detailed information will be provided on graduate programs in human development and family science (MA, MS, PhD), food studies (MS), global health (MS), public health (MS), marriage and family therapy (MA, PhD), social work (MSW) as well as the dual degree program (MA/MSW) in marriage and family therapy and social work, nutrition science (MA, MS), and sport venue and event management (MS).
Details on Falk College Certificate of Advanced Studies (CAS) programs in addiction studies, child therapy, dietetic internship, global health, food studies, and trauma-informed practice will also be provided.
Admissions staff will be available at the information session to meet with students and provide information on academic programs, housing, and scholarships, including the new Falk College Scholarship Merit Award program for high achieving Syracuse University undergraduate students applying to a Falk College master's degree program in 2019.
For more information about this event, and to register for it, contact Falk College Admissions at 315.443.5555, email falk@syr.edu, or visit the event webpage on the Falk College website.
---
Mindfulness interventions for children, May 4 presentation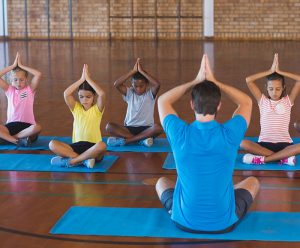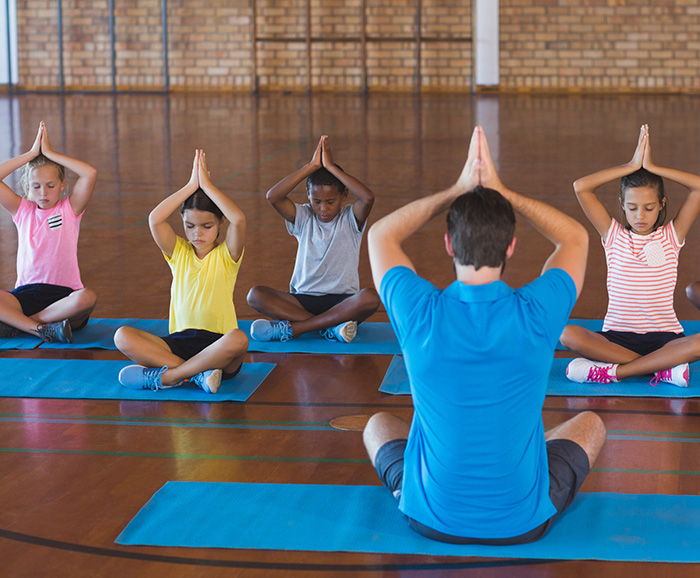 Falk College and its Department of Human Development and Family Science, the Syracuse University Humanities Center, Hendricks Chapel, Contemplative Collaborative and the Department of Communication and Rhetorical Studies hosted "Mindfulness Interventions to Reduce Stress and Foster Resilience in Children Across Diverse Communities" with Andres Gonzalez, co-founder and marketing director for the Holistic Life Foundation, Inc. in Baltimore, MD.
The May 4 event, free and open to the public, highlighted the organization's work in utilizing school-based mindfulness interventions with children and described the effectiveness of school-based mindfulness interventions with inner-city populations, highlighting the cultivation of spaces for wellness and healing with urban youth served by the Baltimore City Public Schools.
Gonzalez has taught yoga to diverse populations throughout the world at public and private schools and colleges, drug treatment centers, mental crisis facilities, homeless shelters, wellness centers and other global venues. He has partnered with Johns Hopkins Bloomberg School of Health and Penn State's Prevention Research Center on a stress and relaxation study and is a published author in the Journal of Children's Services.Mindfulness and contemplative practices are experiential modes of learning and self-inquiry, and include various forms of meditation, focused thought, writing, creative/performing arts and yoga. Such practices can foster greater empathy and communication skills, improve focus and attention, reduce stress and enhance creativity and general well-being. Given these advantages, these skills are of growing interest to researchers and practitioners from diverse fields, including those working with children and youth as these practices contribute to an individual's growth across multiple developmental domains.
According to Falk College Department of Human Development and Family Science Professor Matthew Mulvaney, one of the event's organizers, Contemplative Collaborative researchers conducting school-based research in Syracuse will integrate site visits with Gonzalez to local schools, providing further linkages between Syracuse University and the Syracuse City School District. Syracuse University's Contemplative Collaborative bridges student life and academic life through a community of faculty, staff, administrators and students with shared interests in mindfulness and contemplative practices that embody engaged learning, a mindful academy, and compassionate society.  This community is comprised of more than 140 members representing diverse disciplines and offices across the University.
---
Professors Jung, Weissman honored for excellence in graduate teaching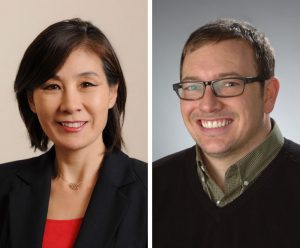 In recognition of dedication to graduate students and commitment to excellence in graduate teaching and mentoring, Falk College faculty members Eunjoo Jung, associate professor of human development and family science, and Evan Weissman, assistant professor, food studies, received 2018 Excellence in Graduate Education Faculty Recognition Awards. The honors were presented by the Graduate School at Syracuse University at a ceremony on April 26.
"We are grateful for their commitment to graduate students and proud of the excellence in mentorship and teaching Eunjoo and Evan bring to their academic programs as well as Falk College," says Diane Lyden Murphy, Falk College Dean.
---
HDFS awards four doctoral degrees in 2018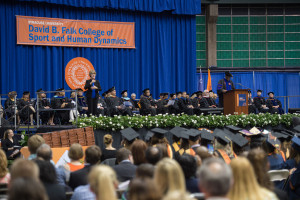 As summer approaches, the Class of 2018  looks forward to Syracuse University's 164th Commencement on Sunday, May 13, at the Dome. Additionally, Falk College will recognize its graduates at the Falk College Convocation May 12, 2018 in Manley Field House. Among the College's many soon-to-be graduates are four Ph.D. students from Falk College's Department of Human Development and Family Science: Dimple Vadagama, Kimberly Raymond, Robert E. Myers III, and Jason Chiang.
Dimple Vadagama
Dimple Vadgama's area of research is immigrant families and parent-child relationships. Her doctoral dissertation focused on the ecological (personal, co-parental, and contextual) factors influencing Asian-Indian immigrant fathers' involvement with school-aged children, wherein she found that father involvement is enhanced when both fathers' and mothers were well adjusted in their marriage, when fathers perceived themselves as being efficient in their parenting role and, had egalitarian beliefs about parenting. Crossover effects were found from mothers' marital adjustment onto fathers' reports of involvement. Also, fathers' parenting self-efficacy significantly influenced mothers' reports of fathers' involvement. These crossover effects reveal that fathers' involvement depend on how adjusted mothers were in their marriage, and mothers' perceptions of fathers' involvement depend on how efficient fathers were in their parenting role.
Dimple has been working on several research projects with professors in the department of Human Development and Family Science throughout her graduate studies. Dimple is a co-author on a publication that includes a comprehensive review about father involvement and it was published in Sage journal Psychology in Developing Societies. She has also presented at several conferences including International Conference on Aging families: Changing families held on June 3-6, 2015 at Syracuse University, Syracuse, New York and the National Council on Family Relations annual conference: Families as catalysts: Shaping neurons, neighborhoods, and nations, November 15-18, 2017 at Orlando, FL.
Kimberly Raymond
Kimberly received her undergraduate and graduate degrees in psychology and counseling, respectively, from the State University of New York College at Oswego before beginning her doctoral work in Human Development and Family Science at Syracuse University. Her doctoral work has focused on the exploration of cognitive and attentional biases as a mediational link between levels of mindfulness, self-compassion and social anxiety in college students. She is interested in further exploring the influence of mindfulness and self-compassion toward altering attentional and cognitive mechanisms as a means of promoting health, wellness and decreased levels of anxiety in adolescents.
Kimberly's interest in cognitive science has also expanded to her recent work as a qualitative scientist for Optum in their Patient Reported Outcomes (PRO) division. Her work there involves the use of qualitative approaches to incorporate the patient voice into healthcare and healthcare delivery. Specifically, Kimberly specializes in qualitative procedures used to gather patients' experience with various healthcare conditions, as well as the use of cognitive interviewing techniques to develop and validate clinical outcomes assessments (COAs) and survey instruments used to measure patient quality of life and treatment efficacy.
Kimberly has published across disciplinary borders and her work has appeared in various journals such as the Journal of Pediatric Psychology, Social Development, Journal of Family Studies, Journal of Patient Reported Outcomes, and Value in Health, as well as a book chapter pertaining to executive functions and school readiness in the Routledge International Handbook of Young Children's Thinking and Understanding.
Robert E. Myers III
Robert E. Myers III. MA-IR., MPA., Ph.D. is a non-profit executive with experience working in disability advocacy and support. His research interests are in the areas of disability policy, state and federal contracting, adolescent education and transition to adulthood. His dissertation analyzed transition of students with disabilities from high school to employment. Using tenets in a model developed by the National Longitudinal Studies (NLTS) and the bioecological model, his dissertation examined how programmatic supports, individual skills and strengths, and familial factors predict employment outcomes in individuals with intellectual disability. This study utilized a national sample of 270 young adults with intellectual disability who are from diverse ethnic and socioeconomic backgrounds. Logistic regression showed that supportive families who engaged with youth at school and at home were more likely to have youth who achieved higher levels of success after high school, and the skills that youth had or had acquired affected their employment related outcomes.
Dr. Myers has presented his research at a number of state and national conference including the American Association of Intellectual and Developmental Disabilities, TASH, The New York Alliance for Inclusion & Innovation and many others. He was appointed by New York State Governor Cuomo to the State Autism Advisory Board and has worked internationally in United Nations and International Organizations. In 2006, Dr. Myers helped launch a new non-profit, The Kelberman Center. He is the Executive Director of this regional nonprofit supporting people with autism. With offices in Utica and Syracuse, New York, the Center provides technical assistance and capacity building in 65 school districts, preschool, housing, a model clinic providing psychological and therapeutic supports, and self-directed supports through 200 highly trained professionals working across seven counties in Central New York.
Jason Chiang
Jason received his undergraduate and graduate degrees in psychology and Educational Psychology, respectively, from University of Toronto and the State University of New York at Albany before beginning his doctoral work in Human Development and Family Science at Syracuse University. His doctoral work examined links between shaming and training parenting strategies, and psychological and academic outcomes among children of Chinese immigrants living in the U.S. He is interested in further exploring the parental beliefs and practices among immigrant families, and acculturation and enculturation process in these families.
Jason has been teaching at University of Akron as Assistant Professor of Child and Family Development since Fall 2016. His work there involves teaching undergraduate and graduate on-campus and online courses, developing new courses, conducting research, and serving on various committees. He has been invited to be a guest speaker for preschool and Chinese language school in Akron and Columbus, Ohio.
Jason has co-authored a book chapter pertaining to the current state of early childhood education in Caribbean countries in the Routledge book titled Early Childhood Education and Change in Diverse Cultural Contexts. In addition, he has co-authored a manuscript investigating kindergartener's mathematics learning, which is currently under review at International Journal of Educational Research. His works have been presented in international and national conferences such as American Educational Research Association (AERA) Annual Meeting in Washington D.C, The Society for the Study of Human Development (SSHD) Conference in Fort Lauderdale, Florida, and The Ryerson Centre for Immigration and Settlement Conference in Toronto, Canada.
---
Falk College Marks Child Nutrition Day with Food Demo, Tasting at Bernice M. Wright Lab School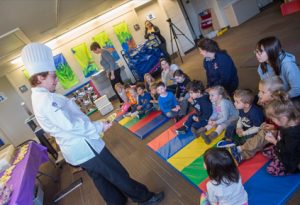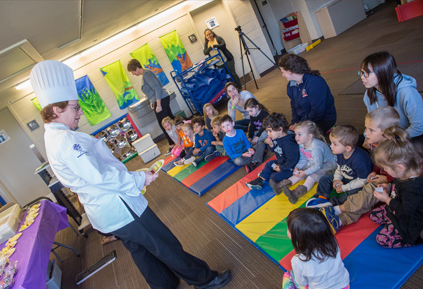 What do you get when you put a bell pepper and a carrot together with corn niblets, green beans, blueberries and eggplant?
A rainbow.
This multi-colored food kaleidoscope supports a deliberate effort known as "eating the rainbow" to help children make healthy food choices. Thanks to a grant from the American Culinary Federation (ACF) in support of Child Nutrition Day in October, associate teaching professor and ACF chef Mary Kiernan, presented a mini food demonstration and tasting of the rainbow with children at the Bernice M. Wright (BMW) Lab School.
Childhood Nutrition Day celebrated on or around Oct. 16 each year focuses on fostering and promoting awareness of proper nutrition. Recently, children at the BMW Lab School, a part of Falk College's Department of Human Development and Family Science (HDFS), worked in small groups led by Chef Kiernan and Falk nutrition major Mary Mik, who is also a Susan R. Klenk Learning Assistant. The demonstration engaged children ages two through four on such topics as how many taste buds a person has and why the foods they sampled that day are important to good nutrition.
---
Leslie J. Couse, Ph.D., G'01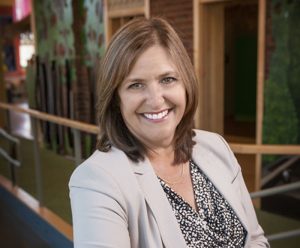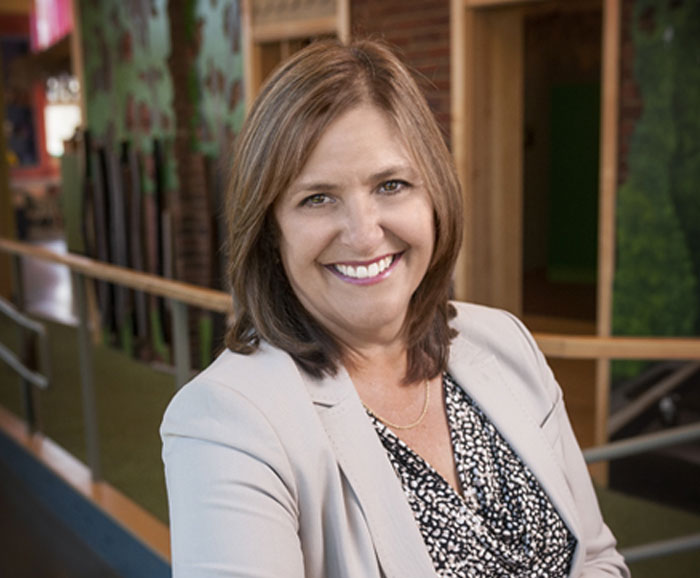 Dr. Leslie J. Couse is associate professor of education at the University of New Hampshire and adjunct assistant professor of pediatrics at the Geisel School of Medicine at Dartmouth. Her expertise lies in preparing teachers for inclusive early childhood settings through interdisciplinary collaboration with parents, teachers, and service providers.
Through community partnerships, she researches inclusive teacher education, leadership development for the field of disability, and technology as a tool for increasing children's access. She is chair of the Education Department and project director for the U.S. Department of Education Office of Special Education-funded Early Childhood Special Education Assistive Technology Project.
Dr. Couse is co-editor of The Handbook of Early Childhood Teacher Education (Routledge, 2016), has served as guest editor for a special issue and is a member of the editorial board for the Journal of Early Childhood Teacher Education, and past Governing Board member of the National Association for Early Childhood Teacher Educators (NAECTE).
---
Human development and family science alumna delivers inclusive education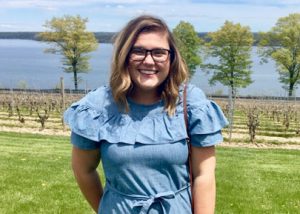 Inspired by her mother, Charlotte Klass '17 discovered her career ambitions in teaching at a very young age. "As a child, my mom placed a huge emphasis on including others, no matter their ability. She requested that we were placed in classrooms that focused on inclusive education. She instilled in me a passion for helping others, one that eventually led me to want to become a teacher."
When it came time for her to go to college, Klass chose Syracuse University at the recommendation of her brother, Max, an alumnus of the College of Engineering & Computer Science. "Human Development and Family Science interested me because it placed an emphasis on understanding how children learn and develop and how family life can influence a child's development," she says. "My family has had a huge impact on my life, and to find a major that allowed me to study child development and family dynamics brought everything full circle. HDFS was the perfect fit."
HDFS majors like Klass gain practical experience in CFS 432 at the Bernice M. Wright (BMW) Child Development Laboratory School, which not only offers the community an accredited, inclusive early childhood education program, but also serves as a training facility for students. "I am a hands-on learner, I like to see what I am learning in the classroom applied to a real-life situation and CFS 432 did just that," says Klass. "We would discuss different theories or lesson plan ideas, then that week have the opportunity to apply what we were learning in a real classroom."
After taking an American Sign Language course, Klass was drawn to working with students who had hearing disabilities, so the opportunity to work at Jowonio, a leader in inclusive education, was "a dream come true," she says. "In my placement classroom, we had a mixture of students with hearing disabilities, students with communication disorders, students with social disabilities and students without documented disabilities, all coexisting together." There, all of the teachers used sign language when teaching, and as a result, all students were exposed to sign language.
"I watched the room use sign in conjunction with spoken language and saw how many students were naturally drawn to ASL," Klass recalls. "Students who struggled with traditional means of communication would use sign language as a supplemental form of communication with teachers and it opened my eyes to the possibility that sign language isn't just for those who can't hear, but for all those who want to communicate."
This insight served as a foundation for the inclusive literacy materials Klass wrote for Jowonio: a book that encourages all children, both deaf and hearing, to learn sign language. "We know that it is important to teach children with hearing disabilities sign language, but teaching students with hearing or speech disabilities to sign can also be beneficial. Sign language in the early childhood setting can allow for further communication between caregivers and children and help increase communication among students, peers, and caregivers."
Observing the students' growing desire to learn and use ASL was the most gratifying and inspirational part of Klass' work, she says. "Children do not see disability the same way that adults do, and to watch these students recognize that someone was different and embrace that difference and attempt to communicate was truly inspiring."
Klass starts her master's program this summer in early childhood special education at the SU School of Education. "I hope to one day have a Kindergarten classroom to call my own. My dream is to create a classroom where students of all forms of ability can work and learn together," she says. "Having studied child development, I understand that everyone learns differently, not just students with exceptionalities, and thus it doesn't make a difference to me if you have a diagnosed disability or not, everyone will have an opportunity to learn in my classroom."
"Falk College cares about their students, and you will graduate with a degree that has truly prepared you to work in the field," says Klass. "From small classes with passionate professors who are leaders in the field, to community connections and incredible internship opportunities, I couldn't be prouder to be a Falk College alumna."
---
Congratulations Falk faculty!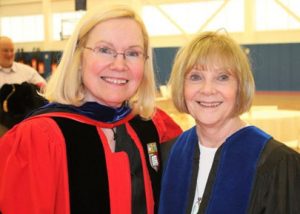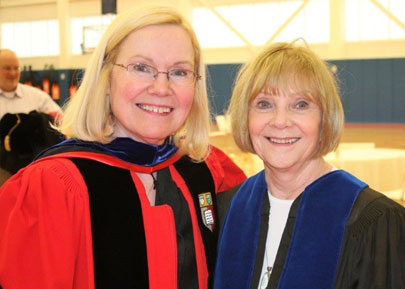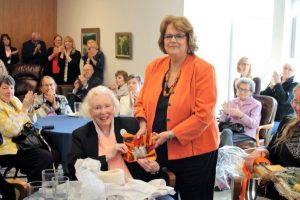 Dean Murphy, along with Falk College faculty and staff, congratulate faculty who retired at the end of the 2016-17 academic year, including:
In May, the following faculty promotions were announced:
---
Page 2 of 10