Nutrition Science & Dietetics News
Nutrition student tests her culinary knowledge in Atlantic City competition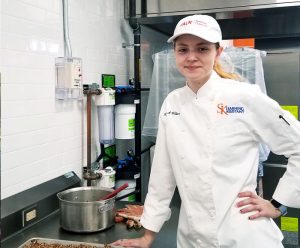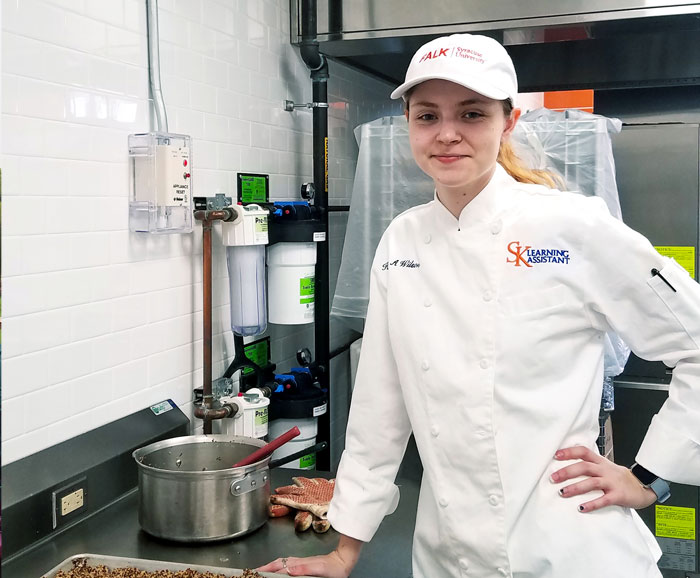 In February, Kelsie Wilson '20 was part of the first team to represent the Syracuse Chapter of the American Culinary Federation in the Baron H. Garland Regional Knowledge Bowl Competition in Atlantic City, New Jersey, a Jeopardy-style competition that tests culinary knowledge.
Wilson, a student in Syracuse University's nutrition science and dietetics program in Falk College, was recruited for the team by one of her professors, Chef Mary Kiernan. "After much deliberation and convincing by my family and Chef, I decided to become a part of the Syracuse ACF Chapter team."
Wilson was joined by Jessica Czyz, resort and recreation services management student at SUNY Morrisville, Rose Thompson and Grace Beard, hospitality management students at Onondaga Community College, and coached by Joseph Visser, a SUNY Morrisville culinary arts alumnus. The Syracuse Chapter was one of eight teams representing the Northeast region.
"Jessica, Rose, and Grace were a lot of fun to work with. We were not really sure what to expect going into this competition, as we were the first team the Syracuse Chapter had ever sent to this competition," she says. "We agreed that we would all do our best and have fun," says Wilson. "In the end, we were able to beat out two of the eight teams, so we felt very proud of what we accomplished."
Wilson will start her senior year in the fall, and the competition was just one of many experiences that highlight her time at Syracuse University. One of her favorites, she says, was working as a teacher's assistant for cooking labs in the Susan R. Klenk Learning Café and Kitchens, a 5,000-square foot commercial kitchen and experimental food lab. "My passion is and will forever be in the kitchen. It is where I have always felt the most comfortable. I greatly enjoyed helping students broaden their culinary skills and knowledge about food," says Wilson.
After high school, Wilson had her eyes set on culinary school. "All my life I have wanted to be a chef and work in my very own kitchen," she says. "I applied and was accepted into the Culinary Institute of America."
But she decided to take her career path in a new direction when she was inspired by a dietitian. "During my senior year of high school, my mother was diagnosed with breast cancer. It took a major toll on her and my family." During my mother's recovery, I saw how her dietitian was able to help her through her nutrition. This led me to change my career path so that I could help people in the same way."
Wilson continues,"I looked up the best schools in the country to go for my nutrition degree and I was led to SU. Being raised in the Syracuse area I had always heard about how great the local university was, and how some of the best minds in the world attended school here, so naturally it was not a difficult decision to make."
Wilson is studying to become a Registered Dietitian. "I want to educate people on how to make food for themselves and their family that is not only delicious but also healthy for their body," RDs work in private practice, hospitals, schools, and government agencies helping improve health and wellness for individuals and communities.
With her years of experience working in restaurants and her nutrition education from Syracuse, Kelsie plans to pursue a career in the culinary field and give the world a fresh, new take on preparing healthy, appetizing food. she says. "I do not yet know where I want to end up in my career But I do know that whatever I do and wherever I do it, it will be with me having a knife in one hand and a pen in the other—cooking and educating about the joy of healthy cooking."
Falk College offers undergraduate and graduate programs in nutrition science and dietetics, as well as other fields that promote health and well-being.
---
Study in India with Falk College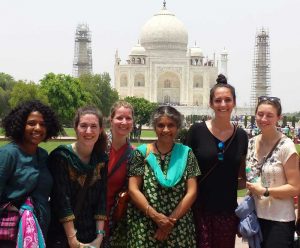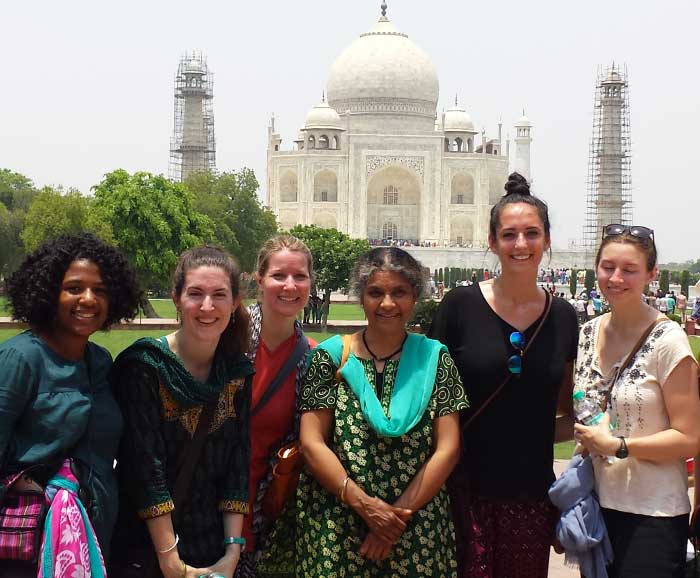 "There is no textbook, magazine or movie that could accurately depict the amazing food, markets, and people you will encounter."
Those are the words assistant teaching professor of nutrition, Chaya Charles, used to describe the immersion component of the course, "South Asia: Family, Food, Culture and Healthcare Systems (NSD/HFS/SAS 400/600).
This three-credit course focuses on developing cultural competency skills through awareness, didactics and experiential learning by means of the immersion experience.
It is offered during the Fall 2019 semester online and is open to undergraduates and graduate students. A cultural immersion trip to India follows as part of the course, December 31, 2019 to January 11, 2020, with visits to New Delhi, Mumbai and Chennai.
The cultural immersion component includes interactions with local professionals, communities, and families, as well as observational and experiential learning within healthcare and food systems. "I had the great fortune of joining the students and faculty on their trip to India, and I would describe the experience as nothing short of life changing. To be immersed in such a diverse and rich culture, full of tradition and history, exceeded all of my expectations," adds Charles.
Senior food studies and psychology major Phoebe Bennett describes this course and her travel to India as an opportunity to experience food as a form of community. "From participating in making roti during temple feeding and having multiple families serve home-cooked meals to picking fresh vegetables from a garden belonging to a linage of gods, I felt that food connected us no matter our culture differences," says Bennett.
"Everyday I kept saying this is my favorite day because truly I was experiencing things I probably will never get to experience again."
This course counts for NSD 555 for Nutrition majors and has limited capacity. Students should apply through Syracuse University Study Abroad. For more information, contact Professor Sudha Raj at sraj@syr.edu. The registration deadline is May 8.
---
Congratulations 2019 Falk Student Research Celebration Winners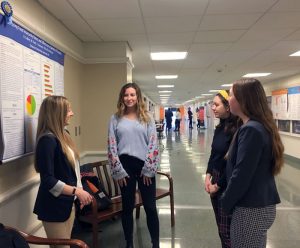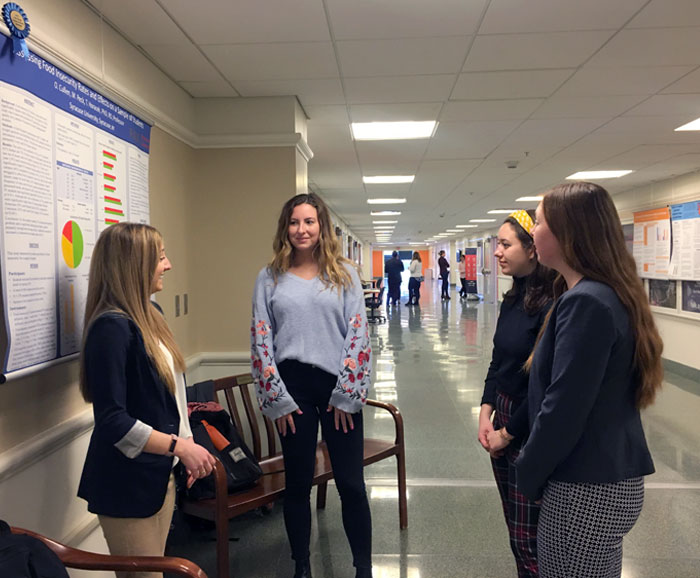 Falk College congratulates the following winners of the 2019 Falk Student Research Celebration:
Undergraduate Winners
Name: Bridget Clark
Kelly Brown, BS; Heather Brubacker, MS, Dietetic Intern; Laura Brown, MS, RD; Baylee Carroll, BS, Dietetic Intern; Elizabeth Gardner; April Hill; Sarah Mihalko, BS; Katie Obojkovits, BS, Dietetic Intern; Madeline Peck; Tanya Horacek, PhD, RD, Professor; Syracuse University, Syracuse NY.
Program/Major: Nutrition Science
Faculty Research Mentor: Tanya Horacek
Title: Process Evaluation of the Healthy Campus Environmental Audits
Name: Olivia Cullen
Madeline Peck; Tanya Horacek, PhD, RD, Professor; Syracuse University, Syracuse NY.
Program/Major: Nutrition Science
Faculty Research Mentor: Tanya Horacek
Title: Assessing Food Insecurity Rates and Effects on a Sample of Undergraduate Students
Name: CB Garrett
Program/Major: Sport Analytics
Faculty Research Mentor: Rodney Paul
Title: Impact of Birthplace on Player Performance in Different Weather Conditions
Graduate Winners
Name: Jennifer Guzzy
Program/Major: Master of Social Work (MSW)
Faculty Research Mentor: Ryan Heath
Title: Extracurriculars and Teachers as a Substitute for Parents: Do they support strong academic outcomes in students without parental involvement?
Name: Madeline Hilton
Program/Major: MSPH Global Health
Faculty Research Mentor: David Larsen
Title: Indoor Residual Spray Campaigns in Community Protection Against Malaria
Name: Ying Zhang
Program/Major: Human Development and Family Science
Faculty Research Mentor: Rachel Razza
Title: Positive Development in Adolescence: the Reciprocal Relationships Between Facets of Self-Compassion and Self-Regulation
---
Sudha Raj receives Excellence in Service Award from Dietitians in Integrative and Functional Medicine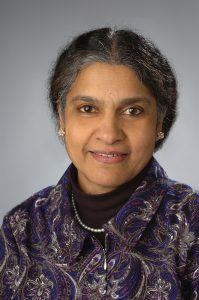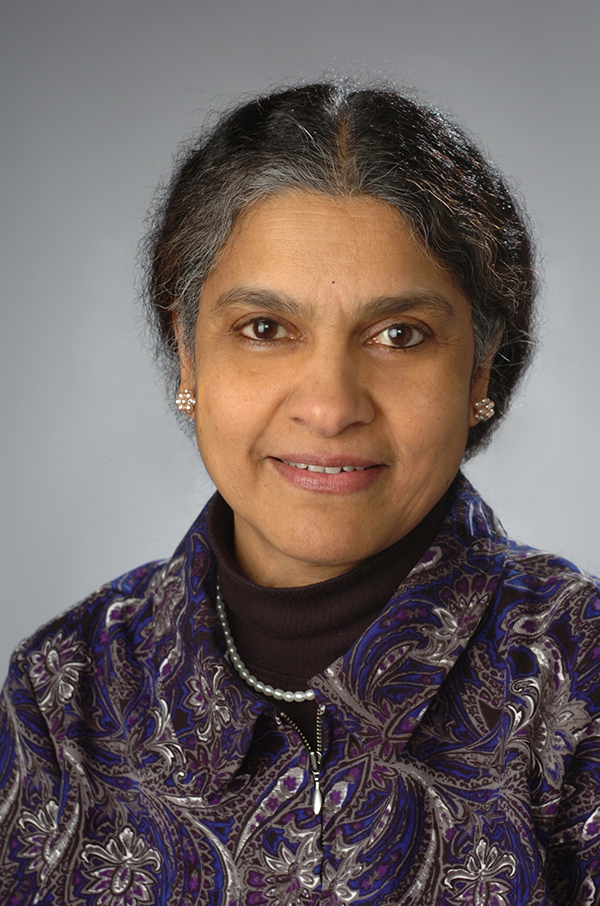 Sudha Raj, Ph.D., RDN, FAND, teaching professor in the Falk College nutrition program, was the winner of the DIFM Excellence in Service Award from the Dietitians in Integrative and Functional Medicine Dietetic Practice Group of the Academy of Nutrition and Dietetics. The award was presented at the Annual Food and Nutrition Conference and Expo in Washington, D.C. on October 21, 2018. Read more in this Q&A with Dr. Raj.
Dr. Raj is a Fellow of the Academy of Nutrition and Dietetics and has been actively involved. She has served as Newsletter Editor, Chair for the Vegetarian Nutrition Dietetic Practice Group and Chair for the Vegetarian Nutrition Evidence Analysis Group. She has also served as a committee member for the development of Standards of Practice for the Dietitians in Integrative and Functional Medicine.
Dr. Raj is interested in exploring the role of acculturative factors as they impact the health and well-being of Asian Indian immigrants specifically from India. Since 1994, she has developed dietetics related educational resources, written book chapters and given presentations highlighting the unique Asian Indian culture, food habits and role of food as delineated in the traditional medical system of Ayurveda.
Dr. Raj holds a B.Sc. degree in Nutrition and Dietetics from Madras University and M.Sc. degree from Bombay University in India. She subsequently completed her M.S and PhD degrees in Nutrition Science from Syracuse University.
---
Joan Christy Lecture Series Presents Culinary Demonstration with Celebrity Chef Julie Taboulie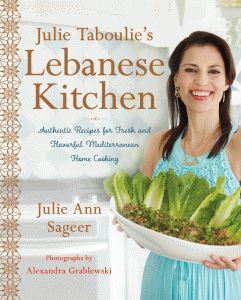 The Falk College nutrition program will host "Lebanese Cuisine & Culture and Mediterranean Living," a lecture presentation and live culinary demonstration with culinary star, TV host, and award-winning cookbook author Julie Taboulie, on Wednesday, March 20, at 4:30 p.m. in the Nutrition Assessment, Consultation and Education (ACE) Center demonstration kitchen, Room 204 in the Falk Complex, as part of the Joan Christy lecture series.
In "Lebanese Cuisine & Culture and Mediterranean Living," Julie Taboulie will focus on her famous food philosophies, "fresh is best" and "health is wealth," while sharing professional techniques she uses on her Emmy-nominated PBS show, Cooking with Julie Taboulie and Julie Taboulie's Lebanese Kitchen.
"We look forward to welcoming spring with Julie's visit and demonstration," says associate professor Kay Stearns Bruening, Ph.D., RDN, FAND. "She uses fresh, local foods, which form the basis of healthy eating, often from her mother's garden in Central New York."
Hailed as the "Queen of Lebanese Cuisine," Julie Taboulie (Julie Ann Sageer), is the host of the Emmy-nominated Cooking with Julie Taboulie and her brand-new award-winning series Julie Taboulie's Lebanese Kitchen currently airing on PBS stations and Create TV nationwide. Julie is the bestselling and award-winning author of her new cookbook Julie Taboulie's Lebanese Kitchen: Authentic Recipes for Fresh and Flavorful Mediterranean Home Cooking that is available everywhere books are sold. She is a guest chef on NBC's Today Show, Hallmark Channel's Home & Family, and makes special guest appearances on numerous national and international media outlets. As an authority on Lebanese, Middle Eastern and Mediterranean cuisines, Culinary Star Julie Taboulie is a sought-after spokesperson working with world-renowned global food brands, along with national and international culinary and lifestyle leaders. Julie Taboulie believes that "fresh is best" which is not only her brand mantra it is also her food philosophy and way of life. She strives to instill, inspire and influence others every day in extraordinary ways towards living a healthier and happier lifestyle all year long!
Julie Taboulie made her mark in the culinary world by making television history in 2012 with producing and premiering her Emmy-nominated and multiple award-winning national Public Television cooking show series Cooking with Julie Taboulie. This breakthrough in American broadcast shattered the country's "kitchen" glass ceiling to become the first, and only Lebanese cooking series to air in the United States and Canada. Today, Miss Taboulie continues to be the most pivotal pioneer, public figure and personality to motivate the movement of making Lebanese and Mediterranean cuisine mainstream across America, with her brand-new and award-winning Public Television series Julie Taboulie's Lebanese Kitchen airing on PBS stations and Create TV nationwide. This special series brings to life her love of her Lebanese culinary and cultural heritage in a celebration of all things Lebanese cuisine. Born Julie Ann Sageer in the United States, to an immigrant Catholic Lebanese family, Julie is first-generation and full-blooded Lebanese-American who has been immersed in learning, making and sharing Lebanese cuisine and culture all her life.
The Joan Christy lecture series is made possible by The Christy Food and Culture Fund, established in 2005 through the generosity of Syracuse University nutrition alumna Joan Christy '78, G'81 to provide support for a lecture series in the nutrition program at the University.
The event is free and open to the public, with advance registration required by contacting Donna Sparkes at 315.443.5573 or djsparke@syr.edu by March 15, 2019.
For accommodations requests, please contact Donna Sparkes at 315.443.5573 or djsparke@syr.edu by March 15, 2019.
---
2019 Falk Student Research Celebration Takes Place March 26-29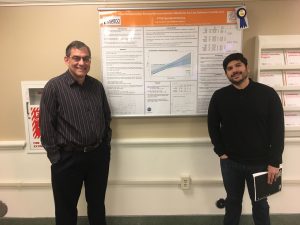 Falk students are invited to submit posters for completed or in-progress empirical, exploratory, policy analytic or hypothesis-driven research projects using qualitative, quantitative, or mixed methods for display, judging, and awards in the 2019 Falk Student Research Celebration March 26-29. The multi-day event will highlight Falk students' research collaborations and their dedication to advancing research knowledge.
Poster entry forms are due March 7 and poster submissions are due March 21. Posters will be on display beginning March 26 near the second floor student lounge and the Falk Café on 2 in the Falk Complex, with judging and awards taking place March 27. Students will present their posters from 12 to 1 p.m. on March 27 and 28.
The Falk College Research Center promotes a robust, collaborative research community in which students play an active role. At Falk, graduate and undergraduate students have the opportunity to work directly with faculty to collect data, analyze findings and draw conclusions on relevant topics surrounding public health, food studies, nutrition, sport management, human development and family science, social work, and marriage and family therapy.
"Conducting research as a student has many benefits, including building a strong relationship with Falk faculty members, improving writing and statistical analysis skills, and creating connections both on and off campus," says instructor Jessica Redmond. "Because much of the research in Falk College has real-world implications, we want students to be able to share their findings publicly, and the Falk Student Research Celebration is the perfect opportunity to do so."
"The student research days is a great showcase of the work our students are doing to understand the world and the human condition," says assistant professor David Larsen. "It's always fun to see the new ideas that our students have, and how they are seeking to improve the world we live in."
Assistant professor Bhavneet Walia agrees. "It's a great way to quench your curiosity," she says. "Come see what our students are up to at the Falk Student Research Celebration."
Winners of the 2018 Falk Student Research Celebration, held March 27-30, 2018, included research in a wide range of topics, such as maternal health, accessibility, and PTSD.
For more information about the 2019 Falk Student Research Celebration, contact Amy Dumas adumas@syr.edu at the Falk Research Center.
---
Falk College expands graduate merit scholarships beginning Summer 2019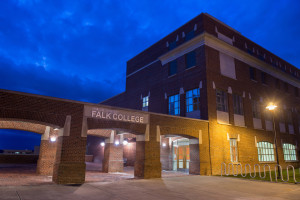 Graduate merit scholarships have been expanded for prospective students interested in matriculating into master's degrees, either full- or part-time, offered in Falk College effective Summer 2019 (includes MAYmester Summer Session I, Summer Session II, Combined Summer Session). Incentives include no application fee, GRE waiver where applicable, and a 25 percent tuition discount incentive, which is applied after any other scholarships, scholarship credits, assistantships and remitted tuition credits are applied.
Eligible matriculated students include:
All Syracuse University alumni applying to master's degree programs in Falk College (see list below), including members of the Class of 2019;
Children of current full-time Syracuse University employees (notarized supplemental forms required);
Any Advanced Standing MSW-enrolled student from any accredited BSW/BSSW program throughout the nation, and;
Current Falk master's program students who are Syracuse University alumni; children of current full-time Syracuse University employees are also eligible.
Falk graduate programs include:
Food Studies, M.S.
Global Health, M.S.
Human Development & Family Science, M.A., M.S.
Marriage and Family Therapy, M.A.
Nutrition Science, M.A., M.S.
Public Health, M.S.
Social Work, Advanced Standing Program, M.S.W.
Social Work, M.S.W.
Social Work and Marriage and Family Therapy Dual Degree, M.A./M.S.W.
Sport Venue & Event Management, M.S.
Interested students should contact Falk Admissions, submit their application, and must formally matriculate. For more information, please contact the Falk College Office of Admissions at 315.443.5555 or email falk@syr.edu. Award is subject to change.
---
Litt Lecture features Cleveland Browns performance dietitian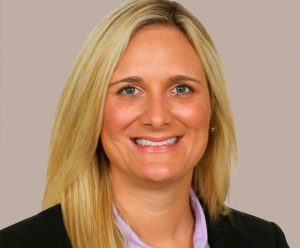 The Falk College and its nutrition program will host the fourth annual Ann Litt Distinguished Lecture Series on November 15 from 5 to 6:30 p.m. in Falk Complex, Room 200. Nutrition alumna and Cleveland Browns performance dietitian, Katy Meassick, R.D., will provide an overview of sport nutrition practices and discuss the specifics around performance nutrition approaches for football in her lecture, "Sports Nutrition and Application in Professional Football." The event is free and open to the public. For information about the Ann Litt Lecture and for accommodations requests, please contact Donna Sparkes at djsparke@syr.edu or 315.443.5573 by November 8.
---
Falk College nutrition major named 2018-19 Remembrance Scholar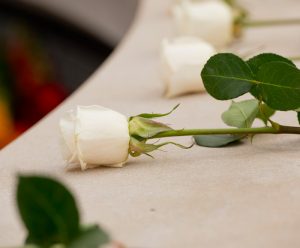 Falk College nutrition major Mary Mik '19 was named a 2018-19 Remembrance Scholar, along with 34 other Syracuse University seniors honored for their notable scholarship, citizenship, and service.
This year marks the 30th anniversary of the bombing of Pan Am 103 over Lockerbie, Scotland, on December 21, 1988. The University's Remembrance and Lockerbie Scholars have planned events for the week of October 28 during the annual Remembrance Week to honor the 270 people, including 35 students studying abroad through Syracuse University, who lost their lives in the tragedy and to educate the community about terrorism.
For a complete list of activities, please visit Syracuse University News. Those who require accommodations to fully participate in these events should contact Kelly Rodoski at 315.443.5381 or kahoman@syr.edu.
---
Nutrition student says Syracuse experience is "more than I could have imagined"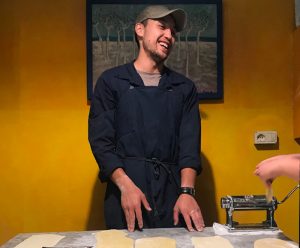 Any race longer than 26.2 miles is considered an "ultra-marathon." Syracuse senior Justin Pascual is training for one. For some, it might sound crazy. But for Justin, whose favorite course is organic chemistry, there's something truly fun about a challenge.
As native of Sierra Vista, Arizona, Syracuse wasn't exactly a familiar place on the map when Justin arrived on campus in 2017. In fact, Justin enrolled at Syracuse University before ever visiting in New York State.
A deciding factor was the student-to-faculty ratios at SU, and specifically the nutrition and nutrition science programs, where Justin says students can build meaningful connections with faculty. "For me, one's relationship with their faculty makes the experience, and Syracuse University offered to me exactly what I was looking for," he says. "SU has this unique way of offering all the amenities and perks of a large university while maintaining a relatively quaint and small-town vibe."
Justin completed an associate's degree in general studies, focusing in chemistry, at the University of Maryland. After serving for 10 years in the United States Air Force, Justin decided to pursue further education at Syracuse. "Nutrition has always been a strong interest of mine; however, it wasn't until I started at Syracuse that I found my passion for nutritional biochemistry," says Justin. "Learning how the body skillfully interacts with ingested foods to optimize the performance of every cell is truly fascinating."
In a Nutrition Research course with Dr. Dayeon Shin studying nutrition-applied scientific research methods, he was captivated. "It was the key that unlocked my academic passions. Combining curiosity, nutrition, and science into a systemic process, as nerdy as that may sound, was like music to my soul."
But nutrition isn't just about science. Over the summer, Justin visited Italy to tour the Tuscan countryside as part of the Mediterranean Food and Culture course offered at SU Florence led by Tanya Horacek, professor of nutrition. "We lived on working farms, which are pretty much bed and breakfasts with spectacular views, learned the traditional ways of pasta, pizza, and wine making, and toured cities such as Pisa and Florence," Although Justin has travelled to 22 different countries, one of his more relaxing hobbies is cooking and hosting dinner for friends and family. The trip was a perfect fit. "It was an amazing experience."
Back on campus, you can find Justin giving tours of campus and answering questions for visiting prospective students as a Falk College Ambassador. He's also a Ronald E. McNair Scholar. The McNair Scholars Program serves undergraduate students from underrepresented populations to support active student research and preparation for graduate or doctoral study.
"To put it simply, being at Syracuse is like being home," he says. "Being in the military for 10 years, I've traveled a lot, had to live in many different places, and met many different people; however, I never felt like I truly belonged the way I do at SU."
With support from University staff and advisors, Justin came to Syracuse and found it to be a place where he could discover his own interests, envision his goals, and create an experience to achieve them. "I started out this journey here slightly intimated and a bit fearful not knowing exactly what I wanted to do with the degree, or even if my major was the right one for me. However, my interests and passions have evolved semester after semester and I feel that I'm really heading down the path I was destined to be on."
"I think that's what it means to 'Be Orange': to pave the way for those coming behind us, to create opportunity and invoke inspiration, and to leave a place better than we found it," he says.
Justin plans to continue his academic career through a Ph.D. in nutritional biochemistry researching nutrition immunology, and to someday work for NASA's Johnson Space Center in the nutrition biochemistry lab.
---
Page 1 of 9