Research Center News
2019 Falk Student Research Celebration Takes Place March 26-29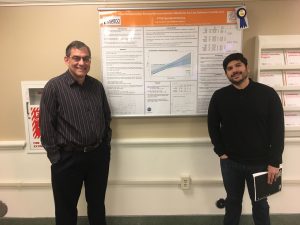 Falk students are invited to submit posters for completed or in-progress empirical, exploratory, policy analytic or hypothesis-driven research projects using qualitative, quantitative, or mixed methods for display, judging, and awards in the 2019 Falk Student Research Celebration March 26-29. The multi-day event will highlight Falk students' research collaborations and their dedication to advancing research knowledge.
Poster entry forms are due March 7 and poster submissions are due March 21. Posters will be on display beginning March 26 near the second floor student lounge and the Falk Café on 2 in the Falk Complex, with judging and awards taking place March 27. Students will present their posters from 12 to 1 p.m. on March 27 and 28.
The Falk College Research Center promotes a robust, collaborative research community in which students play an active role. At Falk, graduate and undergraduate students have the opportunity to work directly with faculty to collect data, analyze findings and draw conclusions on relevant topics surrounding public health, food studies, nutrition, sport management, human development and family science, social work, and marriage and family therapy.
"Conducting research as a student has many benefits, including building a strong relationship with Falk faculty members, improving writing and statistical analysis skills, and creating connections both on and off campus," says instructor Jessica Redmond. "Because much of the research in Falk College has real-world implications, we want students to be able to share their findings publicly, and the Falk Student Research Celebration is the perfect opportunity to do so."
"The student research days is a great showcase of the work our students are doing to understand the world and the human condition," says assistant professor David Larsen. "It's always fun to see the new ideas that our students have, and how they are seeking to improve the world we live in."
Assistant professor Bhavneet Walia agrees. "It's a great way to quench your curiosity," she says. "Come see what our students are up to at the Falk Student Research Celebration."
Winners of the 2018 Falk Student Research Celebration, held March 27-30, 2018, included research in a wide range of topics, such as maternal health, accessibility, and PTSD.
For more information about the 2019 Falk Student Research Celebration, contact Amy Dumas adumas@syr.edu at the Falk Research Center.
---
Big Data and Social Policy focus of October 24 Research Colloquium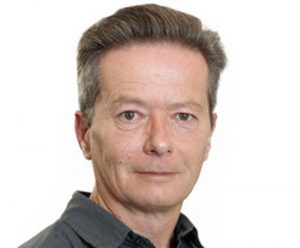 The Falk College Research Center will host a research colloquium, "Big Data and Social Policy: Current and Future Developments," with Dr. Philip Gillingham from The University of Queensland, Australia, on Wednesday, October 24 from 12:00 to 1:15 p.m. in Falk Complex, 335 White Hall.
Both government and non-government social welfare agencies around the world have been collecting data about service users and service delivery in electronic information systems for many years, as have other government agencies such as health, education, and criminal justice. New methods to combine these datasets and to analyze large amounts of data have emerged in recent years and been labelled big data. Following developments in health, big data approaches are being applied to the data from the social welfare sector but thus far, there has been only limited success and some expensive mistakes.
Drawing from his extensive research experience and knowledge, Dr. Gillingham will explain what big data is, how it works and explore recent developments in how the approach has been applied around the world in the social welfare sector. He will also identify key areas for research and the challenges for the future development of big data in the sector.
Dr. Gillingham is prolific researcher of social work practice based at the University of Queensland in Brisbane, Australia. He was awarded the prestigious Discovery Early Career Research Award and Future Fellowship by the Australian Research Council. His research investigates technological developments in social welfare agencies and their impacts on social work practice. He is an expert in the field of child welfare and protection. Dr. Gillingham has also practiced social work for 16 years in a wide range of settings in both England and Australia.
The Falk College Research Center helps foster a vibrant disciplinary and inter-disciplinary research community within the College, facilitates individual and collaborative scholarly research by faculty, and supports student research opportunities.
Lunch will be served at the October 24 colloquium. Please RSVP by October 17, 2018 to Katie Gratien at kgratien@syr.edu or (315) 443-5929. If you require accommodations, please contact Katie Gratien by October 17.
For more information on "Big Data and Social Policy: Current and Future Developments" and other upcoming research colloquiums, visit the Research Center website.
---
Twelve Falk faculty awarded CUSE research grants
The Syracuse University Office of Research's internal grant program to provide seed funding for faculty research and scholarly projects, named the Collaboration for Unprecedented Success and Excellence (CUSE) Grant Program, includes awards made to 12 Falk College faculty members.
CUSE Grants support faculty research in all disciplines, including basic, translational and applied sciences; social sciences; physical and life sciences; engineering; liberal arts and humanities; and professional studies, as well as creative research and other scholarly activities.
"The CUSE grant program is one of the strategic steps of achieving Chancellor Syverud's vision of enhancing the student experience and increasing research and innovation," says Vice President for Research John Liu. "As such, the CUSE grant program will not only help advance knowledge of the awardees' fields and enhance the University's research profile and impact, but it also will create more research opportunities for our students."
The CUSE grant program was designed to be highly interdisciplinary, to spur growth in the research enterprise and to further support the University's standing as a pre-eminent and inclusive student-focused research university.
Award recipients, funded amounts, and research projects include:
Assistant professor of public health, David Larsen PI, Dried attractive bait stations (DABS) for the Control of Aedes Aegypti, CUSE Grant: Innovation, $30,000.
Falk Family Endowed Professor of Food Studies and department chair, Rick Welsh, PI and David Larsen, co-PI, Further Evidence for the Negative Consequences of Mosquito Net Fishing, CUSE Grant: Interdisciplinary innovation, $30,000.
Associate professor of sport management, Shane Sanders, PI, Marjorie Cantor Professor of Aging Studies, Merril Silverstein, co-PI, assistant professors of public health Brittany Kmush (PFN) co-PI and Arthur Owora (PFN) co-PI, Cause of Death, Longevity, and Career Statistical Characteristics among Former NFL Players: An Empirical Analysis using Categorical and Survival Models, CUSE Grant: Interdisciplinary innovation, $29,921.
Associate professor of public health, Dessa Bergen-Cico, PI, associate professor of human development and family science, Rachel Razza, co-I, Mark Costa (Newhouse) co-I, Leanne Hirschfield (Newhouse) co-I, and Qiu Wang (SOE) co-I, Mechanisms of Change Associated with Mindfulness Training for People with Posttraumatic Stress: Triangulating Neural Networks, Biomarkers, Cognition and Behaviors, CUSE Grant: Interdisciplinary innovation, $29,629.
Associate professor of public health, Lutchmie Narine ,PI, professor of human development and family science and department chair, Ambika Krishnakumar, co-PI, and Pearl S. Falk Endowed Professor of Human Development and Family Science, Jaipaul Roopnarine, co-PI, Risk and Protective Factors as Determinants of Sexual Health Behaviors of Caribbean Youth: An Ecological Approach, CUSE Grant: Interdisciplinary innovation, $30,000.
Professor of practice Margaret Voss, PI and Rick Welsh, co-PI, Evaluating the Role of Sustainable Farming Practices in Promoting Food Security While Protecting Endangered Species in the Galapagos Archipelago, CUSE Grant: Seed, $5,000.
Merril Silverstein (HDFS) PI, China's Aging Population: Implications for Families and Public Policy, CUSE Grant: Seminar, $10,000.
About the Projects
Dried attractive bait stations (DABS) for the Control of Aedes Aegypti
David Larsen (PFN) PI
CUSE Grant – Innovation, $30,000
The Aedes aegypti mosquito is responsible for dengue, zika, chikungunya, and yellow fever, which affect more than 100 million people each year and cause economic damages of more than $50 million per annum. There are limited interventions available to control adult Ae. aegypti– prevention is typically managed through larviciding. Larviciding however is often ineffective because Ae. aegypti utilize hidden breeding sites that are missed during larviciding campaigns. This project will conduct experimental hut trials of dried attractive bait station (DABS) device to control Ae. aegypti. DABS utilizes visual cues to attract Ae. aegypti and then elicits an ingestion response wherein the mosquito ingests a stomach poison and dies. During laboratory studies the device killed 100 percent of female Ae. aegypti both before and after they had taken the blood meal, and up to at least 3 months following the manufacture of the device. The device can be manufactured for less than $5.00 and is simply hung on an interior wall of the household. Laboratory-raised Ae. aegypti mosquitos will be released into experimental huts with and without DABS, and escape, knockdown, and mortality will be measured in an ABBA design. These runs will be replicated with the presence of alternative feeding sources. The study will be conducted in Machala, Ecuador at an established dengue surveillance site with ongoing funding from the Department of Defense, the National Institute of Health and the National Science Foundation.
Further Evidence for the Negative Consequences of Mosquito Net Fishing
Rick Welsh (PFN) PI and David Larsen (PFN) co-PI
CUSE Grant – Interdisciplinary innovation, $30,000
Hundreds of millions of insecticide-treated mosquito nets have been distributed throughout sub-Saharan Africa for the control of malaria. While successful in controlling malaria, these nets also make excellent fishing nets. Our previous research suggests that the practice of mosquito net fishing is ubiquitous and devastating to the fisheries of the floodplain of the upper Zambezi in Western Province, Zambia. We hypothesize that the current paradigm of mass distribution of insecticide-treated mosquito nets threatens economic and food security as well as malaria control. Herein we propose furthering this research with three aims. First, we will attempt to quantify the use of mosquito nets in illegal fishing through secondary data analysis of Liuwa National Park poaching patrols. Second, we will explore fish landings data that may or may not exist in Zambia. And third, we will conduct experiments to determine how pyrethroids may leach from ITNs into water as well as how these pyrethroids affect larvivorous fish and the productivity of breeding sites in producing malaria vectors.
Cause of Death, Longevity, and Career Statistical Characteristics among Former NFL Players: An Empirical Analysis using Categorical and Survival Models
Shane Sanders (SPM) PI, Merril Silverstein (HDFS) co-PI, Brittany Kmush (PFN) co-PI, and Arthur Owora (PFN) co-PI
CUSE Grant – Interdisciplinary innovation, $29,921.
The present research seeks to determine the relationships between on-field attributes/events, longevity, and cause of death among former NFL players. As the present NFL player concussion reporting protocol was not enacted until 2011, present data cannot determine the mortality risk factor presented by the elevated rate of concussion experienced by players during their career. That is, the complete pathway from concussion(s) to chronic traumatic encephalopathy and other neurodegenerative diseases (e.g., Parkinson's Disease) to mortality risk among former NFL players is empirically indeterminable given present data. Such an empirical determination is important toward mitigating the on-field circumstances that create (mortality risk from) neurodegenerative disease. We employ a second best empirical approach in which proxies of neurocognitive trauma are developed for each former NFL player from 1923 using on-field player event and attribute data. Depending upon player position-of-play, these proxies include games played, games started, seasons played, number of tackles, number of times sacked, number of carries, number of receptions, years of play, playing style, and position itself. We also collect birth date, death date, and player (listed) height and weight during career. From these player trauma proxies, we will examine the relationship between estimated neurocognitive trauma, presence of neurodegenerative disease, and longevity in former NFL players. The analysis will determine whether elevated neurodegenerative risk factors exist among former NFL players with respect to position-of-play, era, physical characteristics, or distribution of on-field events. Such findings are important toward the development of mitigating (sport governance) policy.
Mechanisms of Change Associated with Mindfulness Training for People with Posttraumatic Stress: Triangulating Neural Networks, Biomarkers, Cognition and Behaviors
Dessa Bergen-Cico (PFN) PI, Rachel Razza (HDFS) co-I, Mark Costa (Newhouse) co-I, Leanne Hirschfield (Newhouse) co-I, and Qiu Wang (SOE) co-I
CUSE Grant – Interdisciplinary innovation, $29,629
Clinical research has explored the efficacy of mindfulness-based interventions for a range of physical and mental health outcomes including posttraumatic stress (PTS); however, little is known about the neural and cognitive mechanisms of change resulting from mindfulness-based practices. Objective measures of changes in cognitive and neural networks associated with mindfulness-based practices would be valuable tools for researchers to expand understanding of the specific mechanisms of neural change associated with mindfulness practices, and to provide objective measures of PTS. Using state-of-the-art technology, we will use machine-learning algorithms to analyze neural network and brain wave data in order to develop predictive models which distinguish brain states for traumatic stress symptoms and its' associated impact on attention, working memory, and emotional regulation. Using functional near-infrared spectroscopy (fNIRS), electroencephalographic (EEG) data, and physiological measures (e.g. HR, GSR) we will measure neural, cognitive and attention measures for 30 participants at risk for traumatic stress (Veterans, first responders, and people impacted by community violence) and conduct longitudinal analysis of potential changes following a mindfulness-based intervention. Participants will be randomized into the mindfulness-based intervention cohort (n=15) or the wait list control cohort (n=15). We will assess changes in neural and biometric measures within each cohort and compare between-cohort differences (intervention vs control). Through the use of bioinformatics this research aims to 1.) measure neural and physiological responses to cognitive tasks to determine which measures are correlated to posttraumatic stress 2.) identify potential mechanisms of change in neural networks and biomarkers associated with mindfulness practice, and 3.) develop testbed environments using VR/xR ecological environments to support highly controlled mindfulness experiments.
Risk and Protective Factors as Determinants of Sexual Health Behaviors of Caribbean Youth: An Ecological Approach
Lutchmie Narine (PFN) PI, Ambika Krishnakumar (HDFS) co-PI, and Jaipaul Roopnarine (HDFS) co-PI
CUSE Grant – Interdisciplinary innovation, $30,000.
Young adults in the Caribbean who represent over one-fourth of the area's total population are particularly vulnerable to challenging and disadvantageous macro-environmental factors and experience a multitude of complex health-related problems. There is a worrying and growing trend in the rates of negative health behaviors among Caribbean youth including aggression (e.g., fighting, hitting), homicide, crime and violence (e.g., robbery, felony, drug dealing), substance abuse (alcohol and drug dependency), and engagement in negative sexual behaviors (unsafe sexual practices, early initiation into sexual activity). Much of the research conducted in the Caribbean on negative health behaviors has focused on adolescents. Our proposed research will focus on the study of health behaviors of 2000 young adults between 18 and 25 years in Trinidad and Tobago, Guyana, and Suriname. In the first year, we will conduct a quantitative online survey in which we will examine the risk and protective factors (ecological and cultural) that predict and buffer young adult negative health behaviors. In the second year, we will conduct focus group discussions to understand the contextual factors as well as the cultural norms and myths that hamper parental and community level communications about health behaviors. Data from the survey and the focus group discussions will help us formulate ideas on how to develop health programs to help Caribbean young adults deal with health challenges. As well, the study findings will provide the basis for seeking funding support for more extensive explorations of young adult health in the Caribbean.
Evaluating the Role of Sustainable Farming Practices in Promoting Food Security While Protecting Endangered Species in the Galapagos Archipelago
Margaret Voss (PFN) PI and Rick Welsh (PFN) co-PI
CUSE Grant – Seed, $5,000.
The Galapagos ecosystem is a strong draw for international ecotourism. Human activity, however, often leads to profound changes in the relationships and structures of biophysical systems that are detrimental to both human and non-human species. The confluence of changing land use patterns and the introduction of a devastating avian parasite into the Galapagos Islands has set the stage for the decline of several species of Darwin's finch, a centerpiece of Galapagos tourism. These declines will ultimately have a negative effect on ecotourism and the existing island social system. We believe one of the overlooked links in decreasing bird species decline is understanding how agricultural regions might be used to eliminate areas of refuge for the parasite. Changing land use likely concentrates and alters the breeding behavior of Darwin's finch species to favor the invading parasite. A priority for the Landbird Conservation Plan of the Charles Darwin Foundation and the Galapagos National Park Directorate is determining the effectiveness of corridors of native forests to protect birds. We are exploring collaborative arrangements with Galapagos farmers to build and maintain buffer regions between agricultural areas and remnant native forest. We are working to identify the support farmers require to maintain buffer zones near their farms while maximizing crop yields. Our ultimate goal is to design a guide of farming methods and land preservation plans to help optimize biodiversity and maximize sustainable crop yield within the agricultural and socioeconomic systems currently in place.
China's Aging Population: Implications for Families and Public Policy
Merril Silverstein (HDFS) PI
CUSE Grant – Seminar, $10,000.
This proposal requests support to convene a workshop devoted to the topic of demographic change in China and its implications for family care and support for older adults. The goal of this workshop is to bring together prominent scholars working at the intersection of China studies, family science, gerontology, public policy, and demography to present research papers about the consequences of social and demographic change in China for meeting the needs of older individuals and their families, as well as the policy responses to those changes.
An important goal of the workshop is to create the intellectual space within which participants will engage in synergistic conversations around the topic of aging families in China to enhance future research collaborations. The workshop will provide SU graduate students and faculty exposure to leading scholars in this area. Finally, the papers presented at the workshop will be submitted for publication in an edited volume by Routledge Press.
This workshop brings together the most significant researchers from China and the U.S. to address one of the major challenges facing China today, as population aging and fertility decline go hand-in-hand to create intergenerational pressures that require a societal response.
---
Falk College awarded $24,942 grant for children's trauma intervention project
The Health Foundation for Western & Central New York recently awarded a $24,942 grant to the trauma intervention project, Maternal Child Health Spot Booster, led by Syracuse University's Falk College Trauma-Informed Scholars in partnership with the Syracuse Trauma Response Team (TRT).
The proposed sustainable intervention strategy aims to help preschoolers in the areas of the Syracuse community most affected by violence and the resulting trauma. Starting this fall, the research team will train Head Start teaching staff and bring mindful yoga intervention to 4- and 5-year-old classrooms at Merrick Head Start, part of the Syracuse City School District and Onondaga County's federally designated Community Action Agency, PEACE, Inc. The three project phases include:
Phase 1: Provide two trauma-informed trainings to teachers and staff in local Head Start centers responsible caring for preschool aged children.
Phase 2: Offer mindfulness training, including yoga, to children under age 5 and their families.
Phase 3: Falk College Trauma-Informed Scholars and the TRT provide ongoing, sustainable consolidation and follow up.
Project director, Rachel Razza, Ph. D., is an associate professor and graduate director of Human Development and Family Science at Syracuse University Falk College. Her scholarly work focuses on children's self-regulation—children's ability to monitor cognitive strategies and adapt behavior to fit situational demands—especially among at-risk children, who are particularly vulnerable to self-regulatory deficits.
"Mindfulness-based practice is being increasing used with teachers and children as a strategy for reducing the negative impacts of stress and trauma," says Dr. Razza. "Benefits for children include enhanced self-regulation, which has important implications for their school readiness, as well as their future academic and socioemotional competence."
---
Falk College receives grants to assist trauma victims of neighborhood violence
Grant awards from the Community Foundation of Central New York and the John Ben Snow Foundation will support a new collaborative project, led by principal investigator, Linda Stone Fish, Falk Family Endowed Professor of Marriage and Family Therapy. The project, entitled, "In This Together," will provide workshops to help social service professionals, educators, health care practitioners, juvenile justice workers, clergy, and mental health counselors learn how to identify and address signs of trauma. The program will also provide grief counseling, healing circles, mindfulness-based stress reduction, and therapy to community members impacted by violence.
Most of the people on the front lines of gang and gun violence, including the residents and the responders assisting them, have witnessed violence and its aftermath personally. Affected individuals often struggle with grief, helplessness and fear, which can lead to substance abuse, revenge violence, and detachment from friends, family, and schooling, among other challenges. "We believe that offering trauma-informed practice in the neighborhoods of greatest violence will begin to address the most often ignored trauma, and may reduce the grief and rage that fuels the next act of violence," says professor Stone Fish. "Our unique partnership with therapists and Trauma Response Team members who are trusted by the community make us ideal to address this need. In this process, we are training our students in culturally competent and trauma-informed practices so they are ready to meet the community in ways they can be helpful."
Stone Fish is the co-author of the book, Treating Complex Trauma, which presents the Collaborative Change Model (CCM), a clinically evaluated model that facilitates client and practitioner tools for clients struggling with the impact and effects of complex trauma. The In This Together collaboration includes Tracey Reichert-Schimpff, director of clinical services in the Department of Marriage and Family Therapy, Sandra Lane, professor of public health and anthropology, Dessa Bergen-Cico, associate professor of public health, and, Rachel Razza, associate professor of child and family studies, all from Falk College, and Robert Rubenstein, professor of anthropology and international relations, Maxwell School of Citizenship and Public Affairs. Psychologists Ron Fish and Bill Cross who specialize in the Trauma Resiliency Model (TRM) are part of the collaborative efforts. Additional partners include Syracuse University's Couple and Family Therapy Center, the Syracuse Trauma Response Team (TRT), led by founding director, Timothy 'Noble' Jennings-Bey and Arnett Haygood El, both from the Street Addictions Institute, Inc., Mother's Against Gun Violence, the Syracuse Police Department, and area healthcare institutions and community agencies.
In addition to developing trauma-informed care programs in the community and preparing future practitioners in this area, including a Certificate of Advanced Study in trauma-informed practice, research and practice in the field of trauma is a focal point in Falk College and includes: study and data collection specific to violence and gang activity as 'street addictions' to address communities in trauma and public safety as a public health problem; a training program funded by the National Institutes of Health (NIH) to prepare military veterans in conducting research with other veterans; PTSD-focused programming and research, including mindfulness-based stress reduction and healthy eating, designed for the needs of veterans and military families; how veterans' experiences of complex and morally fraught circumstances in military service in time of war affect their emotional, mental, and spiritual health; neurobiology of trauma; coursework in EMDR Therapy, which relieves many types of psychological distress, and;
courses and an academic track focused on trauma in medical settings with children.
---
U.S. Department of Health and Human Services awards $25,000 grant to CFS doctoral student, Kimberly Davidson, and Dr. Jaipaul Roopnarine to study racial-ethnic socialization in children
Child and family studies doctoral student, Kimberly Davidson, working with Jaipaul Roopnarine, Ph.D., have received a $25,000 grant from the U.S. Department of Health and Human Services, Administration for Children and Families, Head Start Research Scholars. Their research project will explore how children learn about race and ethnicity and the roles that home environment, the neighborhood where they live and the child care programs they attend play in their racial and ethnic socialization. The study's findings have the potential to influence Head Start policy development related to multicultural curriculum, teacher professional development, and parent involvement strategies as well as to increase parent-teacher communication at the community level.
As the U.S. population continues to diversify, early childhood programs strive to meet the needs of culturally diverse families. While parents and teachers are the primary providers of socialization that gives young children the tools they need to thrive in today's diverse world, they do not often adequately address topics of race and ethnicity, which is detrimental to healthy child development.
Davidson's and Roopnarine's study seeks to examine the racial-ethnic socialization of preschool-age children in home and school environments by multiple caregivers. Using cultural-ecological models as a guide, the study looks at components within each socialization setting that include: parents/teachers, physical environments, and the racial-ethnic composition of neighborhoods/child care programs.
Utilizing a proposed sample of approximately 200 three- to five-year-old children and their families that participate in Head Start programs in Upstate New York, the researchers will examine the effects of similar and dissimilar home and school racial-ethnic socialization on children's socioemotional and cognitive development. The racially and ethnically diverse population of Head Start families will allow the researchers to define typologies of socialization between groups and will speak to the variation of child care needs by cultural orientation.
The Early Care and Education Research Scholars: Head Start Graduate Student Research Grant supports Davidson's doctoral dissertation project entitled, "Divergence or Convergence of Home and School Racial-Ethnic Socialization: Effects on Preschool Children's Racial Attitudes, Socioemotional and Cognitive Development." It is one of only six grants awarded nationally in a highly competitive process. Davidson presented her project at the Annual Meeting of the Child Care Policy Research Consortium in early November in Washington, DC.
Davidson was honored in 2013 with the Alice Sterling Honig Award for graduate studies excellence in the Department of Child and Family Studies. A member of the Kappa Omicron Nu honor society, she has published several peer-reviewed journal articles, including "Parenting practices in Guyana and Trinidad and Tobago: Connections to preschoolers' social and cognitive skills," in the Interamerican Journal of Psychology. Along with Roopnarine, she currently has book chapters in press: "Cultural variations in young children's play: A selective overview," in The SAGE Encyclopedia of Contemporary Early Childhood Education and "Parent-child play across cultures: Theoretical considerations and suggestions for advancing play research," in the Handbook of the Study of Play.
Davidson's master's thesis at the University of Tennessee examined the conceptualizations of race and ethnicity in a preschool classroom. Since arriving to Syracuse University, Davidson has worked closely with Dr. Roopnarine in developing seminars for local childhood educators. She also serves as editorial assistant for the journal, Fathering, which is edited by Dr. Roopnarine. Davidson has served as a teaching assistant for several classes in the Department of Child and Family Studies, including Child and Family in Cross-Cultural Perspectives, and the Development of Children and Youth. She is currently independently teaching the CFS course, Family and Child Intervention. She is vice president of the Student Council on Family Relations and is a member of the Society for Research on Child Development, Society for Cross-Cultural Research and the National Association of Multicultural Education.
---
Falk Research Center welcomes Dr. Chantal Line Carpentier to present "Negotiating a Global Sustainable Development Agenda: The View from the UN Conference on Trade & Development" February 13
The Falk College Research Center is pleased to announce Chantal Line Carpentier, Ph.D., will be the featured guest speaker on Friday, February 13 as part of its Spring 2015 Research Colloquium Series. Dr. Carpentier will focus on the most pressing sustainable development issues and initiatives from her perspective as chief of the United Nations Conference on Trade and Development (UNCTAD), as well as ongoing collaborations to address these issues. The event, which is free and open to the campus community, will take place in 312 Lyman Hall. Lunch will be provided for this special session.
Her presentation, "Negotiating a Global Sustainable Development Agenda: The View from the UN Conference on Trade and Development," will draw from her extensive experience in applied international science-based policy research and outreach and engagement of the private sector, government officials, academics and non-governmental and community-based organizations in intergovernmental processes.
A Canadian economist, Dr. Carpentier specializes in sustainable agriculture, development, trade, and consumption and production. She joined UNCTAD in July 2014 after seven years of supporting the intergovernmental processes at the UN Department of Economic and Social Affairs. She previously served as head of the Trade and Environment Program of the NAFTA Commission for Environmental Cooperation and policy analyst for the Wallace Institute for Alternative Agriculture. A 2006 Yale World Fellow, she has consulted for United Nations Development Programme, World Bank, Organisation for Economic Co-operation and Development, and the U.S. Department of Agriculture. With more than 50 peer-reviewed journal articles, books, chapters and Secretary General Reports, she regularly publishes on the intricate relationships between sustainable development policies, trade and agriculture. She has co-authored a book on ethical investing published in 2008.
---
Falk College Faculty Awarded Komen Foundation Grant for Breast Cancer Awareness, Education Programming
Public health professor of practice, Luvenia Cowart, working with Maria Brown, assistant research professor, School of Social Work, has received a $47,293 grant from the Susan G. Komen for the Cure New York Foundation to support the project, "Breast Cancer Awareness and Education Program for African American Women in Underserved Communities." The project's aim is to reduce disparities in breast cancer and its associated health risks, and to promote participation in mammography and early detection services for African American women in the Syracuse community.
According to the National Cancer Institute, breast cancer is the second most common cause of cancer deaths among African American women. Standard health education has not been effective with minorities, particularly those with lower incomes or less education. Widespread distrust of the formal healthcare system, health literacy issues and a perceived lack of cultural relevance contribute to the challenges. Historically, faith-based organizations have led the movement to reach at- risk African American communities using culturally appropriate health promotion to address chronic diseases.
The Genesis Health Project Network, a community-designed, culturally competent intervention, has developed and started to implement the breast cancer program in the Syracuse community. Co-founded by Cowart in 2004, the Genesis Project is a partnership between minority churches, community and government sponsors and Syracuse University's Falk College to reduce health disparities in minority populations. Under Cowart's leadership, the Genesis Project has successfully facilitated health seminars, fitness programs, educational programs at barbershops, and healthy lifestyle activities with churches and universities. Her work and the Genesis Health Project were recognized with numerous honors, including the National Center on Minority Health and Health Disparities Director's Award in 2008 from the U.S. Department of Health and Human Services' National Institutes of Health.
Through pastoral health messaging and culturally appropriate strategies, the grant will support efforts to heighten awareness of breast cancer risks and prevention, promote mammography and early detection, and increase awareness of free/low-cost mammography and adoption of healthier behaviors.
---
Professor Ken Corvo Receives FHL Foundation Grant to Advance Domestic Violence Research
Additional research project on intimate partner violence with University of Granada to be funded by government of Spain
School of social work associate professor, Dr. Ken Corvo, has received a three-year, $50,000 grant from the Frederick H. Leonhardt (FHL) Foundation. This latest grant from the FHL Foundation follows Dr. Corvo's decade-long professional collaboration with Frederick Leonhardt, foundation president and a former therapist.
The grant award supports Dr. Corvo's research and writing in the area of theory development in domestic violence and includes the development of academic articles on domestic violence theory and the presentation of conference papers, as well as a possible book over the next two years. The first paper, "Neurotransmitter and Neurochemical Factors in Domestic Violence Perpetration: Implications for Theory Development," was completed this summer.
Corvo recently received an invitation from a team of psychologists at the University of Granada to participate as co-investigator in a research project award made by the Spanish government for the study, "Neuropsychological and brain functioning in Intimate Partner Violence (IPV) perpetrators."
Dr. Corvo's areas of academic and research specialization include family and youth violence, theory development, organizational development and leadership, and organizational issues in social work education. His on-going work in theory development provides a scientific framework for policy and practice in social work, criminal justice, and other human service responses to domestic violence.
---
Falk College Seed Grants awarded for 2014-15
Each year, the David B. Falk College Research Center, in collaboration with the Dean's Office, awards seed grants on a competitive basis to assist faculty with completing preparatory work for research projects that have a high likelihood to compete for external funding. The 2014-15 seed grant recipients include:

Development and evaluation of a mind-body awareness intervention to enhance self-regulation as a mechanism to promote healthy weight among young children.
Dessa Bergen-Cico, assistant professor, Public Health
Rachel Razza, assistant professor, Child and Family Studies

Cultivating food justice: using photovoice to document the outcomes of a pilot food system intervention program for youth
Evan Weissman, assistant professor, Food Studies

Housing and LGBTQ youth
Maria Brown, professor of practice, School of Social Work and Aging Studies Institute
Deborah Coolhart, assistant professor, Marriage and Family Therapy

How do Iraqi refugees experience and make sense of family relationships as they resettle in a host country?
Rashmi Gangamma, assistant professor, Marriage and Family Therapy
---
Page 1 of 2