Sport Mangement News
Falk graduate students host Orange Guardians charity benefit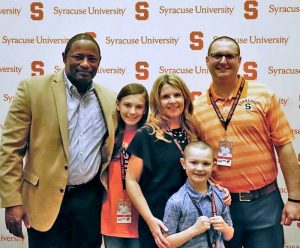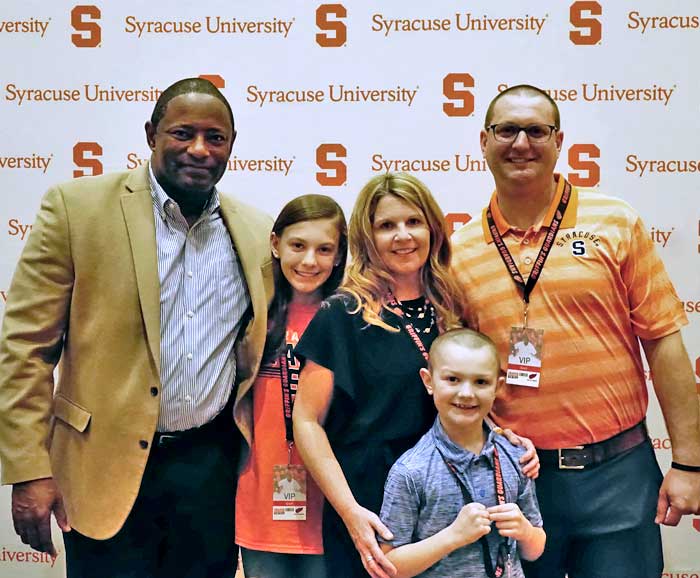 Syracuse University's Sport Venue and Event Management (SVEM) graduate program raised $15,000 during its Orange Guardians Kickoff fundraiser to benefit Griffins Guardians on April 8 at Embassy Suites at Destiny USA in Syracuse. The event included more than 150 attendees, a dinner and reception, entertainment, silent auction, and guest speakers.
Monies raised will support Griffins Guardians, which provides financial assistance to families in Central New York that have a child battling cancer.
"It's through organizations like Griffin's Guardians that patients and their families receive the resources they need to fight this disease," said Syracuse University head football coach Dino Babers. "I commend the Sport Venue and Event Management program for organizing this event."
This event connected event management courses, including experiential learning opportunities, and social responsibility, which are hallmarks of all academic programs across Syracuse University's Falk College. The execution of this event is part of the SVEM curriculum that requires students to organize an event to gain hands-on learning experience working in all facets of the sports industry.
"Being involved in all steps of the event planning and management process was a great way to learn and develop as industry professionals," said Sport Venue and Event Management graduate student Baylee Douglas '19. "The hands-on experience is truly invaluable. Griffin's Guardians is such a deserving partner and we really cherished furthering their efforts in bringing awareness to pediatric cancer."
The students worked on the event as part of their SPM 665 Advanced Event Management class and SPM 635 Marketing Sport Venues and Events class. Students were responsible for all aspects of the event, including selecting the community partner, operations, marketing, hospitality, fundraising, and sponsorships.
"The students decided to plan a different event than what was done in previous years," said Dr. Gina Pauline, Sport Management associate professor and undergraduate director. "The result was the creation of a top-notch experience for attendees that included guest speakers, cancer survivors and athletes such as Rex Culpepper and Rob Long, specialty food, music, and an incredible keynote speaker. Falk College is proud of our graduate students for bringing awareness to pediatric cancer while helping to raise funds for this very worthy cause."
---
Congratulations 2019 Falk Student Research Celebration Winners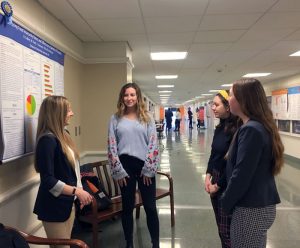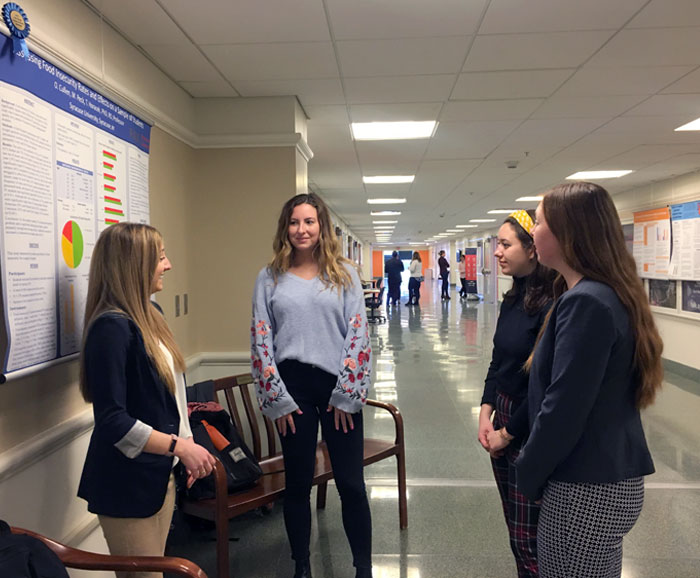 Falk College congratulates the following winners of the 2019 Falk Student Research Celebration:
Undergraduate Winners
Name: Bridget Clark
Kelly Brown, BS; Heather Brubacker, MS, Dietetic Intern; Laura Brown, MS, RD; Baylee Carroll, BS, Dietetic Intern; Elizabeth Gardner; April Hill; Sarah Mihalko, BS; Katie Obojkovits, BS, Dietetic Intern; Madeline Peck; Tanya Horacek, PhD, RD, Professor; Syracuse University, Syracuse NY.
Program/Major: Nutrition Science
Faculty Research Mentor: Tanya Horacek
Title: Process Evaluation of the Healthy Campus Environmental Audits
Name: Olivia Cullen
Madeline Peck; Tanya Horacek, PhD, RD, Professor; Syracuse University, Syracuse NY.
Program/Major: Nutrition Science
Faculty Research Mentor: Tanya Horacek
Title: Assessing Food Insecurity Rates and Effects on a Sample of Undergraduate Students
Name: CB Garrett
Program/Major: Sport Analytics
Faculty Research Mentor: Rodney Paul
Title: Impact of Birthplace on Player Performance in Different Weather Conditions
Graduate Winners
Name: Jennifer Guzzy
Program/Major: Master of Social Work (MSW)
Faculty Research Mentor: Ryan Heath
Title: Extracurriculars and Teachers as a Substitute for Parents: Do they support strong academic outcomes in students without parental involvement?
Name: Madeline Hilton
Program/Major: MSPH Global Health
Faculty Research Mentor: David Larsen
Title: Indoor Residual Spray Campaigns in Community Protection Against Malaria
Name: Ying Zhang
Program/Major: Human Development and Family Science
Faculty Research Mentor: Rachel Razza
Title: Positive Development in Adolescence: the Reciprocal Relationships Between Facets of Self-Compassion and Self-Regulation
---
Sport Analytics students attend Baseball Research Competition in Phoenix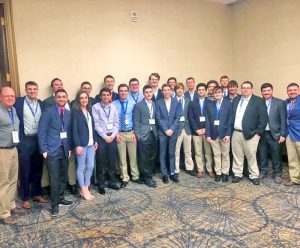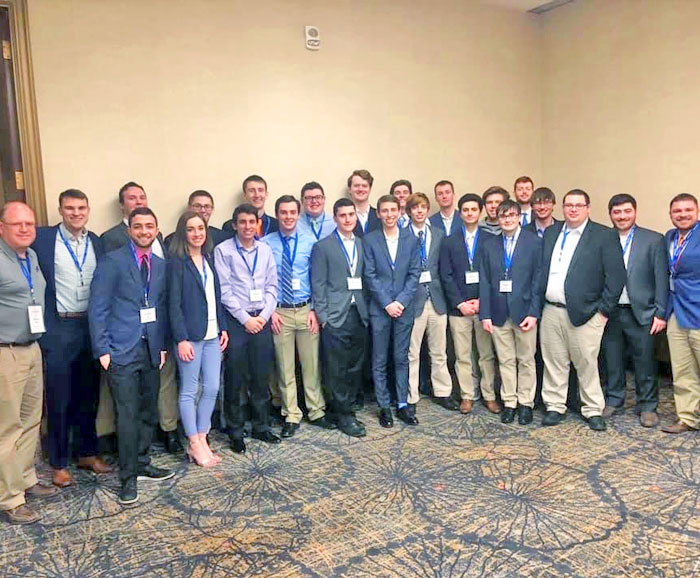 For the fifth straight year, Syracuse University Sport Analytics and Sport Management students participated in the Society of American Baseball Research (SABR) Analytics' Diamond Dollars Case Competition in Phoenix, Arizona, over Spring Break in March 2019. The competition is for undergraduate and graduate students from universities across the country to compete against each other by researching and presenting on a current baseball analytics topic. Presentations were made to a panel of judges consisting of Major League Baseball executives. Five SU teams competed in Arizona in 2019, with two teams winning their respective divisions.
The topic was "Developing a Strategy for Pitching Usage," and teams were tasked with defining a strategy (or multiple strategies) that MLB teams can follow to assess the optimal way to deploy their pitching assets over the course of a 162-game schedule. Teams had to show how their strategy would impact team run prevention and ultimately team performance. Teams made their presentations by using programs such as R, Excel, and Tableau.
With the help of generous gifts from Mark Lomasky and Andrew Berlin, 25 students competed at this prestigious event. The competition is part of the annual SABR Analytics Conference in Phoenix, which featured industry speakers, as well as a networking event and job fair for the students to engage with executives who work in the baseball analytics field. Students attended spring training baseball games and an Arizona Coyotes game. They met with members of the Arizona Diamondbacks' business analytics team, including SPM graduate Greg Ackerman '15.
The students were accompanied by Sport Analytics professor Dr. Rodney Paul, Sport Analytics program manager Francesco Riverso, and Sport Management assistant teaching professor David Meluni. The Baseball Statistics and Sabermetrics Club meets every Wednesday at 6pm in Falk Room 400. Email Dr. Paul at rpaul01@syr.edu for more information.
---
On a Winning Streak: Syracuse Sport Analytics Students Prove They're Ready to Storm the Industry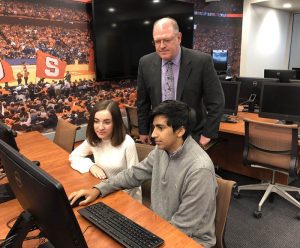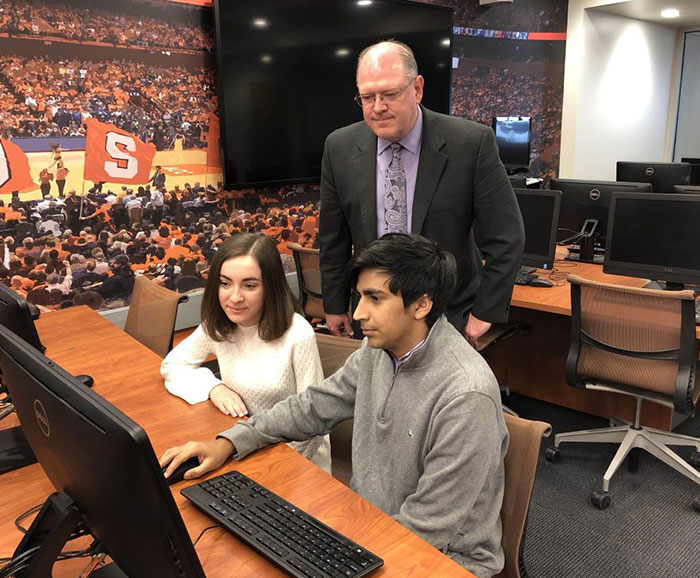 Assembling a championship-caliber team and a profitable business organization is a challenge that sports owners, executives and managers face every day in the ultra-competitive world of sports. Increasingly, they are turning to data analytics for an advantage. Whether it is predicting player performance, athlete injury recovery or enhancing an organization's bottom line, analytics is changing the methodology of how teams, leagues and sport managers are competing to make better, quantifiable decisions.
Sport analytics is a growing segment of the industry, where many young, aspiring sport professionals are choosing to make a career. They're data-driven—and they're catching the eye of sports teams all over the world.
Evan Weiss, a senior sport analytics student in the Falk College, was hired as a junior to work with the Buffalo Bills during the Fall 2018 semester. He returned to campus in January to complete his degree and will continue working for the Bills after graduation in May. Fellow senior Justin Perline has accepted a full-time analytics position with the Pittsburgh Pirates after interning with the team in summer 2018.
Weiss and Perline are some of the University's first sport analytics majors. In fall 2016, the program welcomed its first official class as the first undergraduate degree of its kind in the nation. The intensive program with coursework in economics, mathematics and computer programming has attracted competitive students from around the world.
The degree includes a foreign language requirement to prepare students for the international sport industry. Sport analytics students can choose to study abroad in places like Florence, Strasbourg, London and others through Syracuse Abroad. Other global hands-on experiences are also available to students.
In August 2018, Perline presented at a conference in London with senior C.B. Garrett on "Minor League Team Success and Its Impact on MLB Player Performance." Then Perline spent part of winter break in the Dominican Republic scouting for the Pittsburgh Pirates.
Meanwhile, back in Syracuse, fellow classmates Dylan Blechner, Zak Koeppel, Will Friedeman and Cameron Johnson were diligently working on a project for the NFL's inaugural Big Data Bowl competition. The competition provided participants with access to NFL player-tracking data to create proposals on one of three topics: player speed, game rules and receiver routes. Their entry, "Route Clustering," placed in the top nine from more than 100 submissions and was one of five entries to receive an honorable mention.
Research, competitions and presentations as individuals and teams are a regular part of student work outside of the classroom, in addition to the required senior thesis. "Celebrity Attraction in the Minors: The Case of Tim Tebow," a paper by seniors Cody Barbuto, C.B. Garrett and Kyle Liotta, was published by the Journal of Economics and Finance in January 2019.
Barbuto presented another paper, "GINI Coefficients in the NBA," at the Academy of Economics and Finance conference in Tampa, Florida, in February. Barbuto's classmate, junior Nick Riccardi, won the student paper competition with his study, "Canadian Hockey League Game-To-Game Performance." Riccardi also presented his study at the ACC Meeting of the Minds conference at the University of Louisville in March.
Syracuse sport analytics students have wasted no time in putting the University's young sport analytics degree program on the map. Another milestone in the rapid and successful start to the new program will take place April 3 in Chicago at the inaugural Andrew T. Berlin Sport Analytics Symposium, hosted by the Falk College's Department of Sport Management.
Learn more about the Sport Analytics program
Read this article on SU News
---
Falk graduate students host Orange Guardians Kickoff April 8 to benefit Griffin's Guardians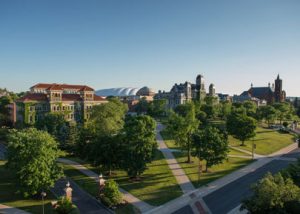 Falk College sport venue and event management students, in partnership with Syracuse University Athletics, will host the Orange Guardians Kickoff fundraiser with special guest Coach Dino Babers on Monday, April 8 at 6 p.m. at the Embassy Suites by Hilton at Destiny USA. The event will benefit Griffin's Guardians, a local non-profit organization that supports families affected by pediatric cancer.
The execution of this event is part of the sport venue and event management curriculum, in which students organize an event to gain a direct, hands-on learning experience working in all facets of the sports industry, from operations and logistics to marketing and sponsorships.
Orange Guardians Kickoff will feature live entertainment, silent auction, photo opportunity with the Camping World Bowl trophy. An optional VIP experience includes a photo opportunity with Coach Babers. All guests are encouraged to wear orange.
---
Inaugural Andrew T. Berlin Sport Analytics Symposium Set for April 3 in Chicago
Calculating the Future of Sports Through Analytics is the featured theme of the First Annual Andrew T. Berlin Sport Analytics Symposium. The event will take place in Chicago on April 3, with a keynote address by Chicago Cubs Senior Vice President of Player Development and Amateur Scouting, Jason McLeod. Analytics professionals from the Chicago-area sports industry and Syracuse University faculty members will take part in a panel discussion and Q&A exploring the innovative ways sport executives are turning to analytics to boost team success.
The event is made possible by the generosity of Syracuse University Trustee and alumnus, Andrew T. Berlin '83. Berlin is the Partner Investor of the Chicago Cubs, Chairman and Owner of the minor league Cubs affiliate, the South Bend Cubs, and Chairman and CEO of Berlin Packaging. The annual Berlin Symposium will feature leading innovators in sport analytics and hosted at sites across the country with panels of local industry executives and Syracuse University sport analytics professors.
To learn more about the April 2019 lecture, visit the event registration page.
Falk College's bachelor of science in sport analytics provides students with a deep understanding of math, statistics, research methodology, sport economics, database management, finance, and computer programming. The degree incorporates a mandatory foreign language requirement to prepare students for the global sport in a variety of different possible analytics career paths on the player evaluation side, business side, or both.
---
SU sport analytics well represented at national economics conference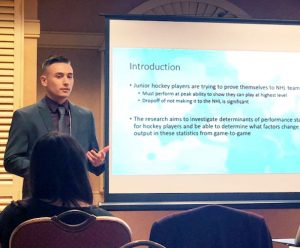 Sport Analytics major Nick Riccardi '20 presented his research at the Academy of Economics and Finance (AEF) Conference in Tampa, Florida, Feb. 7-8, 2019. He placed first in the undergraduate student research competition for his paper titled "Canadian Hockey Leagues Game-to-Game Performance."
"This conference gave me great experience on presenting and writing a research paper," Riccardi said. "It was beneficial to compete against other undergraduates who are studying similar topics so I could see how I stacked up against them. Also, having to answer questions on my research after the presentation helped me learn how to critically think on the fly."
Also, Sport Analytics senior Cody Barbuto presented his research on "GINI Coefficients in the NBA" and Sport Analytics associate professor Dr. Shane Sanders presented his research titled "Around the World: Rating Professional Basketball Player and League-Quality by Estimating Player Win-Value Changes across Leagues" at the conference. Syracuse University Sport Analytics professor Dr. Rodney Paul served as a judge on the competition panel. Paul and Sanders served as faculty mentors to Riccardi and Barbuto in their pre-conference research.
"We are proud of Cody and Nick for presenting their research at this prestigious conference," Dr. Paul said. "They are top students in and out of the classroom, and wonderful representatives from Syracuse University."
---
Syracuse students cover Super Bowl LIII Media Week in Atlanta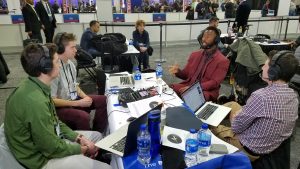 With help from Falk College professor of practice, Dennis Deninger, and the Orange alumni family, three Syracuse University students made their way to Atlanta and covered Super Bowl LIII Media Week. Read more on the SU News website and in the Daily Orange.
---
2019 Falk Student Research Celebration Takes Place March 26-29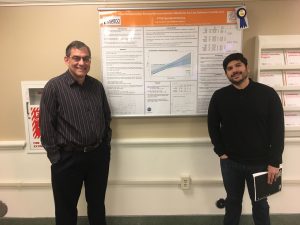 Falk students are invited to submit posters for completed or in-progress empirical, exploratory, policy analytic or hypothesis-driven research projects using qualitative, quantitative, or mixed methods for display, judging, and awards in the 2019 Falk Student Research Celebration March 26-29. The multi-day event will highlight Falk students' research collaborations and their dedication to advancing research knowledge.
Poster entry forms are due March 7 and poster submissions are due March 21. Posters will be on display beginning March 26 near the second floor student lounge and the Falk Café on 2 in the Falk Complex, with judging and awards taking place March 27. Students will present their posters from 12 to 1 p.m. on March 27 and 28.
The Falk College Research Center promotes a robust, collaborative research community in which students play an active role. At Falk, graduate and undergraduate students have the opportunity to work directly with faculty to collect data, analyze findings and draw conclusions on relevant topics surrounding public health, food studies, nutrition, sport management, human development and family science, social work, and marriage and family therapy.
"Conducting research as a student has many benefits, including building a strong relationship with Falk faculty members, improving writing and statistical analysis skills, and creating connections both on and off campus," says instructor Jessica Redmond. "Because much of the research in Falk College has real-world implications, we want students to be able to share their findings publicly, and the Falk Student Research Celebration is the perfect opportunity to do so."
"The student research days is a great showcase of the work our students are doing to understand the world and the human condition," says assistant professor David Larsen. "It's always fun to see the new ideas that our students have, and how they are seeking to improve the world we live in."
Assistant professor Bhavneet Walia agrees. "It's a great way to quench your curiosity," she says. "Come see what our students are up to at the Falk Student Research Celebration."
Winners of the 2018 Falk Student Research Celebration, held March 27-30, 2018, included research in a wide range of topics, such as maternal health, accessibility, and PTSD.
For more information about the 2019 Falk Student Research Celebration, contact Amy Dumas adumas@syr.edu at the Falk Research Center.
---
New Falk Office of Career Services opens with events for Falk students Feb. 1 and 8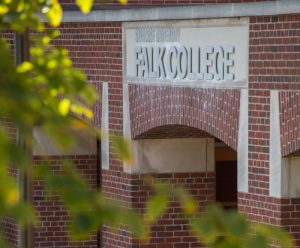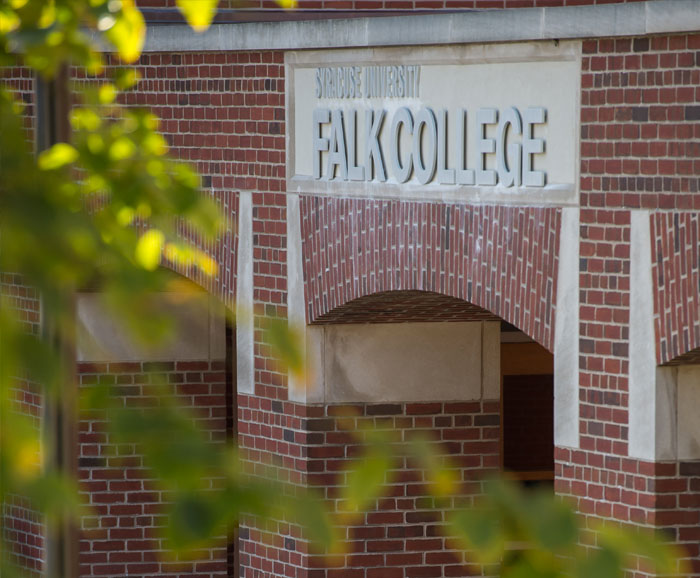 The new Falk College Office of Career Services will provide Falk students with personalized guidance and resources to help them achieve their post-graduation goals, start new careers, or pursue graduate study. Services include one-on-one resume and cover letter consultation, interview coaching, job search strategy and negotiation preparation, digital presence and branding assistance, as well as skill-building guidance in professional communication and networking. Falk Career Services will also provide support to Falk alumni throughout their careers, and act as a liaison between Falk College and employers seeking to recruit Falk students, recent graduates, or experienced alumni.
To celebrate the grand opening, first year and sophomore Falk students are invited to an opportunity fair on Friday, February 1 from 1 to 3 p.m. The event will feature several on-campus clubs, professional organizations, and community volunteer groups with employment, service, and social opportunities to share.
The following Friday, February 8 from 1 to 3 p.m., Falk juniors, seniors, and graduate students are invited to a networking mixer to meet with alumni, area employers, and professional organizations, expand their professional networks, and prepare for the career and internship hiring process.
Both events are free of charge and take place in Grant Rotunda in the Falk Complex. Refreshments will be served.
The Falk College Office of Career Services is integrated with Handshake, Syracuse University's new career management tool. Using Handshake, students can schedule career counseling appointments, find event details for career fairs and employer visits on campus, and discover job and internship opportunities with over 300,000 employers. Students who wish to receive information from Falk College Career Services should join Handshake.
Falk Career Services is housed within the College's Student Services unit, which includes 10 staff members dedicated to providing a caring, comfortable and confidential environment where students can discuss academic, social and emotional concerns. Falk Student Services also provides advising for undeclared students and tracks all requirements for degree completion.
Contact Falk College Career Services at falkcareers@syr.edu or (315) 443-3144, or visit Suite 300 MacNaughton Hall. Read the full announcement on the SU News website.
---
Page 2 of 16