Madalyn Tallo has spent much of her spring semester at Grimshaw Elementary, a local an elementary school, working with an occupational therapist.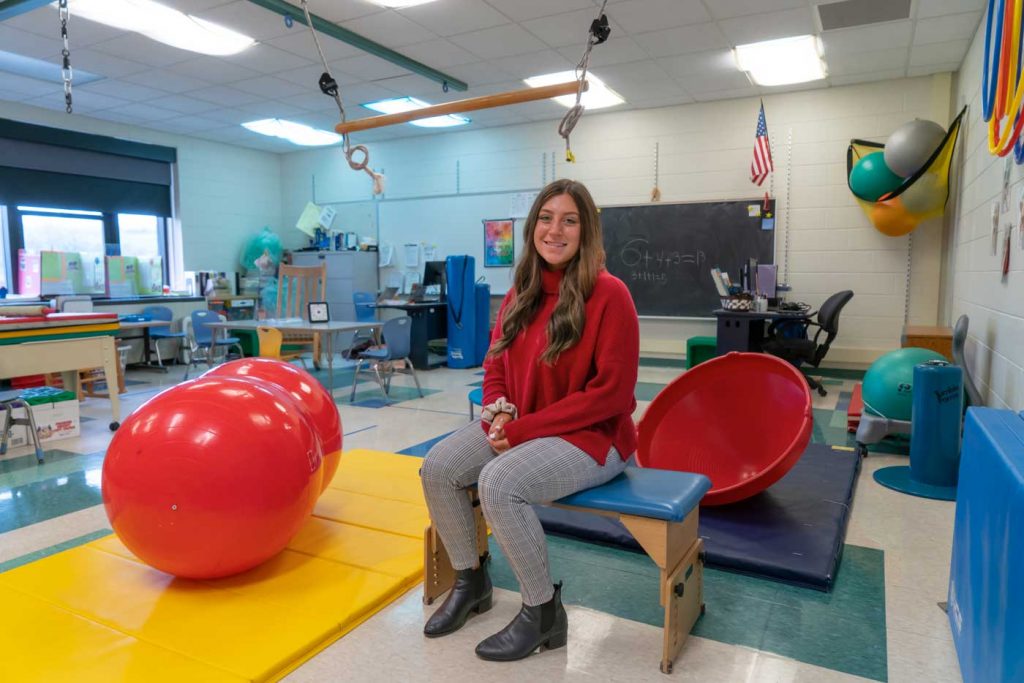 Occupational therapy is designed to help people of all ages to participate in life activities that are important to them. And it's what Madalyn plans to do with her career.
Alongside the school's occupational therapist, she engages students in activities that help them accomplish set goals to promote their academic success. "I observe children who experience a range of disabilities and difficulties that impair their ability to learn in the classroom," she says. "The children are engaged in set activities that are specific to helping them practice towards their goals, as well as provide them with strategies that they can utilize to be successful both in the classroom and in everyday life." Over the course of her internship, Madalyn has created multiple tools to review student progress hand help them toward their individual goals, such as mindfulness strategy cards, daily planners, and handwriting sheets.
As a Human Development and Family Science (HDFS) major and Psychology minor, Madalyn studies the physical, social, and psychological development of humans throughout the lifespan as well as family dynamics and its effects. "I chose HDFS because I have always wanted to work with children and was very interested in the overall development of children and how they function and grow," she says. "I have taken classes that focus on infancy and gerontology, with every age group covered in between."
HDFS's curriculum is endorsed by the Association of Child Life Professionals and prepares students to meet the additional requirements to become certified as Child Life Specialists, professionals who encourage optimum development for children facing a broad range of challenges, particularly those related to healthcare and hospitalization. Many students like Madalyn focus their coursework in these areas. "Through my concentration in child life, I have gained a great understanding of the need for play in a child's life—how children should be playing at certain ages, how to use play to connect with a child, as well as to facilitate learning and growth through play."
Madalyn has had a few adventures during her time at Syracuse. As a junior, she studied abroad in Florence, Italy and got to travel around Europe. But one of her favorite experiences was just a few blocks from campus. "One experience that really meant the most to me was my time working with the Love Your Melon Club. This gave me the opportunity to learn about the stories and experiences of children who are sick with cancer, she says. As part of the club, she helped run a DKMS swab drive to encourage Syracuse students to join the National Bone Marrow Registry. She also worked with children during hospital visits at Upstate Golisano Children's Hospital. "During a visit at Golisano, I was able to observe a Child Life Specialist and work with two young girls who had been diagnosed with cancer and play with them for the day. This was an experience I will never forget."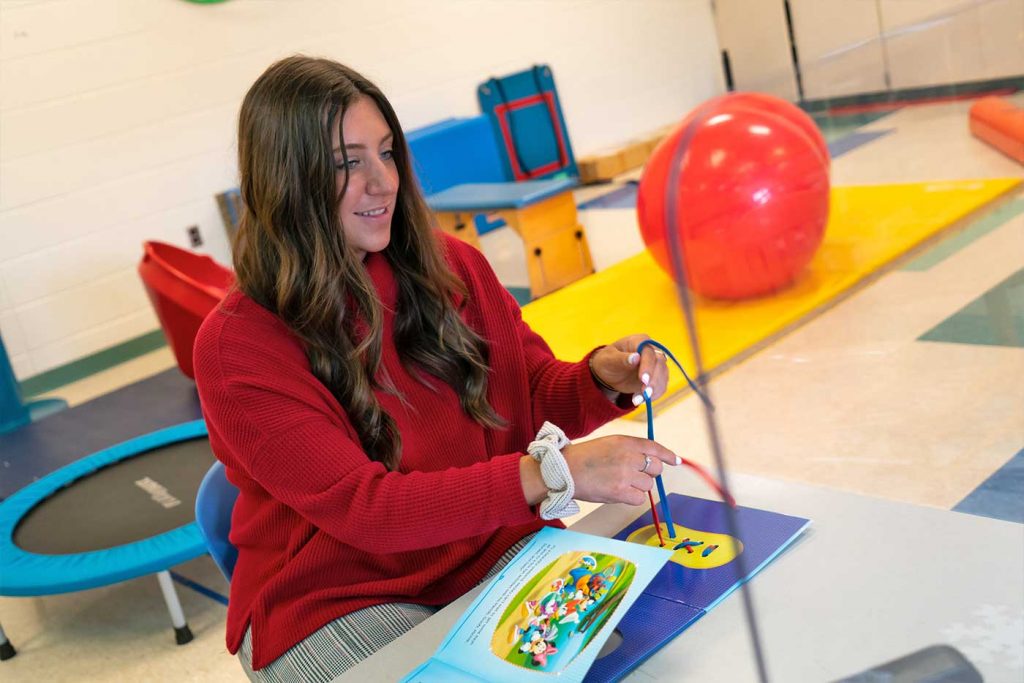 After graduation, Madalyn plans to attend graduate school to become an Occupational Therapist. "Many of my classes have allowed me to realize that I want to work with children as a pediatric Occupational Therapist. I want to use my knowledge of growth and development from HDFS to help children accomplish the everyday tasks they may have difficulty with. We take the ability to feed ourselves, get up and down from a chair and to do so many other daily occupations for granted, while some people struggle with these things. I want to help give a child the ability to live their life to the fullest and to do all of the little things we should all be lucky enough to do with ease."
Learn more about human development and family science, career paths, and programs at Syracuse University's Falk College.