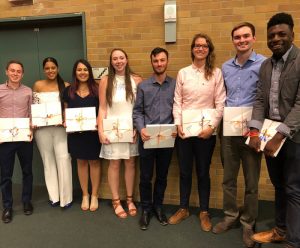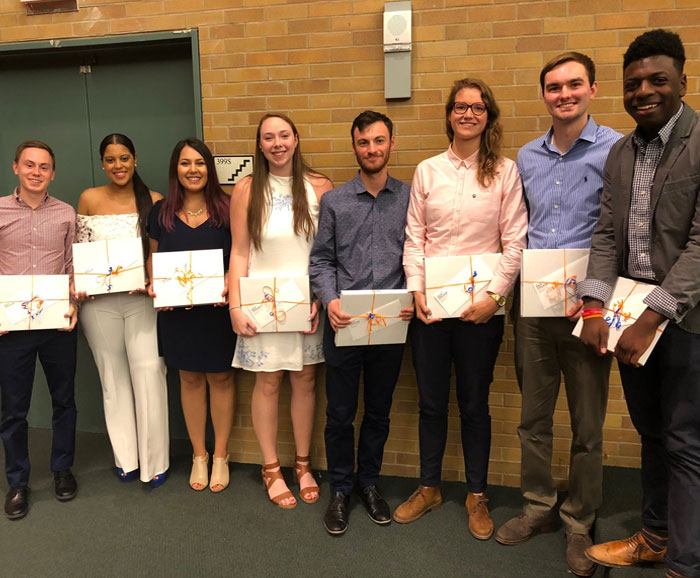 On May 12, 2018, the David B. Falk College celebrated its Class of 2018 Convocation ceremony at Manley Field House. Eighty-one Sport Management undergraduates and 14 Sport Venue and Event Management master's students took part in the ceremony.
The 2018 Sport Management Marshals were Alex Wood (undergraduate) and Paige Hammond (graduate). Destiny Castro, Chris Henderson and Alex Wood were named Falk College Scholars.
Thirty-five Sport Management students in the Class of 2018 graduated with honors with a GPA of 3.4 or higher. Eighteen students graduated Magna Cum Laude (GPA of 3.6 or higher) and seven graduated Summa Cum Laude, (GPA of 3.8 or higher).
The Department of Sport Management's traditional celebration of its graduates on Commencement weekend continued this year, with more than 200 parents, family members, friends, faculty and staff gathering in Falk College on May 11 to celebrate the accomplishments of the Sport Management undergraduates and Sport Venue and Event Management master's students.
This year's awards ceremony featured remarks by Sport Management director and chair Michael D. Veley, College benefactor David B. Falk, and Syracuse University Trustee and Chicago Cubs minority owner Andrew Berlin. SPM undergraduate director Dr. Gina Pauline led the awards ceremony to honor the Class of 2018.
Awards presented included:
Director's Award – Alex Wood
Academic Excellence Award – William Kniesner
Matt Brodsky Philanthropic Award – Christina Myers
Sport Management VIP Award – Destiny Castro
Professional Engagement Award – Christopher Henderson
Jason Morales Perseverance in Sport Award – Elise Lagerweij
Academic Promise Award – Elijah Newsome
Graduate student award – Kelsey Meisenzahl
Nine students received the Director's Academic Achievement Award for earning a GPA of 3.4 or higher for each of their seven consecutive semesters at Syracuse University. Those students were: Keith Bremer, Destiny Castro, Christopher Henderson, Jeffrey Kent, William Kniesner, Kyle O'Connor, Matthew Potolski, Erik Weiss and Alex Wood.
Elijah Newsome was noted as a McNair Scholar and Angela Marsh-Coan as a David Bing Scholar. Peter Nagle (Sport Management and History) and William Kniesner (Sport Management and Economics) were noted as dual majors.