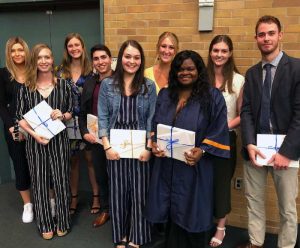 On May 11, 2019, the David B. Falk College of Sport and Human Dynamics celebrated its Class of 2019 Convocation ceremony at Manley Field House. One-hundred Sport Management undergraduates, five Sport Analytics undergraduates, and 10 Sport Venue and Event Management master's students took part in the ceremony.
SPM senior Anthony de la Fuente served as a Falk College Marshal delivered a speech during the Convocation. The 2019 Sport Management Marshals were Nicholas Carlson (undergraduate) and Baylee Douglas (graduate). Caitlin Burke, Daniel Hamilton and Justin Perline were named Falk College Scholars.
Twenty-four Sport Management students in the Class of 2019 graduated with honors with a GPA of 3.4 or higher. Eighteen students graduated Magna Cum Laude (GPA of 3.6 or higher) and nine graduated Summa Cum Laude (GPA of 3.8 or higher).
The Department of Sport Management's traditional celebration of its graduates on Commencement weekend continued this year with more than 200 parents, family members, friends, faculty and staff gathering in Falk College on May 10 to celebrate the accomplishments of the Sport Management and Sport Analytics undergraduates and Sport Venue and Event Management master's students.
The awards ceremony featured remarks by Sport Management director and chair Michael Veley, and College benefactor David B. Falk.
Awards presented included:
Director's Award – Anthony de la Fuente
Academic Excellence Award – Nicholas Carlson
Matt Brodsky Philanthropic Award – Caitlin Burke
Sport Management VIP Award – Sarah Lundmark
Professional Engagement Award – Brigid Daly
Jason Morales Perseverance in Sport Award – Courtney Anderson
Academic Promise Award – Da'Sha Prescott-Moore
Kate Veley Civic Engagement and Social Responsibility Award – Olivia Lavelle
Graduate Student Award – Baylee Douglass
Sixteen students received the Director's Academic Achievement Award for earning a GPA of 3.4 or higher for each of their consecutive semesters at Syracuse University. Those students were: Cody Barbuto, Jan Breitenmoser, Caitlin Burke, Nicholas Carlson, Brigid Daly, Anthony de la Fuente, Charles Garrett IV, Daniel Hamilton, Joshua Katz, Xinyu Li, Sarah Lundmark, Shuk Ching Jocelyn Mong, Austin Natowitz, Justin Perline, Micah Rubin and Sara Stanley.
Five students were noted for being dual majors: Caitlin Burke (Sport Management and Spanish Language, Literature and Culture), Michael Cavalier (Sport Management and Economics), Charles Garrett IV (Sport Analytics and Broadcast & Digital Journalism), Matteo Lovece (Sport Management and Economics), and Justin Perline (Sport Analytics and Newspaper & Online Journalism.)
Four students were named Berlin Sport Analytics Scholars: Cody Barbuto, Charles Garrett IV, Justin Perline and Evan Weiss. These four students are the first graduates of SU's Sport Analytics program.