Syracuse alum puts his engineering and public health knowledge to work helping the University monitor for the COVID-19 virus.
Pruthvi Kilaru '18, G'20 is a tinkerer who enjoys drawing on his creativity to solve problems. With a background in biomedical engineering and public health and a vision of becoming a physician, he is forging a promising future for himself that will benefit others. "I've had these amazing opportunities at Syracuse University that I couldn't get anywhere else. I've been able to manage large teams, present to global stakeholders and write incredible papers," he says. "And that's what makes Syracuse University unique—it's the opportunities that you're given and can take advantage of, if you choose to do so."
Since the outbreak of the pandemic last year, Kilaru has been integral to the University's effort to keep the novel coronavirus in check. As a project manager in the Department of Public Health at Falk College, he oversees the campus wastewater surveillance program—an early alert system that monitors for traces of the virus in residence halls—and manages day-to-day operations for the COVID-19 testing center at the stadium. He helped establish the center's training and testing operations, supervises upwards of 50 staff and volunteers, and is responsible for logistics, including keeping track of supplies. "COVID-19 is not a fun disease to have. I caught it earlier last semester, and it's not something I'd want anybody else to get," he says. "Every day I'm here and helping to prevent that, it makes me feel like I've made a difference."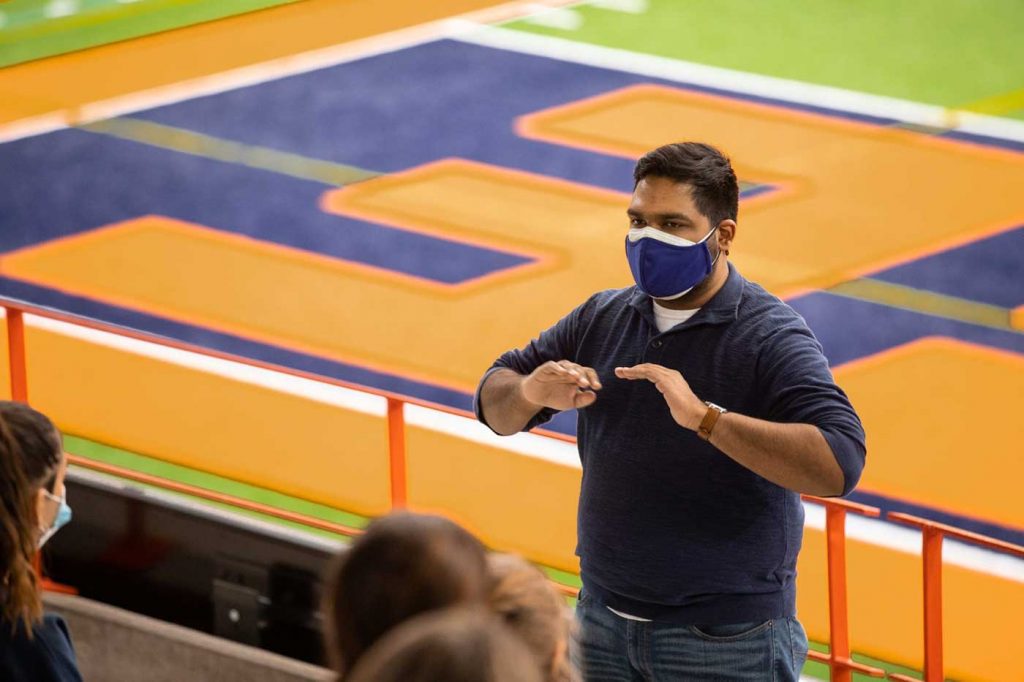 Kilaru initially joined the battle against COVID-19 through his master of public health (MPH) practicum with associate professor David Larsen, who organized a Syracuse-based team of scientists to create the SARS-CoV-2 Early Warning Surveillance Platform. "My research interest in infectious disease surveillance took off from there," Kilaru says.
The team established surveillance initiatives on campus and elsewhere in Onondaga County and, with state funding for a pilot program, extended its reach to other counties and universities. "Pruthvi worked with sanitation engineers to produce sampling protocols that are still used today," says Larsen, an environmental epidemiologist. "He also led the development and construction of do-it-yourself samplers for the wastewater because the equipment supply chain was disrupted due to the pandemic." They published information on the samplers in a paper that's available for free online. "I didn't want cost to be the prohibitive factor for other universities to implement the same safeguards that we do here," Kilaru says. "At the end of the day, I want to see the country get back to normal."
Becoming Orange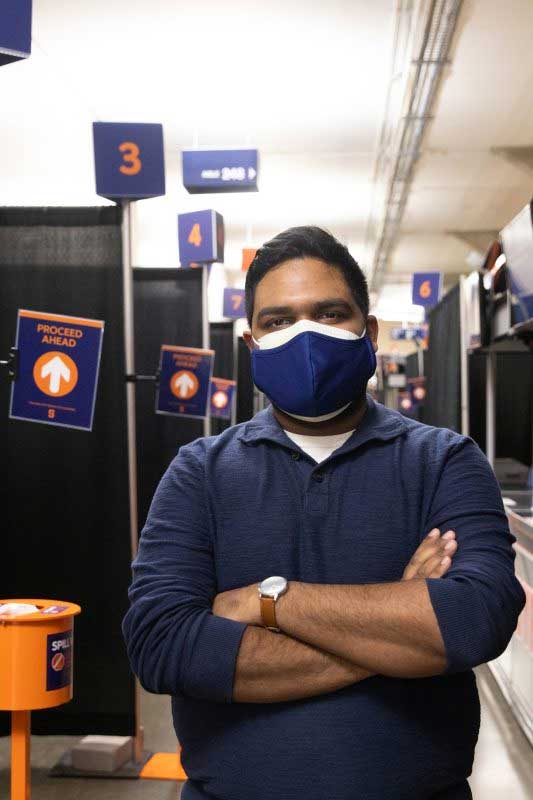 Kilaru was born in Syracuse and has a large, extended family in the area, but spent fifth through 12th grade in Lexington, Massachusetts. He was familiar with the Hill and some of his relatives had studied at Syracuse, but it wasn't until he attended Own the Dome—an overnight event in the stadium for accepted students—that he fully embraced being Orange. "That's what really made Syracuse University my top choice," he says.
It's safe to say that developing an expertise in infectious disease surveillance wasn't on Kilaru's radar when he first enrolled. His passion for creativity and problem solving sparked his interest in science and influenced his decision to major in biomedical engineering at the College of Engineering and Computer Science (ECS). "I've always enjoyed science because it involves a lot of creativity, and I like tinkering with things," he says. "For me, it became obvious that in order to tinker with things in life, you want a STEM background."
Kilaru made the most of his undergraduate experience. He served as an ambassador for the ECS career services office, where he also worked as a technology specialist. He was a director of programming for the Residence Hall Association, and a co-founder and executive board member for Ottothon, the dance marathon fundraiser for the Upstate Golisano Children's Hospital. He studied abroad at University College Dublin, and for his senior capstone project he created a mechanical heart failure model for testing medical devices. "The best part about being a Syracuse University student for me was all the friends I made and all the people I got to meet," he says. "I wouldn't trade that for the world at this point."
Opportunities for Growth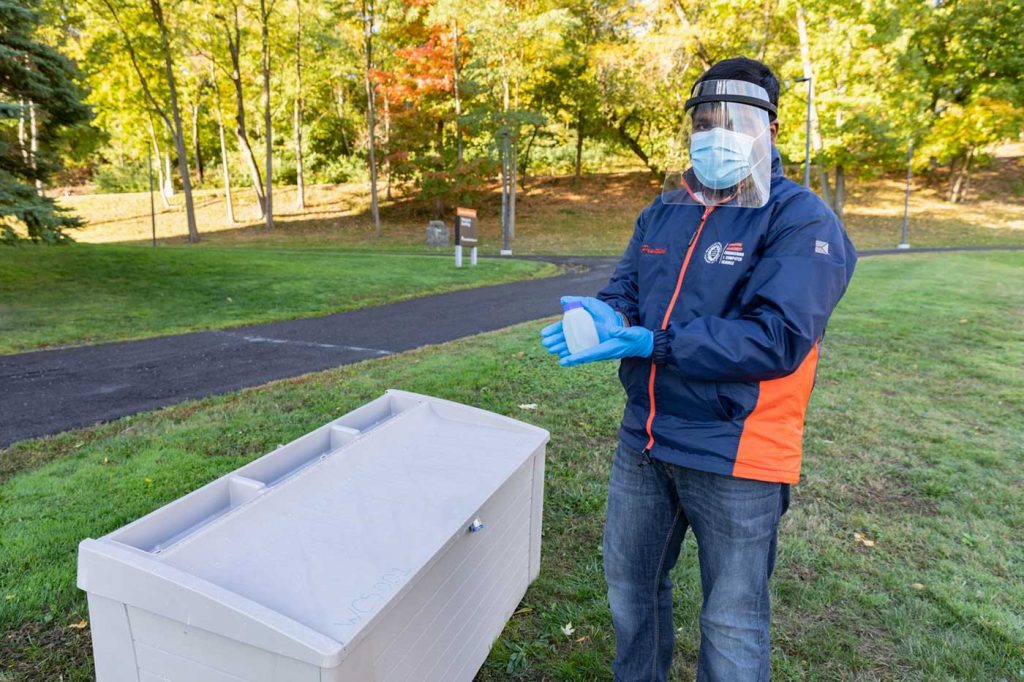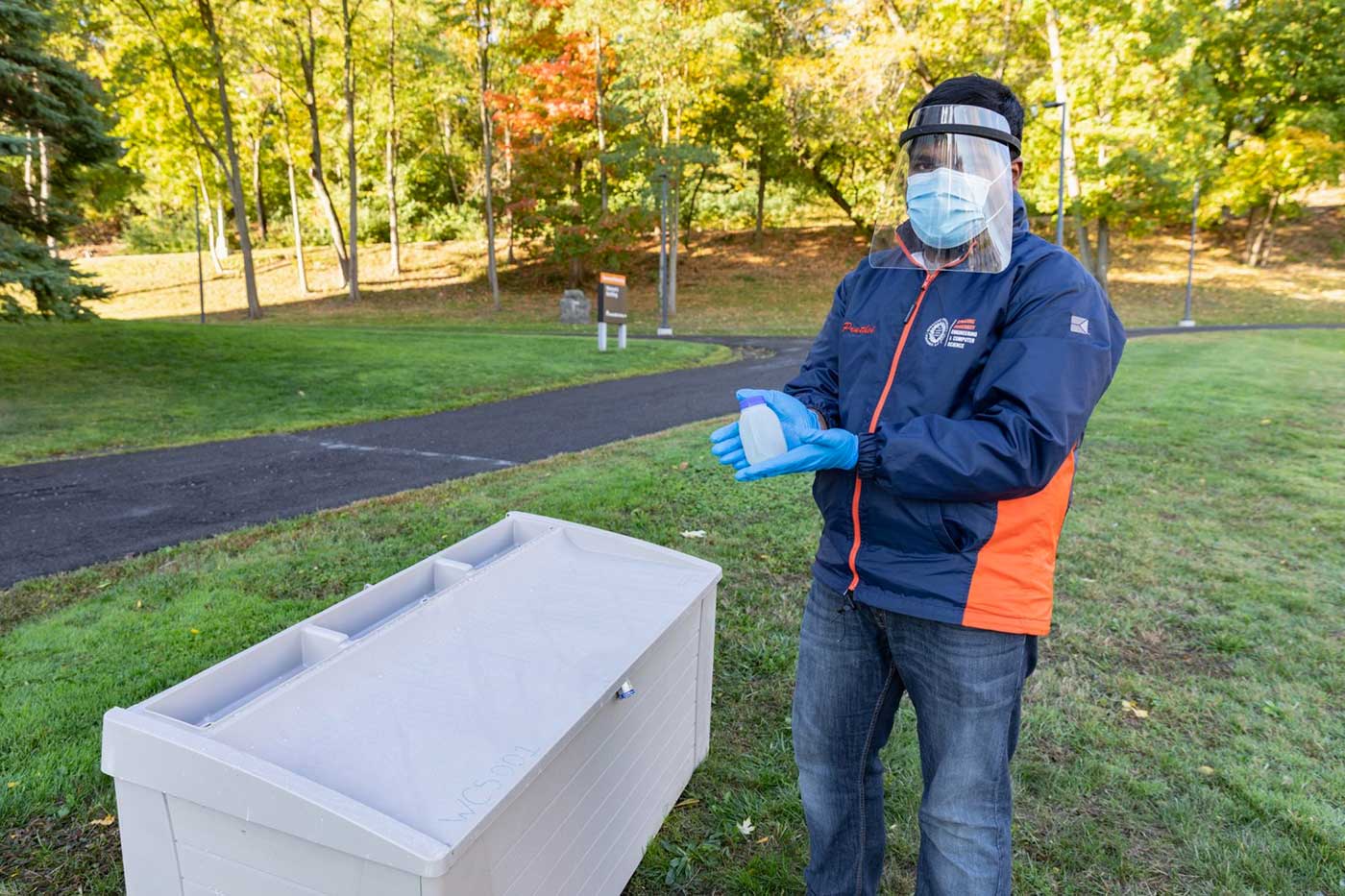 After earning a bachelor's degree, Kilaru explored the idea of creating pediatric medical devices, but shifted his focus when he became interested in the social determinants of health that affect children's lives. This led him to Falk's public health program, where he welcomed opportunities to learn about underserved communities within a pediatric population and quickly solidified his desire to become a physician.
In a course on refugee health, he teamed up with SUNY Upstate Medical University student Casey Mohrien to help a local refugee family adjust to their new lives and get access to medical care. For another course, he shadowed a physician for eight months at a clinic that served children in the foster care system and gained insights on their health care. One of his favorite experiences was presenting to the Council of Europe Pompiduo Group during an executive training on incorporating gender dimensions in drug policy practice and service delivery. "The most valuable part about my master's experience was the connections I had to faculty and staff," he says. "They are very willing to help you and foster your growth and education."
In July, Kilaru will start the next phase of his career as a medical student. He likes being involved in fields that are constantly evolving, allowing him to keep learning, creating and solving problems. "Health care is always disrupted by technology, as well as by social determinants," he says. "Being able to navigate those disruptions as an engineer and a public health specialist is amazing. And becoming a physician on top of that will allow me to make an even bigger difference in people's lives."
~ An SU story by Jay Cox published on May 20, 2021.