Celebration Shows Important Role Students Play in Research on Campus
If you want to learn more about the meaningful work that's being done at Falk College, the Falk Student Research Celebration is a great place to start.
It certainly was for Sara Vasilenko, an assistant professor in the Department of Human Development & Family Science who joined Falk in the fall of 2018 and was amazed at the students' research work that was highlighted at the Research Celebration that spring. Inspired by the event, Vasilenko joined the Falk Student Research Celebration committee and now chairs the committee.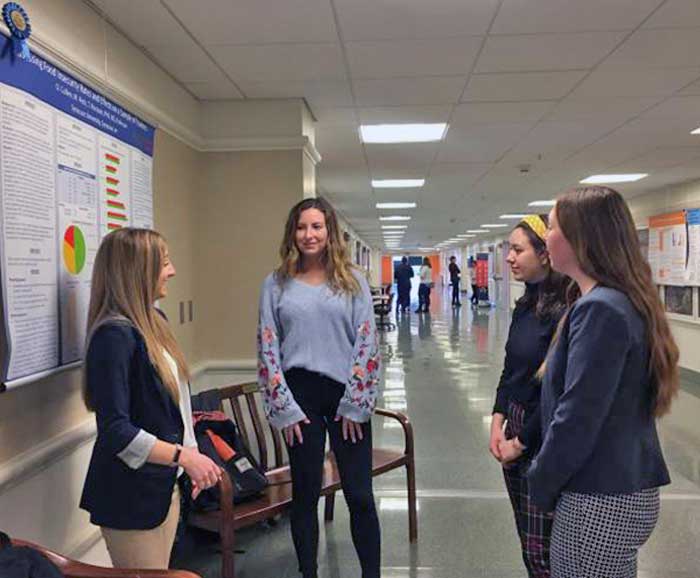 "When I attended the event in my first year as a faculty member at SU, I had such a great time getting to know the students and learning more about their research and the disciplines represented in Falk," Vasilenko says. "Being a part of the FSRC committee has exposed me to fascinating student work in areas that are different from my own and that I likely wouldn't have encountered without this event."
Falk College will host the 2022 Falk Student Research Celebration March 29. The sixth annual event will highlight students' research collaborations and show the campus community their dedication to advancing research knowledge. View a list of 2021 Research Celebration winners.
"There are many benefits for students engaged in research and it is important to Falk to provide students with a platform to share their research," says Kathryn Gratien, research operations specialist in the Falk College Research Center and a member of the Research Celebration committee. "We hope that this event inspires students to get involved in research activities available to them throughout Falk and across campus."
To be eligible for the event, an undergraduate, master's or doctoral student must be enrolled in a Falk degree, minor or CAS (Certificate of Advanced Study) and have a faculty advisor/mentor. Students can submit electronic posters of completed or in-progress empirical, exploratory, policy analytic, systematic review, or hypothesis-driving research projects using qualitative, quantitative, or mixed methods for display.
The posters are judged by a committee of faculty, staff and peers and the participants compete for a prestigious honors award that includes educational funds to present their posters on a larger stage, attend a conference to gain further insights into their respective fields, or for other educational endeavors.
"Participating in this type of research gives students important skills they can take into graduate studies or future careers," Vasilenko says. "The Research Celebration allows students to share their research with the Falk community and it's also an opportunity to compete for prizes!"
The Research Celebration will be held virtually this year because of the pandemic. Students will submit electronic posters in advance of the judging on March 29, and the winners will be announced March 30.
"Falk has held this event since 2017 and each year, student involvement has increased," Gratien says. "It is great to see the different ideas and many research projects that our students are involved in."
Vasilenko says the Research Celebration is an opportunity for students to showcase their work and faculty to get to know students and the projects they are working on. "At a research-intensive university like SU, research is a vital part of the academic environment and students play an important role in this research," Vasilenko says.
For questions or additional information, contact Gratien at kgratien@syr.edu.
About the Falk College Research Center
The Falk College Research Center promotes a robust, collaborative research community in which students play an active role. At Falk, graduate and undergraduate students have the opportunity to work directly with faculty to collect data, analyze findings and draw conclusions on relevant topics surrounding public health, food studies, nutrition, sport management, human development and family science, social work, exercise science, and marriage and family therapy.
2021 Falk Student Research Celebration Winners
Undergraduate Winners
How to Allocate the NFL Salary Cap with a Highly Paid Quarterback
Name: Zachary Koeppel
Program/Major: Sport Analytics
Faculty Research Mentor: Professor Rodney Paul
The Association that Gender Roles have with Health Seeking Behavior for Women in Kenya, Tanzania, and Uganda
Names: Gloria Nabbosa, Professor Sandra Lane, Professor Brittany Kmush
Program/Major: Public Health
Faculty Research Mentor: Professor Brittany Kmush
EAT-26 Effectiveness in Detecting Eating Disorders in College Students
Names: Rose Noterman, Sivan Avramovich and Professor Jessica Garay
Program/Major: Nutrition Science
Faculty Research Mentor: Professor Jessica Garay
Under the Radar: An NBA/NCAA Player Similarity Model Utilizing a Factor Analysis & Radar Plots
Name: Dominic Samangy
Program/Major: Sport Analytics
Faculty Research Mentor: Professor Justin Ehrlich
Malaria Control with Pyrethroids and Cognitive Deficits in Pre-School Aged Children in Sub-Saharan Africa: A Meta-Analysis of Cross-Sectional Surveys
Name: Megan Willkens
Program/Major: Public Health and Policy Studies
Faculty Research Mentor: Professor David Larsen
Graduate Winners
Associations Between Physical Activity, Body Mass Index and Carotid Extra-Medial Thickness in Children
Names: Danielle Arcidiacono, Wesley Lefferts, Professor Brooks Gump, Professor Kevin Heffernan
Program/Major: Exercise Science, M.S.
Faculty Research Mentor: Professor Kevin Heffernan
Parental Autonomy Support and College Students' Well-Being
Names: Xiaoyu Fu, Woosang Wang, Professor Eunjoo Jung
Program/Major: Human Development and Family Science, Ph.D.
Faculty Research Mentor: Professor Eunjoo Jung
Working Mothers' Job Demands, Work-family Conflict, and Job Satisfaction in East Asia: A Comparison of China, Taiwan, and Japan with National Sample
Names: Rui Tian and Professor Kamala Ramadoss
Program/Major: Human Development and Family Science, Ph.D.
Faculty Research Mentor: Professor Kamala Ramadoss
Please note that mentors did not participate in rating their students' posters.