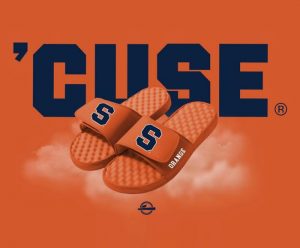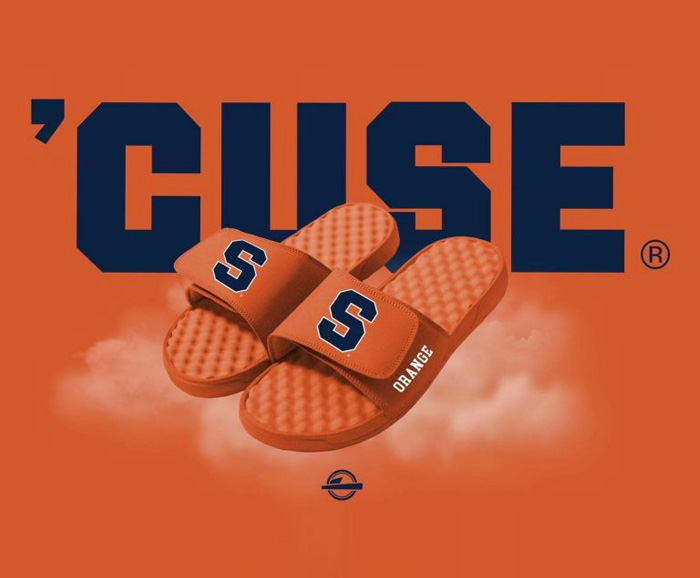 In the Fall of 2017, students in Sport Management Associate Professor Patrick Walsh's SPM 444 Sports Marketing Management course had the unique opportunity to work with a company that appeared on the hit ABC television show "Shark Tank."
ISlide develops premium, customized athletic slides (i.e., sandals) and has number of partnerships in sports and entertainment, including deals with the NBA, Pittsburgh Steelers wide receiver Antonio Brown, and international music superstar DJ Khaled, among others. In 2017 ISlide was expanding into the collegiate space by signing licensing deals with a number of top universities across the country.
"When we were approached by ISlide they had just recently signed their first collegiate licensing deal with Syracuse University and were seeking ideas of how to introduce their SU-branded products," Walsh said. "I knew the students would embrace this since their product is targeted toward the college demographic, and ISlide was open to unique and creative ideas."
Throughout the semester, students worked in groups to develop strategic marketing plans designed to generate awareness and sales for the SU-branded ISlides. ISlide Founder and CEO Justin Kittredge and Director Sales Paul Gibson visited campus early in the semester to introduce the students to the company, the product, and the athletic footwear industry (and graciously provided each student in class with their own customized SU slides). Kittredge and Gibson were available throughout the semester to the students for feedback and guidance, and the students were able to present their marketing plans directly to Kittredge at the end of the semester.
"This project was a huge success as it exposed the students to a brand with a strong entrepreneurial focus and to an area of the industry they likely would not have considered otherwise," Walsh said.
"The SPM 444 project required me to think critically about how I would apply the marketing principals I had learned in the classroom to real-life business situations," said SPM senior Christopher Henderson. "The freedom of the project allowed each group to have complete ownership of their work. Being able to present our work to, and receive feedback from, founder Justin Kittredge was extremely beneficial. It was a rare opportunity to learn from a successful entrepreneur in the industry."