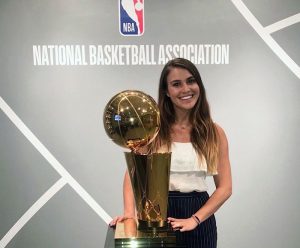 During the Spring 2019 semester, I completed my Senior Capstone in New York City at the National Basketball Association (NBA) League Office in the Team Marketing & Business Operations Department (TMBO).
TMBO works as an in-house consulting group for the NBA, G-League, WNBA, and NBA2K. Within TMBO, I worked with the Strategy and Analytics group as a Business Intelligence Analyst. My group was focused on assisting all facets of the industry, from marketing to ticket sales through data-driven decision making.
My specific role was to bring league reporting into the 21st Century, to transition away from static PDF reports to more dynamic, real-time dashboards. Having data in real-time with filtering capabilities will enable teams and other groups within TMBO to more easily identify trends and best practices in a more convenient manner. Through this process, I learned how to streamline data and create automated processes. The beauty of TMBO is touching different aspects of the business in a variety of settings.
It was a great learning opportunity to see how markets operate, whether big or small, winning or losing, as well as the strengths and weaknesses of the teams. I consulted with each organization's Strategy and Analytics team about their needs.
The most rewarding part of working with the NBA's TMBO was learning from experts in all areas of sport who come from diverse backgrounds. I am proud to say I have been offered a full-time job with TMBO's Strategy and Analytics group, effective Summer 2019.