When:
October 12, 2018 @ 8:30 am – 4:30 pm
2018-10-12T08:30:00-04:00
2018-10-12T16:30:00-04:00
Where:
Falk College, Room 335
150 Crouse Dr
Syracuse, NY 13244
USA

The School of Social Work in Falk College, an approved provider of continuing education for LMSWs and LCSWs in New York State, will provide The Advanced Group Therapy: Promoting a Mutual-Aid Environment workshop. This workshop is designed for clinicians seeking to enhance their group facilitation skills and conceptualization from a Mutual-Aid framework. The learner will learn about different group types and the challenges and opportunities in each to promote Mutual Aid with clients in a group psychotherapy setting. Participants will review different stages of the group including pre-group planning, monitoring discord between participants, and ways evaluate progress of the group and individual members effectively. The presentation will be largely experiential with ample opportunity to practice and review skills in role-plays and observation
Participant learning objectives:
Participants will demonstrate understanding of Mutual-Aid model of group psychotherapy through experiential exercises that include observation and role-plays.
Numerous learning techniques will be implemented, including lecture, demonstration, interactive role-plays, and audio/visual learning aids. Group members will communicate how the skills and concepts reviewed in the session can be applied in the clinician's daily practice.
Participants will be able to describe the different applications of Mutual-Aid group psychotherapy interventions in single-session, short-term, and very large groups
Date: October 12, 2018
Time: 8:30 a.m. – 4:00 p.m. (Check – in begins at 8:00 a.m.)
Cost: $115.00
The NYS Department of Education and NYS Social Work Board has approved this workshop for 6.5 contact hours. For more information, contact Social Work Continuing Education at swkce@syr.edu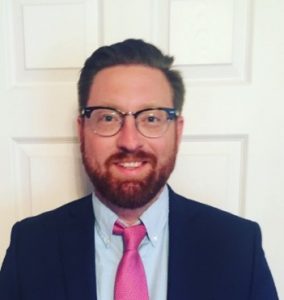 Presenter: Bernard K. Showers III, LCSW, CAADC
Bernard K. Showers III is a Certified Advanced Alcohol & Drug Counselor (CAADC) as well as a Licensed Clinical Social Worker (LCSW) in Pennsylvania. During his seven years of experience, Bernard has worked in various mental health settings. He has developed an expertise in Motivational Interviewing. Bernard was nominated to be a National Consultant in the Department of Veterans Affairs for Motivational Interviewing and Motivational Enhancement Therapy, and since then has presented to a number of local, regional, and national audiences. He is also one of approximately 1,500 members who completed the Motivational Interviewing Network of Trainers Train-the-Trainer. Bernard is currently an Adjunct Professor at Shippensburg University in PA and an outpatient Behavioral Health Social Worker at the Department of Veterans Affairs in PA.