When:
April 21, 2017 – April 22, 2017
all-day
2017-04-21T00:00:00-04:00
2017-04-23T00:00:00-04:00
Cost:
Legends Night Dinner General Admission $100, VIP $250. See below for details. Registration for Symposium is free.
Contact:
Sport Management
315.443.9881
The National Baseball Hall of Fame and the Department of Sport Management at Syracuse University's Falk College present the Baseball Legends Night and Baseball Analytics Symposium April 21 and 22 in Syracuse, featuring insider perspectives from Hall of Famers Roberto Alomar and Ryne Sandberg.
Baseball Legends Night
Friday, April 21, 2017
5 p.m. Doors open
5:30 – 7 p.m. Cash bar reception
5:30 – 8 p.m. Silent auction
7 – 8 p.m. Dinner
8 – 9:30 p.m. Roundtable discussion with Alomar and Sandberg
Location
The Oncenter
800 South State St.
Syracuse, NY 13202
Tickets
Tickets are available through Ticketmaster (surcharges apply). Individual general admission tickets are $100, and a limited number of VIP tickets are available for $250. Both tickets include dinner. The VIP ticket additionally includes a private pre-dinner VIP reception with either Alomar or Sandberg and an autographed baseball. Tables of 10 are available through Ticketmaster (surcharges apply) or by contacting the Department of Sport Management at 315.443.9881.
Buy Tickets for Baseball Legends Night

Baseball Analytics Symposium
Saturday, April 22, 2017
8 a.m. Doors open
9 – 10 a.m. Baseball statistics and analytics panel with Alomar and Sandberg
10 – 11 a.m. Research presentations
11 a.m. – 12 p.m. Premiere of Analytics: Changing the Fan Experience documentary film
Location
Grant Auditorium, Falk College Complex
150 Crouse Dr.
Syracuse, NY 13244
Registration
Saturday's symposium is free and open to the public. Advance registration required separate from the Baseball Legends Night.
Register for Analytics Symposium

Additional Information
Parking information and other details about the Baseball Legends Night and Baseball Analytics Symposium will be published here as the information becomes available.
Photo credit: Milo Stewart Jr./National Baseball Hall of Fame
Special Guests: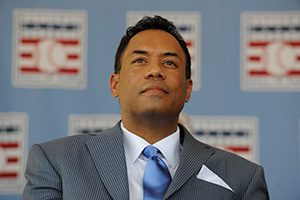 Roberto Alomar
Inducted in 2011
Born: February 5, 1968, Ponce, Puerto Rico
Height: 6-0 Weight: 184
Threw: Right Batted: Both
Teams: San Diego NL 1988-90; Toronto AL 1991-95; Baltimore AL 1996-98; Cleveland AL 1999-2001; New York NL 2002-03; Chicago AL 2003-04; Arizona NL 2004
Dazzling, talented Roberto Alomar was arguably the premier second baseman of his era, earning a dozen consecutive All-Star selections. The switch-hitter menaced the opposition at bat and on the basepaths, batting .300 for his career and stealing at least 30 bases in eight seasons. Smart and acrobatic in the field, the second baseman's 10 Gold Glove Awards are the most ever at his position. Alomar exhibited his considerable skills with seven teams over a 17-year big league career, including the 1992 and 1993 Blue Jays, winners of back-to-back World Series.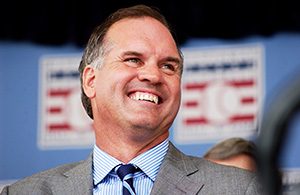 Ryne Sandberg
Inducted in 2005
Born: September 18, 1959 at Spokane, WA
Height: 6-2 Weight: 180
Threw and batted right-handed
Teams: Philadelphia N.L. 1981; Chicago N.L. 1982-1994, 1996-1997
Defensive prowess and tremendous power earned Ryne Sandberg 10 consecutive All-Star Game appearances during 16 major league seasons. His amazing range and strong, accurate throwing arm produced nine straight Gold Glove awards from 1983 to 1991. In 1984, Sandberg led the Chicago Cubs to their first postseason appearance since 1945, winning the National League Most Valuable Player Award. He retired with 282 career home runs, and 277 as a second baseman – then the most ever at the position.