When:
September 15, 2017 @ 9:00 am – 12:00 pm
2017-09-15T09:00:00-04:00
2017-09-15T12:00:00-04:00
Where:
Catholic Charities, Conference Room A
1654 W Onondaga St
Syracuse, NY 13204
USA

Contact:
Social Work Continuing Education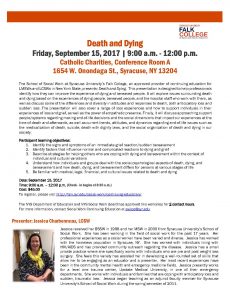 LMSWs and LCSWs in New York State, presents : Death and Dying. This presentation is designed to help professionals identify how they can improve the experience of dying and bereaved people. It will explore issues surrounding death and dying based on the experiences of dying people, bereaved people, and the hospital staff who work with them, as well as discuss some of the differences and diversity in attitudes and responses to death, both anticipatory loss and sudden loss. The presentation will also cover a range of loss experiences and how to support individuals in their experiences of loss and grief, as well as the power of empathetic presence. Finally, it will discuss approaching support people/systems regarding making end-of-life decisions and the social dimensions that impact our experiences at the time of death and afterwards, as well as current trends, attitudes, and dynamics regarding end-of-life issues such as the medicalization of death, suicide, death with dignity laws, and the social organization of death and dying in our society.
Participant learning objectives:
Identify the signs and symptoms of an immediate grief reaction/sudden bereavement
Identify factors that influence normal and complicated reactions to dying and grief
Describe strategies for helping others who are coping with dying and bereavement within the context of individual and cultural variations
Understand how individuals and groups deal with the social-psychological aspects of death, dying, and bereavement and how death, dying, and bereavement differs for persons at various stages of life
Be familiar with medical, legal, financial, and cultural issues related to death and dying
Presenter: Jessica Charbonneau, LCSW
Date: September 15, 2017
Time: 9:00 a.m. – 12:00 p.m. (Check – in begins at 8:30 a.m.)
Cost: $45.00
To register, please visit continuing-education
The NYS Department of Education and NYS Social Work Board has approved this workshop for 3 contact hours.
For more information, contact Social Work Continuing Education at swkce@syr.edu
Jessica received her BSSW in 1998 and her MSW in 2000 from Syracuse University's School of Social Work. She has been working in the field of social work for the past 17 years. Her professional experiences as a social worker have been varied and diverse. Jessica has worked with the homeless population in Syracuse, NY. She has worked with individuals living with HIV/AIDS and has provided community outreach regarding the disease. Jessica has a small private practice where she specifically works with individuals who are pre and post weight loss surgery. She feels this variety has assisted her in developing a well-rounded set of skills that allow her to be engaging as an educator and a presenter. Her most recent experiences have been in the community mental health and emergency medicine fields. Jessica presently works for a level one trauma center, Upstate Medical University, in one of their emergency departments. She works with individuals and families that are coping with anticipatory loss and sudden, traumatic loss. Jessica began teaching as an adjunct faculty member for Syracuse University's School of Social Work during the spring semester of 2011.