When:
September 21, 2018 @ 9:00 am – 12:00 pm
2018-09-21T09:00:00-04:00
2018-09-21T12:00:00-04:00
Where:
Falk College, Room 335
150 South Crouse Dr
Syracuse, NY 13244
USA

The School of Social Work in Falk College, an approved provider of continuing education for LMSWs and LCSWs in New York State, will provide "The Evolution of Integrated Care: Overview of Treatment for Co-Occurring Conditions." As the opioid epidemic has swept the nation, other drugs of abuse and influences on mental health have been highlighted. The division line between substance abuse and mental illness has been crossed through an ever growing need for treatment among individuals with co-occurring disorders. There is need for greater knowledge among professionals treating the very challenging population of individuals suffering with co-occurring disorders, especially as models of treatment are merging into an evolution of integrated care. However, these systemic changes have been more rapid than the movement for education and training for professionals who have been divided between mental health and substance abuse specializations. The purpose of this course is to deepen the knowledge and understanding of effects of substance abuse on mental illness and vice versa.
Participant learning objectives:
Identify current/most common drugs of abuse and their effects during periods of intoxication and withdrawal.
Identify DSM V criterion for mild, moderate and severe substance abuse.
Increase understanding of the reciprocal influence of substance abuse on symptoms of depression, anxiety, psychosis and trauma.
Identify basic tenets of Motivational Interviewing, Cognitive Behavioral Therapy, Dialectic Behavioral Therapy, and Dynamic Deconstructive Psychotherapy, as well as, skills that can be employed in everyday treatment.
Identify local and national resources/supports for individuals with co-occurring disorders.
Identify common systemic barriers to treatment and recovery for individuals with co-occurring disorders.
Date: September 21, 2018
Time: 9:00 a.m. – 12:00 p.m. (Check – in begins at 8:30 a.m.) Parking is free
Cost: $45.00
The NYS Department of Education and NYS Social Work Board has approved this workshop for 3 contact hours. For more information, contact Social Work Continuing Education at swkce@syr.edu.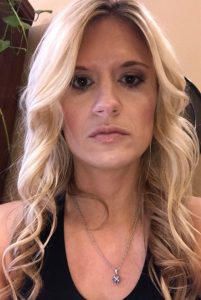 Presenter: Cynthia Malek, LCSW, CASAC
Cynthia been working for nine years as a Social Worker, specializing in recovery from substance abuse and mental health disorders. In December 2008, she began work at Syracuse Behavioral Healthcare (SBH) as a residential counselor. She advanced as an Outpatient Counselor from 2010-2012 and then served as Program Director for Substance Use Disorder Outpatient Clinic from November 2012-November 2015. Cynthia is currently working as a Therapist at Cayuga County Community Mental Health Clinic. She is a Licensed Clinical Social Worker and Credentialed Alcohol and Substance Abuse Counselor.