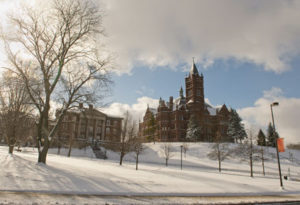 Considering a career as a child life specialist or social worker? A food policymaker or registered dietitian? How about a general manager for an athletic team? Visit Syracuse University Falk College at the February 20, 2017 Orange Preview day. Falk College is home to human development and family science, social work, public health, food studies, nutrition, and sport management. Prospective students will spend the day on campus, see the residence halls, enjoy lunch, meet with students, faculty and staff, as well as Admissions, Financial Aid, and SU Abroad representatives.
"Orange Preview is the perfect time for prospective students to visit campus, learn more about their areas of interest, and have their questions answered," says Felicia Otero, Falk College director of admissions. "Not only will visitors be introduced to the many resources and opportunities available across the university, but also break out into smaller groups to meet students and faculty, ask questions, and learn more about the colleges and programs they are considering."
Schedule:
8:30 – 9:45: Check-in
8:45 – 9:30: Campus Tour
9:45 – 10:30: Syracuse UNiversity Welcome
10:45 – 12:00: College Sessions – 100 Falk Complex (MacNaughton)
12:00 – 1:00: Lunch & Residence Hall Open House
12:30 – 2:30: Campus Tours
1:30 – 2:00: Admissions & Financial Aid Information Session
1:30 – 3:30: Optional academic and interest area open houses – 407 Falk Complex (White Hall)
Please note, personal interviews are not offered during Orange Previews. For more information about directions and parking, accommodations, and the Orange Preview schedule, visit admissions.syr.edu/visit/visitcampus/orangepreviews.