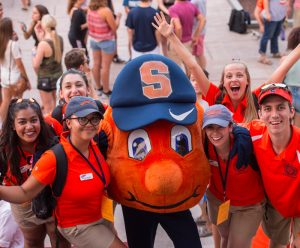 Falk College is thrilled to welcome back returning Syracuse students and to extend a special welcome to the Class of 2022, new transfer and graduate students! We are so happy to have you in the Orange family, as well as our family here at Falk College. As you meet your professors, classmates, and roommates, you'll soon be feeling right at home. We are here to help you along the way. If you have any questions or concerns, please connect with Falk College's Office of Student Services at (315) 443-3144 or falkss@syr.edu or visit 330 Barclay Hall in the Falk Complex.
Here are a few tips to help you get settled during these first few weeks:
Download the Syracuse Welcome Guide. Available through the Office of First-Year and Transfer Programs, the 2018 Syracuse Welcome Guide contains the complete schedule for Syracuse Welcome 2018 and other important information about your arrival at Syracuse University.
In addition, new graduate students should visit the graduate school website and check out the calendar of events specifically for graduate students. Similarly, new international students can find helpful information by visiting the Slutzker Center for International Services.
Attend New Student Convocation for new students and families on Thursday, August 23 at 5:30 p.m. in the Carrier Dome.
Attend Falk College welcome events. Please join us for the Dean's Reception for new students and families on Friday, August 24 from 10 to 11 a.m. in Grant Auditorium in the Falk Complex, followed by light refreshments served outside in the Falk Courtyard. Afterwards, the Dean's Welcome Meeting for new students will take place at 1:30 p.m. in Grant Auditorium immediately followed by Department Meetings from 1:45 to 3 p.m.
Explore the Student Involvement Fair Wednesday, September 5 on the Quad from 11:30 a.m. to 3:00 p.m. In the case of rain, it will be held in Goldstein Auditorium in the Schine Student Center. With more than 300 student organizations on campus, we are confident you'll find something that fits your interests.
Check your SU email account. As a Syracuse University student, you now have a SU email account. The University's primary method of communication is email sent to your SU account (not your personal email account). It is very important that you check your SU email account on a regular basis so you do not miss important communications from the University. If you have any questions, please contact Information Technology Services (ITS).
Connect with Falk College on social media. You can follow us @SUFalkCollege. Many other Syracuse University offices, schools, colleges, academic programs, clubs and more are also on social media. Visit the Social Media Directory. It's a great way to discover all that's happening on campus.
Finally, remember the Falk College Office of Student Services is here to help you with any questions or concerns. Once again, welcome and best of luck! Let's make this semester a great one!