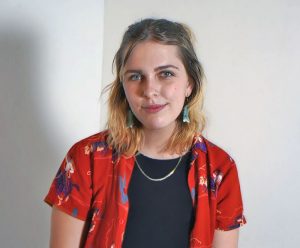 Vivian Whitney, a 2021 graduate with a bachelor's degree in magazine, news and digital journalism from the Newhouse School with minors in food studies in the Falk College and French and francophone studies in the College of Arts and Sciences, is one of four Syracuse University students/alumni to receive 2021 Fulbright U.S. Student Program awards.
Whitney has received the Fulbright/Casten Family Foundation Award to attend the University of Gastronomic Sciences in Pollenzo, Italy, in their Master of Gastronomy: World Food Cultures and Mobility program. The program starts in October and comprises 10 months of actual school-lectures, workshops, tastings and fieldwork-and three study trips-one in Italy, one in Europe and one outside of Europe (COVID restrictions-permitting). The program concludes with a 14-week internship or final research project conducted in Italy. Whitney's specific master's program is focused on different world food cultures and systems and how they move and change, with a focus on sustainability and food sovereignty.
Whitney, who has a degree in magazine journalism, aspires to be a food writer. "I'm incredibly interested in food cultures and the when, where, why and how we eat food, especially as it relates to food justice and food sovereignty. I want to, in some capacity, share stories that will help build a better, more sustainable, equal, fair, just, compassionate, delicious food system from production to consumption," she says. "I have the storytelling experience from Newhouse, but this program will help inform any food writing I do and give me a more global perspective of food, which will, in turn, help my understanding of food culture and systems in the United States."
"I just love food and all our connections to it, and I want to share those stories," she says.
Four Syracuse Students/Alumni Named as 2021 Fulbright Recipients | Syracuse University News