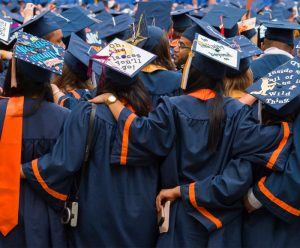 Falk College is pleased to announce the Falk College Merit Award Scholarship for current Syracuse University students interested in applying for a Falk College master's degree.
Incentives include no application fee, GRE waiver where applicable, and a 25% tuition discount incentive, which is applied after any other scholarships, scholarship credits, assistantships, and remitted tuition credits are applied.
To be eligible for the scholarship, students must be a current Syracuse University student in good standing with an overall GPA of 3.4 or higher applying for part-time or full-time study in one of the following degree programs:
Interested students must contact Falk Admissions and submit their application by February 15. Successful applicants will be officially admitted by the academic department and must formally matriculate for a 2019-2020 term.
"Falk College graduate degree programs allow undergraduates of all majors to tailor and enhance their career opportunities," says Falk College director of admissions, Felicia Otero. "For example, bachelor's degrees in psychology and sociology pair especially well with a master's degree in social work (MSW), marriage and family therapy (MFT), or the SWK-MFT dual program, as well as human development and family science, public health, and global health.
"Undergraduates studying business, management, advertising, and public relations can apply their skills directly to our sport venue and event management master's program. Students with skills in these disciplines might also apply to public health, global health, and food studies master's programs, alongside students with bachelor's degrees in communication & rhetorical studies, English, advertising, and education," Otero continues. "Undergraduates in biology and chemistry programs often pursue graduate study in nutrition science, as well as public health and global health programs at Falk."
"Falk graduate degrees lead to a variety of careers and end-credentials," says Deborah Golia, assistant director of admissions at Falk College. "You'll find Falk alumni working as counselors, therapists, social workers, community advocates, community educators, public health specialists, nonprofit program directors, managers, nutritionists, dietitians, sustainability program educators, and in limitless other roles."
"Falk College graduate degrees also lead to research professions and continued study in doctoral programs," she adds.
Falk Admissions will host a Graduate Information Session on Friday, November 2 in Falk Complex, White Hall, Room 335 at 4:00 p.m. In addition to review of Falk graduate programs, interested students can learn more about Falk Graduate Scholarships. For more information, please contact the Falk College Office of Admissions at 315.443.5555 or email falk@syr.edu.