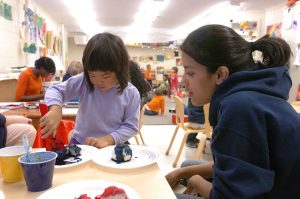 In the 1920s, the study of human development and family science at Syracuse University emerged from the intersection of home economics, early childhood education and care, and child psychology. Today, it is a dynamic, interdisciplinary field that studies the processes of human social, physical, and emotional growth and development throughout the lifespan and across cross-cultural contexts, utilizing research methods and techniques typical of other social sciences. Individuals and families are at the very foundation of society. From medicine to education, from policy to business, there is a great need for professionals who know and understand the science of human development.
At Syracuse University, in-class exploration of theory is paired with research and experiential learning in the community and around the world. Using an interdisciplinary approach, students gain well-rounded exposure, exploring topics such as immigrants and cross-cultural issues, mindfulness and self-regulation in children, and gerontology, the study of aging.
With a strong foundation in human development, alumni enter the professional
world as informed global citizens, well equipped to promote human health and social justice, and are competitive candidates for advanced degrees in fields such as medicine, education, research, and others.
Alumni records show that graduates of the Department of Human Development and Family Science are having a positive impact in many different fields. Here are just some of the recent job titles and academic pursuits held by human development alumni:
Healthcare
Alumni are well-prepared to pursue professional roles or advance degrees for careers as child life specialists, or in pediatrics, family practice, medical social work, and speech/occupational/physical/recreational therapy in hospitals, community care clinics, mental health services, intervention and prevention services, home health services, and hospices.
Professional
Pediatrician, The Commonwealth Medical College
Registered Nurse, Columbian Neonatal Intensive Care Unit
Pediatric Nurse, Pediatric Intensive Care Unit at NewYork-Presbyterian Weill Cornell Hospital
Research Assistant, Yale Child Study Center, Yale School of Medicine
Planned Parenthood Specialist, Planned Parenthood National Headquarters
Child Life Specialist

Newark Beth Israel Medical Center
Rochester General Hospital
Children's Hospital of New Jersey
Memorial Sloan Kettering Cancer Center
Bristol-Myers Squibb Children's Hospital
NewYork-Presbyterian Weill Cornell Children's Hospital
Academic
Nursing: Johns Hopkins University
Occupational Therapy: Columbia University
Speech Language Pathology: Columbia University, New York University
Physician Assistant: Wake Forest University
Mental Health Counseling: Rutgers University
Prevention Science and Practice: Harvard Graduate School
Child Psychology: Massachusetts School of Professional Psychology
Law, government, advocacy, social services
Alumni protect and promote the wellbeing of individuals and communities through law and public policy, as well as providing vital social services and advocacy. These alumni work in federal, state, and local government agencies, mental health agencies, the criminal justice system, and agencies that serve the needs of specific populations, such as women, children, older adults, and military families.
Professional
Practicing Attorney and Partner, Primo & Hills Law Firm
Child Advocate, McMahon/Ryan Child Advocacy Center
Crisis Interventionist, Vera House
Caseworker, Otsego County Department of Social Services
Family Services Specialist, Clark County Department of Family Services
Academic
Social Work: Columbia University, Ohio State University, New York University (NYU), Simmons College, University of California, Los Angeles (UCLA), Tulane University, University of Maryland, Boston University
Law School: Suffolk University, Syracuse University
Community services
Alumni serve in a wide variety of roles for community programs and centers, rehabilitation organizations, human resources, retirement homes, adoption agencies, and programs that serve children and adults with special needs.
Professional
Intake Worker, Head Start/Early Head Start Program, PEACE, Inc.
Playworks Team Leader, AmeriCorps
Therapeutic Foster Care Program, Hillside Children's Center
Skill Builder, Hillside Children's Center
Youth Development Professional, Elmcrest Children's Center
Managerial Recruiting Family and Children, Peace, Inc. Summer School
Social Services, Catholic Charities
Planned Parenthood Specialist, Planned Parenthood National Headquarters
Child Advocate, McMahon/Ryan Child Advocacy Center
Senior Program Assistant, Dunbar Association
Youth Specialist, YWCA
Academic
Early Child Development: Korea University Graduate School
Marriage and Family Therapy: Syracuse University
Child Studies: Vanderbilt University
Divinity: Southern Lutheran Seminary
Education, counseling, human services
Human development and family science alumni have an excellent foundation for roles in education, such as teaching, counseling, administration, inclusive special education, coaching, youth development, and curriculum development. Employers include public and private schools, preschools, childcare centers, youth programs, and adult education programs, as well as colleges and universities.
Professional
Education Specialist, Seneca Nation
Associate Teacher, Success Academy
Pre-K Teaching Assistant, Syracuse Early Education Child Care Center
Teacher, Reading/English Language Arts (ELA), City Year
Summer Lead Teacher, Lenox Hill Neighborhood House
Teacher, Liverpool City School District
Head Start Teacher, PEACE, Inc.
Middle School Special Education, Teach for America
Associate Teacher, Success Academy
Lacrosse Coach, Division One
Assistant Teacher, Bernice M. Wright Child Development Laboratory School
Academic
Counseling and Guidance K-12: New York University
Elementary and Special Education: New York University
Early Childhood/Elementary Education: Rutgers University
Instructional Design, Development and Evaluation: Syracuse University
Early Childhood Special Education: Syracuse University
Counseling Psychology: University of Denver
Business
Alumni are prepared to work in human resources and corporate wellness initiatives, as well as business development and marketing for children and family-based products and services.
Professional
Business Analyst, Dell EMC
Human Resources, Dunbar Association
Corporate Management Associate, Project Sunshine
Advertising Professional, AIM Group
Digital Marketing/Art Therapy, Salt Digital Recruitment
Realtor, Gold Coast Realty, South Florida
Cooperate Management Associate, Project Sunshine
Academic
Master of Business Administration (MBA): Saint Joseph's University
Applied Behavior Analysis: George Washington University, Columbia University
Visit Falk College's Department of Human Development and Family Science for more information.