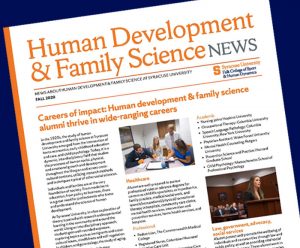 For more than 90 years, the work of the Department of Human Development and Family Science (HDFS) faculty, staff, students, and alumni has transformed communities locally, nationally, and globally. The HDFS department prepares students by offering the scientific study of human development, from infancy to end of life, through cultures and contexts. The program continues to flourish and has been consistently recognized as one of the very best programs in the country.
HDFS continues to make great strides through robust undergraduate and graduate student enrollment, curriculum development, faculty research, and service. Its child life specialist program is the first academic program in the world to be endorsed by the Association of Child Life Professionals, providing a strong history of providing positive impact on children and families in health care settings. Its mindfulness and contemplative studies minor draws students across the University as the multidisciplinary experiences in this minor are critical to the education and wellbeing of individuals.
HDFS alumni thrive in a wide range of careers, bringing their knowledge and skills to heath care, social services, education, law, and medicine. As the 2020-21 academic year begins, HDFS welcomes the Class of 2024, as well as new transfer and graduate students, who continue this tradition of excellence. Read more about research, scholarship, news updates, and more from HDFS students, faculty, and staff in the Fall 2020 HDFS Newsletter.