Exercise Science Professor Joon Young Kim Receives Volunteer Service Award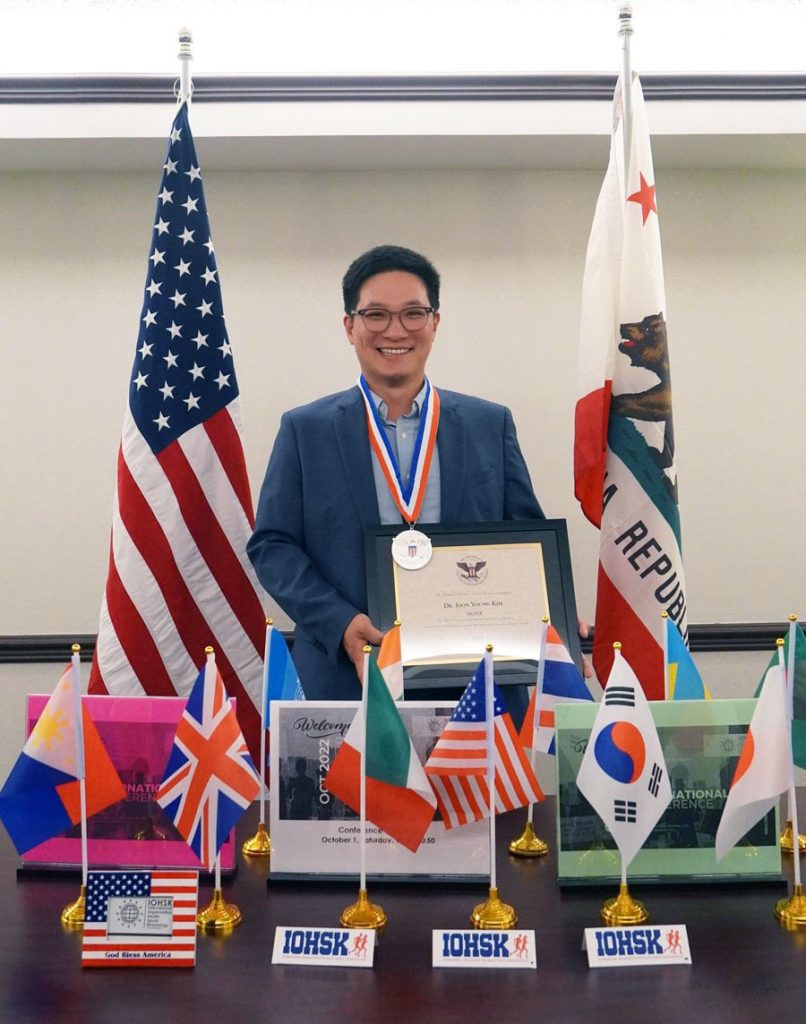 When
Joon Young Kim
joined the Department of Exercise Science at Falk College in the fall of 2020, his primary work outside of the classroom focused on patient-oriented clinical research of pediatric obesity and type 2 diabetes.
But then the COVID-19 pandemic hit, and Kim was unable to work directly with children and adolescents. Undeterred by that obstacle, Kim turned more of his attention to volunteer work with the International Organization for Health, Sports, and Kinesiology (IOHSK) and as a result of his efforts was recently awarded a President's Volunteer Service Award bestowed by President Joe Biden.
"It is my greatest honor to receive the President's Volunteer Service Award," Kim says. "I am grateful for the recognition I have received for my past work at the IOSHK and my research in the biomedical field."
Kim was recognized at the award's silver level for his more than 250 hours of volunteer service to IOHSK. Kim, an assistant professor in the Department of Exercise Science, has served since 2019 as chair of IOHSK's leadership development committee, a member of its conference organizing committee, and a fundraising and donor organizer, among other roles.
Kim's primary focus as chair of leadership development was to lead international junior faculty members to share their research contributions with IOHSK and the United States. Through his series of volunteer services, Kim is contributing to the advancement of health, sports, and kinesiology in the U.S.
Kim was recognized during the IOHSK 5th International Conference in early October in Las Vegas, Nevada, and received the award, a congratulatory letter from President Biden, and a silver Volunteer Service Award medallion. In August, IOHSK was approved as an official certifying organization for the President's Volunteer Service Award, and that allowed IOHSK to make Kim the first member of the organization to be selected for the honor.
"Presidential recognition is a tremendous honor. Even though you may not seek recognition, your example and service can deliver a powerful message that encourages others to take action," Jinkyung Park, chair of the IOHSK Award and Recognition Committee for the President's Volunteer Service Award, wrote in his congratulatory letter to Kim. "You were highly nominated for your great work and commitment that you have completed for IOHSK. Congratulations and we sincerely appreciate your continued services and dedications."
Kim has already made his mark at Falk as director of the Clinical Research Laboratory, which is located in the Women's Building and focuses on research in obesity, metabolism, and type 2 diabetes. The laboratory allows students to study the pathophysiology of, and/or risk factors for, chronic disease (metabolic syndrome, type 2 diabetes), and the effects of lifestyle intervention (physical activity, exercise, diet) on biomarkers of cardio-metabolic disease risk in youth and adults.
"Exercise Science students are incredibly fortunate to have Dr. Kim as a teacher and research mentor," says Lynn Brann, who serves as the chair of the Exercise Science and Nutrition and Food Studies departments at Falk. "The success of his students is a reflection on the time and energy he invests to develop new scholars in the field.''
Falk College Dean Diane Lyden Murphy says the college is extremely proud of Kim and the Exercise Department for being recognized by President Biden, who graduated from Syracuse University's College of Law in 1968.
"Joon's work is a shining example of our mission to promote the health and well-being of all people within the framework of social justice principles," Murphy says. "Through the International Organization for Health, Sports, and Kinesiology, Joon has made and will continue to make an impact on the health of underrepresented groups throughout the world."
In his various roles for IOHSK, Kim mentored international scholars from developing countries and supported their research through his scientific feedback and evaluations of their research proposals. And with his research on pediatric obesity and type 2 diabetes put on hold, Kim says he was able to maintain his academic productivity by working with Syracuse University undergraduate and graduate students to present their work at the IOHSK conference.
"Many of our Syracuse University students received excellent research presentation awards, and I was also fortunate to receive a distinguished professor award," Kim says. "I am very happy that I am able to support our students, promote the field of research, and contribute to Syracuse University and eventually our society and the United States."