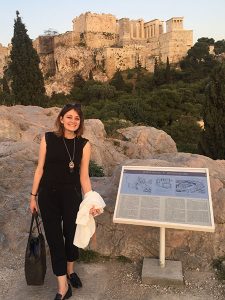 During orientation for Syracuse University's master of social work (MSW) program, Jennifer LoPiccolo G'18 recalls circling international social work on a survey asking about her primary career interests. "When I learned about the comparative social work program that Professor Nancy Mudrick leads in Strasbourg, she and I began to plan a really unique whole semester in Strasbourg," recalls LoPiccolo.
Mudrick, who was LoPiccolo's academic advisor, received a Fulbright/Alsace Regional Award in France where she spent the Spring 2016 semester teaching and doing research. The Fulbright Award resulted from relationships built during the eleven years that Mudrick has led MSW students to the RECOS seminar in Europe as part of the Topics in Advanced Social Work Practice and Policy course. In this twelve-day abroad experience, Mudrick immerses Syracuse University students in comparative social work services across France, Germany and Switzerland in conjunction with social work students from these countries through a seminar organized by the Confédération des Ecoles Supérieures en Travail Social de la Regio.
"Jennifer was a student who wanted to experience all she could while in her graduate program. She became exposed to refugee resettlement work through her foundation-level internship, which led to an interest in immersing herself in another culture," says Tracy T. Walker, director of field instruction, School of Social Work. "Although the field education program does not regularly provide internships in other countries, we pride ourselves on developing unique and innovative opportunities for students. Jennifer's motivation and focus were the main reasons why this endeavor was so successful."
While LoPiccolo was counseling refugee youth in Syracuse through an internship placement at Catholic Charities, Northside CYO and Nottingham High School, she attended a campus event on migration and substance use in Europe. There she met Thomas Kattau and Elena Hedoux from the Council of Europe's Pompidou Group, which is located in Strasbourg. In working closely with Professor Mudrick, who connected her with Dr. Raymond Bach, director of Syracuse University's Strasbourg Center, as well as Walker, LoPiccolo applied for an internship with the Pompidou Group.
The Pompidou Group's core mission is to contribute to developing multidisciplinary, innovative, effective and evidence-based drug policies in its Member States. Earlier this spring, a four-year collaborative partnership between the Falk College and the Pompidou Group was announced to support rigorous curricular development and training for drug policy administrators. This collaboration is an outgrowth of Falk College's on-going partnerships with the Pompidou Group led by associate professor of public health Dessa Bergen-Cico.
For her MSW field placement during Spring 2018, LoPiccolo had the unique opportunity to work as a graduate trainee with the Council's drug policy group, researching the relationship between refugees and drugs, effective treatment methods, transcultural challenges, and prevention. She lived in Strasbourg, France for the semester and took some political science course electives to complement her macro-focused concentration.
Says LoPiccolo, "one of the most attractive things was the chance to contribute to an international organization and bridge my practical work experience counseling refugee students with policy action research."
"When you are immersed in another culture and country looking at their social systems, you see your home country-and the assumptions you've made about it-much differently," notes Mudrick.
"Every day was a new opportunity to discuss human rights issues through various backgrounds," says LoPiccolo. She immersed herself in research exploring the challenges Mediterranean countries faced with refugees, substance use, drug networks, and preventing coercion. She was invited to present her findings at the International Conference on Refugees and Drugs in Athens, Greece hosted by the Pompidou Group. With support from Falk College, she travelled to the conference, spoke about current research on this topic, and facilitated a workshop.
Says Kattau, "because of her practical experience on the topic, participants had the opportunity to have a deeper understanding of the situation in other European countries and the U.S."
"I could not have had this academic and professional experience without the support of Falk Dean Diane Lyden Murphy, director of the School of Social Work, Professor Keith Alford, my advisor, Professor Nancy Mudrick, director of the Syracuse University Strasbourg Center, Dr. Raymond Bach, and director of field relations, Tracy Walker," concludes LoPiccolo.
"We were thrilled to have Jennifer spend a semester with us in Strasbourg. Before her arrival, I worked closely with the School of Social Work to make sure that Jennifer would be able to take courses that would fulfil her graduate requirements, and also that she would have an internship in English that was closely linked to her interests," says Bach. "At the end of the semester I could see that she had truly benefited from her opportunity to compare the European and American systems of social support, especially in the area of refugees and drug use. We now look forward to welcoming other graduate students in social work who would like to expand their horizons."
While her internship was very research focused, she often drew on her practical experiences. "Research and direct service must inform one another, and their close relationship is essential to all types of social progression. The internship at the Council of Europe really helped me think about the marriage between macro and micro social work practice. This is crucial to the evaluation work I am now developing because we use a culturally responsive theoretical framework to position a community's values and beliefs at the center of program evaluation," adds LoPiccolo.
"Jennifer has impressed me as an innovator who takes advantage of opportunities that enhance her social work acumen. She is proactive in her thinking and her actions," says Keith A. Alford, director and associate professor, School of Social Work, and interim chief diversity officer, Syracuse University.
In July LoPiccolo began a new role as an evaluation specialist with Become: Center for Community Engagement and Social Change in Chicago where she leads culturally responsive program evaluations, facilitates community trainings, and manages projects that help organizations bring community to the center of their work.
"My internship with the Pompidou Group ultimately left me feeling more committed to making a social impact in the country I call home," concludes LoPiccolo.