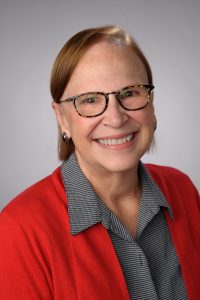 The National Society of Collegiate Scholars (NSCS), the nation's preeminent honors organization for first- and second-year students, named Karen Kirkhart the Laura Taddeucci Downs National Advisor of the Year. Dr. Kirkhart, a professor at the School of Social Work in Falk College and director of its baccalaureate program in social work, has been a Syracuse University chapter advisor for NSCS since 2008.
Laura Taddeucci Downs was the first NSCS advisor at the organization's inaugural chapter founded in 1994 on the campus of the George Washington University.
"Laura believed in the vision of NSCS to make a positive difference for students, even when it was simply just an idea," said NSCS Founder Stephen Loflin. "A leading advocate for supporting first-and second-year students, Laura knows firsthand what it takes to meaningfully impact the student experience and embodies a student-first philosophy, for which Dr. Kirkhart has emulated for more than a decade with NSCS members."
The selection process was quite rigorous, starting from a pool of more than 300 higher education professionals nationwide, including the 2018 NSCS Regional Advisor of the Year candidates. In the end, however, Dr. Kirkhart's unwavering support and dedication to the NSCS Chapter at Syracuse University for the past ten years put her ahead of the leading finalists.
"NSCS advisors are often responsible for the unglamorous tasks that in the end are vital to the success of the chapter. They're the backbone of NSCS," says Laura Taddeucci Downs. "My husband and I have followed Steve Loflin and NSCS for years, and thought it would be nice to endow the award. Our hope is that the $1,000 professional stipend may help compensate the advisors in some small way for the countless hours they have dedicated to NSCS over the years."
"I have been privileged to advise the wonderful Syracuse University Chapter of NSCS since 2008, when one of my Honors students invited me to serve," says Dr. Kirkhart. "NSCS stands for integrity, a core value for all citizens. I especially value the diversity of our officers and members and how well they respect one another and work together. Their commitment to community service – both individually and collectively – is inspiring, and we continue to build partnerships with other recognized student organizations on campus."
The National Society of Collegiate Scholars (NSCS) is an honors organization that recognizes and elevates high-achieving freshmen and sophomores. With its three pillars of scholarship, leadership and service, NSCS is proud to provide career and graduate school connections, leadership and service opportunities and gives out a million dollars in scholarships, awards and chapter funds annually. NSCS has more than 320 chapters nation-wide with more than 1.5 million lifetime members globally.