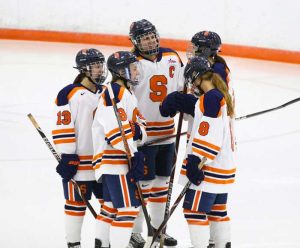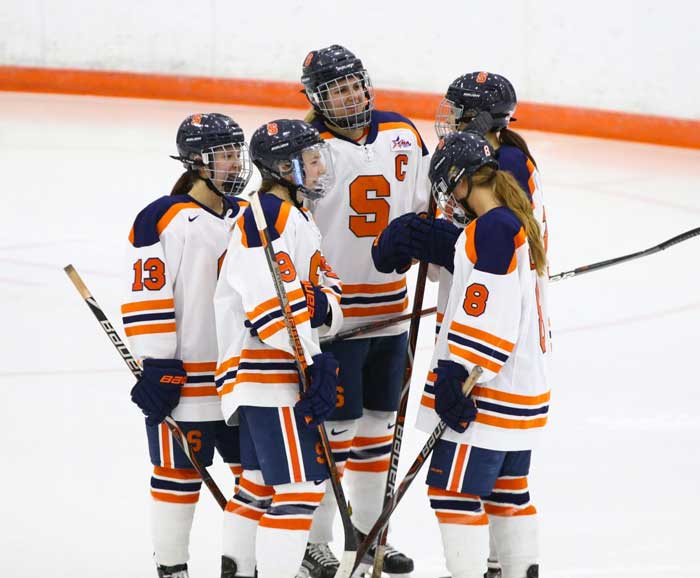 As Allie Munroe graduates with a bachelor's degree in social work from the Falk College, she looks back with deep gratitude on her experience as a student and a four-year defensive player on the Syracuse ice hockey team. After leading Syracuse University to its first NCAA tournament, Allie Munroe charts a course to play professional ice hockey.
Allie Munroe grew up at the hockey rink and soccer field in Yarmouth, Nova Scotia. Not one to sit on the sidelines, she strapped on her first pair of ice skates at age five. That was the first spark that ignited Munroe's passion for hockey.
That passion—and a fierce determination—led her to teams and camps in Canada, and eventually to Syracuse University, to develop her skill in the sport.
As a senior captain, she helped lead the Orange to the College Hockey America (CHA) championship and a spot in the NCAA tournament, the program's first in its 11-year history. She was awarded Best Defensive Player and Most Valuable Player honors at the team's annual banquet on April 25.
Becoming a student athlete
When exploring colleges, Syracuse quickly captured her heart. "I stepped on campus and fell in love right away," she says. "There is so much history here, and everyone knows Syracuse for its academics and athletics."
She learned to balance her life on the ice and in the classroom. As a part of the required internship for her major, she worked at Huntington Family Centers, a local organization dedicated to children and families. There, Munroe provided pre-counseling and post-counseling services. "My internship experience helped me to put everything in perspective," she says. "No matter what happened on the ice, I got to go to my internship and help people. Some days were difficult, but it was rewarding."
Munroe says being a student-athlete helped her to be a better student in the classroom, especially with time management skills. "When I was in class, I usually had to stop myself from trying to relate it to hockey," she says.
Munroe reflects on the growth she has experienced on the ice during her four years at Syracuse. "I was a little bit of an underdog; I am going to assume the coaches really didn't know how I would turn out," she says of her first year. "I am pretty proud of what we have accomplished, especially winning the CHA in my senior year."
In that first year, the team advanced to the CHA championship game, but lost, leaving a strong memory. "In the locker room, there was not a dry eye. You realize you are never going to play with these seniors—or this team—again," she says. "It's heartbreaking."
The experience was still fresh in her mind as the team closed in on the 2019 title. "I think there was about a minute left and I had the puck. I realized we were going to win and can't even describe the feeling," she says. "I had a flashback—there are no sad tears today. We get to throw off our gloves and celebrate."
"That moment, just skating on the ice, it was like, this is it—it has been an amazing four years at Syracuse. It just all hit me at that moment. Especially celebrating afterwards. I had tears in my eyes, just all of the emotion of past years," she says.
The Promising Path Ahead
With her Syracuse experience complete, Munroe is now focused on playing hockey professionally and working toward her goal of representing Canada in the Winter Olympics. She also plans to pursue a career in social work in the future.
Wherever her journey takes her, she says she will always bleed Orange.
"I am going to miss Syracuse more than you know," Munroe says. "It has a special place in my heart; I couldn't have picked a better school."
Adapted from Syracuse Stories – an article by Kelly Homan Rodoski