MPH degree prepares students to have a global impact by reducing health disparities produced by economic, social, and environmental inequalities.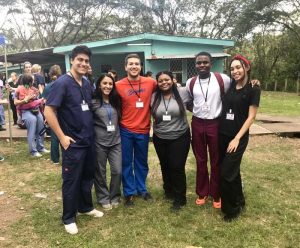 Syracuse University's Falk College today announced a
Master of Public Health (MPH)
available beginning this semester, Fall 2019. The MPH is a 42-credit hour graduate program providing students with core knowledge, research, and practice skills in evidence-based public health.
Providing a field-based learning opportunity is an integral part of the Falk College MPH curriculum. Through this opportunity, students apply global health competencies through direct experience in an international setting, providing cross-cultural experience and understanding of global health policies and practices in the field. These purposeful opportunities provide students valuable hands-on experience that translates well into future professional roles in global health. Faculty and staff advisors have extensive connections in the global health field, which translates into tremendous international networking opportunities for students.
The global perspective of the program is invaluable for graduate students interested in meeting the needs of the increasingly diverse population of New York State and the United States. The program's combination of theory and practice allows students to work in policy, research, and service settings.
Unique features of the program include:
Understanding multi-faceted challenges (environmental, physiological, social, psychological) on health
Ecological and cultural contexts of health/well-being and relationship to health practices
A global perspective to understanding public health and implementing public health programs
Understanding how to develop international partnerships for practice
Opportunity to engage in global health practice with established SU and world partners
Collaborative research projects are funded by numerous grants from multiple agencies, including the National Institutes of Health (NIH), National Science Foundation (NSF), the National Institute on Disability, Independent Living, and Rehabilitation Research (NIDILRR), and New York State
The MPH program at Falk College at Syracuse University is an applicant for accreditation by the Council on Education for Public Health. The accreditation review will address the BSPH, MPH, and the BSPH/MPH. Other degrees and areas of study offered by this institution will not be included in the unit of accreditation review.
Please contact the Falk College Office of Admissions at (315) 443-5555 or falk@syr.edu, for more information about the MPH as well as other programs in Falk College's Department of Public Health, including a Bachelor of Science in Public Health (BSPH), Master of Science in Public Health (MSPH), accelerated BSPH/MSPH and BSPH/MPH programs in which both the bachelor's and master's degrees may be earned in 5 years, and a Certificate of Advanced Studies in Global Health.