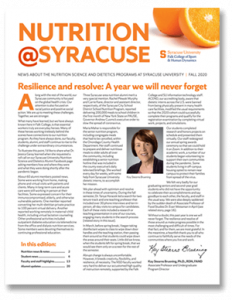 Without a doubt, this past year is one we will never forget. The resilience and resolve of those around us make progress possible in the most challenging and difficult of times. What many have learned, but we have always known here in Falk College, is that essential workers truly are everyday heroes. Many of these heroes working tirelessly behind the scenes have connections to our nutrition program. As they have always done, our faculty, students, alumni, and staff continue to rise to the challenge under extraordinary circumstances.
Falk College is built on the values of social justice. Throughout the pages of Nutrition@Syracuse 2020, the annual newsletter of the nutrition programs at Syracuse University, you will read about social responsibility in action. As you read more about our program's research, scholarship, news and more, we invite you to stay connected with us. From visiting campus, guest lecturing in a class, supervising an internship, or hiring our graduates, we always welcome your involvement. Thank you for your interest and support.
Read a text-based accessible version of the Fall 2020 Nutrition Newsletter.