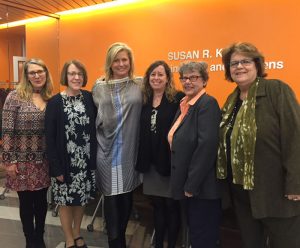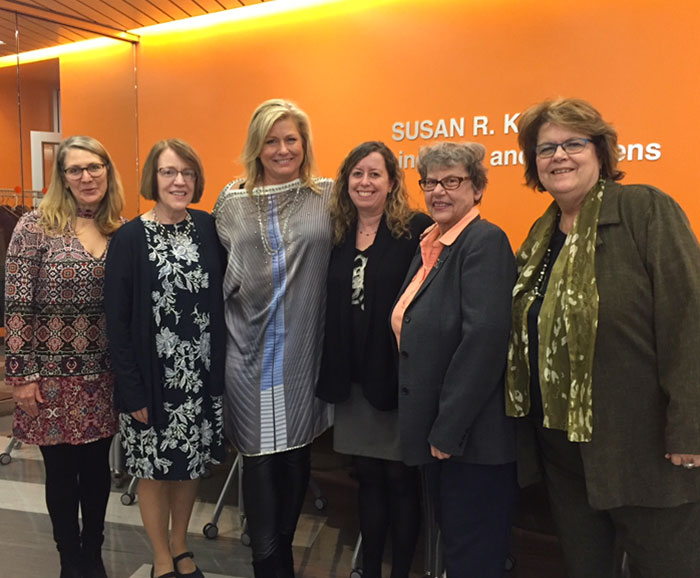 On February 28, Falk College and its nutrition program hosted supermodel and body image advocate, Emme '85, for the Third Annual Ann Litt Distinguished Speaker Series. Coinciding with National Eating Disorders Awareness Week, her presentation, entitled "Facing our fears: Embracing the ones we're with," was followed by a reception and book signing of her newest book, Chicken Soup For The Soul Curvy and Confident: 101 Stories of Loving Yourself and Your Body. Guests were also treated to a "Fashion Without Limits (FWL) Pop-Up Show" with designs created by Syracuse University fashion students as part of the FWL initiative.
An alumna of Syracuse University's College of Visual and Performing Arts (VPA), Emme is the iconic world's first curvy supermodel. A TV personality, model, mom, author, brand spokesperson, creative director of her clothing lines, cancer survivor, lecturer, and globally recognized women's advocate for positive body image and self-esteem, she is the first model invited to speak before a Congressional subcommittee in Washington, D.C. with a mission to increase public awareness of eating and body image disorders.
Speaking to the audience in Falk College's Grant Auditorium, Emme discussed the realities of eating disorders, noting that the fashion industry plays a role in promoting eating disorders but can also be part of the solution by using a diversity of 'real' models and making clothes for all sizes. She spoke on the importance of the partnership between medical and nutrition professionals. When Nutrition Professor Tanya Horacek posed the question about advice for nutrition students, Emme urged them to go into doctors' offices explaining the critical need to partner with dietetics professionals to help patients eat well for good health. She also encouraged partnerships with local community supported agriculture (CSA) farms, noting that "there are simple things that can make our life better."
Of Emme's messages, Mariana Serback, a second-year nutrition science graduate student, shared that "her presentation was very refreshing. Our bodies do so much for us when we're not even thinking about it: our lungs are breathing, hearts are pumping, brains are thinking, and sometimes it is such a shame that some people don't appreciate and love their bodies and all that they do for us. I hope that I can one day be an extension of Emme's voice and message as a registered dietitian."
A screening of the documentary "Straight/Curve: Redefining Body Image" with Emme took place on February 27 in collaboration with VPA. "Straight/Curve," which features Emme and other successful, diverse models, aims to create a healthier dialogue around body "size" and image and educate people on health and representation while capturing a visual slice of life of the fashion industry. The filmmakers interviewed students and faculty in VPA's School of Design, which partnered with Emme to launch the FWL initiative in 2014. FWL promotes the creation of size 12+ designs in the junior year; students use dress forms in size 16, 18, and 20 donated by Wolf Form Co. exclusively for Emme and FWL.
"Syracuse University's design program is taking the lead on training its students to design beautiful clothes for everyone," notes Professor Horacek. She adds, "as consumers, we can help to reduce and prevent eating disorders by taking care of ourselves and challenging societal messages and norms."
The Litt Distinguished Speaker Series is named after Falk nutrition alumna, Ann Selkowitz Litt '75, a nationally known nutritionist who helped children and adolescents with eating disorders and assisted developing athletes in reaching their full potential. The nutrition consultant to CosmoGirl magazine, Litt was the author of The College Students' Guide to Eating Well on Campus, Fuel for Young Athletes, and the ADA Guide to Private Practice. She was the nutritionist for the NFL's Washington Redskins and served as spokesperson for several media campaigns, including the Got Milk campaign. After her death, the Ann. S. Litt Foundation, Inc. was created to support nutrition education.