Integrative and functional healthcare is a systems integration of biology, the environment and lifestyle to promote optimal health.
The underlying theme of the Certificate of Advanced Study in Integrative and Functional Nutrition at Syracuse University's Falk College is to educate and train nutrition and other allied health professionals in personalized approaches to health and wellness by enhancing their understanding of nutrition within the context of the individual's genetic, environmental and lifestyle factors through educational training that is inter-professional and evidence-based using the Nutrition Care Process and Model. Nutrition care within the integrative and functional healthcare paradigm seeks to promote optimal wellness by combining evidence-based conventional and complementary diet and lifestyle therapies in a sustained, coordinated manner that addresses the spectrum of acute to chronic disease conditions.
Why this degree makes a difference in society today…tomorrow…
The demand for trained nutrition professionals in integrative and functional healthcare systems is fueled by the rising public interest and awareness in nutrition, the burgeoning rates of chronic disease, an expanding aging population, the childhood obesity epidemic, and increased emphasis on health education and healthy lifestyles. These professionals may work in private practice, as part of interprofessional healthcare teams, in health and wellness-related businesses, in academic settings that foster research and education for advocacy groups and with legislators to ensure all people have access to adequate nutrition across the lifespan. Whether you want to inspire health in your community or around the world, nutrition is a universal avenue to make a difference.
Sample Courses
Core courses focuses on training students to enhance their knowledge of the systems biology approaches to work with clients in a patient centered manner. Courses you will take include:
Integrative and Functional Nutrition
Nutritional Genomics
Integrative Food and Nutrition Therapy
Nutrition Counseling
Problems in Human Metabolism
View all course requirements and electives
---
Why a CAS is Important
Students consider CAS programs to advance or complement an existing skill set, or to develop a new one. Earning a graduate certificate can also make candidates more competitive when applying for career opportunities. For some students, CAS programs are helpful stand-alone options to enhance an advanced degree they already have. For others, supplementing a master's program with a CAS generally entails coursework that matches M.A. or M.S. requirements. With little to no additional time or financial investment required, pairing a master's degree and a CAS simultaneously is appealing.
What's the advantage of earning a CAS credential and a master's degree?
Graduate certificates are important when pursuing a master degree because they can provide the knowledge, skill and credentials in a specialized niche area of practice beyond the graduate degree without an extra time commitment.
---
Our Facilities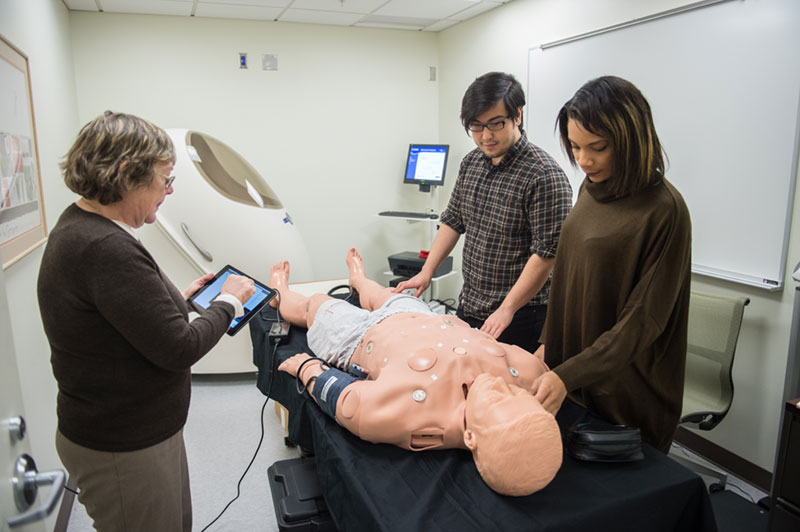 Learn using equipment and technology that mirrors—or exceeds—what is found in practice settings. Our Nutrition Assessment, Consultation and Education (ACE) Center is a hands-on learning laboratory to prepare students with traditional and emerging professional competencies critical to effective nutrition practice. The ACE Center includes a lecture hall with a demonstration kitchen and teaching station, two small private consultation rooms, a physical assessment room, and a small conference room with a large media screen. The Center's counseling and physical assessment rooms are equipped with two teaching mannequins, a tube feeding placement simulator, wall-mounted stadiometers and electronic scales, pediatric measuring equipment with several multi-ethnic infant mannequins, electronic blood pressure monitors, a lactation education baby, and a variety of food models. In the ACE Center, students practice nutrition-focused physical examinations on a patient simulator. This facility allows for unlimited opportunities for direct practice with indirect calorimetry to measure how many calories someone is utilizing, instead of estimations that use imperfect mathematical equations. Additional enhancements to student learning include class experiences measuring body composition with the BOD POD testing system used extensively in university and medical facilities, the military and health and wellness settings to track body composition.
---
What's Next
Several professional development opportunities are available for pursuing further education and training as well as enhancing skills in this field of dietetics practice. Certifications are available through the Dietitians in Integrative and Functional Medicine Dietetic Practice group of the Academy of Nutrition and Dietetics, The Institute for Functional medicine, Center for Mind Body Medicine, The Arizona Center for integrative Medicine to name a few. Those who wish to pursue careers in academia and/or research can explore graduate degrees such as the DCN (Doctor of Clinical Nutrition) offered through selected U.S. universities.
---
Careers
The CAS will provide advanced skills to current health professionals and graduate students pursuing future careers in health. Nutrition practice as part of integrative and functional healthcare is expanding across various settings in clinical health and community and public health serving diverse populations. Even beyond health professions, skills in this area of nutrition practice are in-demand in research, consultation, education, and business.
What can you do now to prepare?
Undergraduates interested in pursuing graduate studies in nutrition science and integrative and functional nutrition should pursue an undergraduate degree from an accredited nutrition science and dietetics. They should prioritize taking electives in the natural sciences and gaining internship and volunteer opportunities in medical and allied health settings.
---
Getting Admitted
The Integrative and Functional Nutrition CAS is open to current nutrition graduate students at Syracuse University or other universities, practicing Registered Dietitian Nutritionists (RDNs) with an undergraduate and/or graduate degree in nutrition, and other health professionals. A minimum GPA of 3.0 will be required. International students with degrees in food and nutrition science or biological sciences can apply by providing GRE scores (verbal >140 and quantitative >140) and TOEFL (>100) or IELTS scores (>7) taken within the past 5 years.
---
Learn More:
For additional admissions information, contact the Office of Admissions at falk@syr.edu, or fill out our online form:
Return to top