Good as gold. That's what Justyn Knight '18 aspires to be every time he steps to the starting line for a race.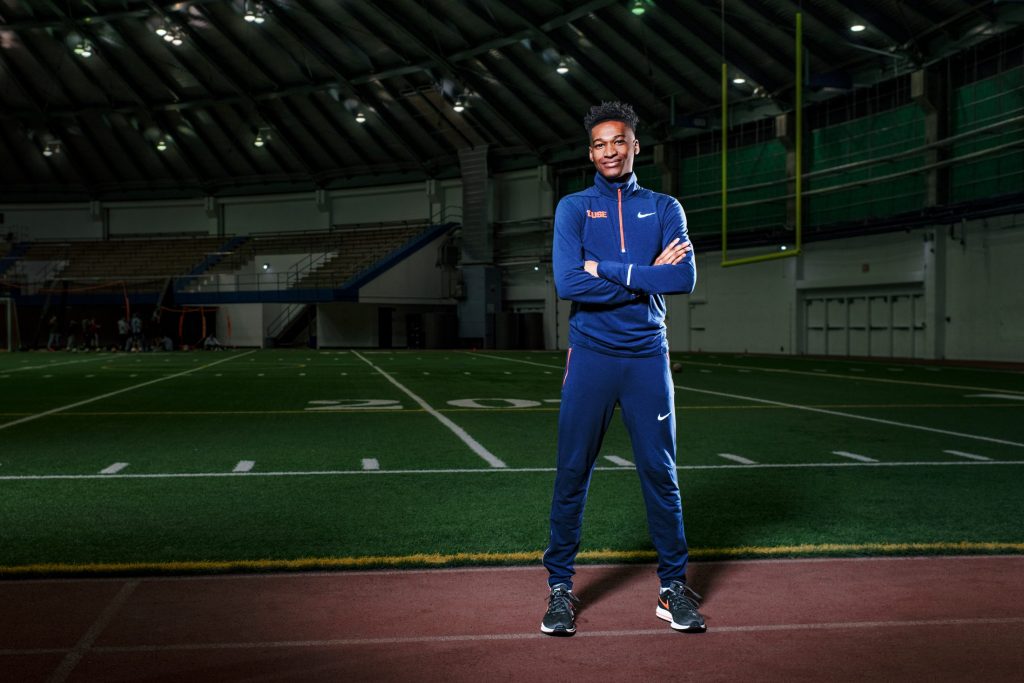 As the greatest distance runner in Syracuse University cross country and track and field program history, Justyn Knight realizes the enormous hard work, dedication, training, and tactical skills required to compete and win.
That work ethic held true for Knight in the classroom, where he earned a bachelor's degree in social work from Falk College. On choosing his major, Knight says, "Social work is one of those majors where various options are open to you—guidance counselor was one of them for me; you could also use those skills to become a teacher or a coach. It opens various windows and I am considering all those options when my athletic career is over."
He believes he benefited from juggling his academic and athletic responsibilities and became a more balanced individual. "From an academic standpoint, they push you to be the best student and the best person you can be," he says. "It was really stressful at times, but at the end of the day, Syracuse is just preparing us for life." He wants to help others on their life journeys as well and enjoys offering advice to young athletes and being a positive influence. "That's something I love to do," he says. "I've had many people mentor me and help me become a great person, so I feel like I owe it to society to help others."
For now, Knight is focused on his professional running career, and these 2021 Olympics.
Justyn Knight '18: Ready to Roll in the 5,000 Meters
Justyn Knight is primed for the Tokyo Olympics. Earlier this year, the Team Canada distance runner turned in personal bests—and qualifying Olympic standard times—in both the 1,500 meters and the 5,000 meters. In May, at the USA Track & Field Golden Games in Walnut, California, he finished second in the 1,500, posting a blistering 3:33.41. In June, he placed fifth in the 5,000 at a professional Diamond League meet in Florence, Italy, finishing in 12:51.93. Canadian teammate Moh Ahmed crossed the line in third (12:50.12). Their times elevated them to the two fastest North Americans in history at that distance.
"In Italy, I made it known that I'm going to stay with the lead pack, and I was in a top five position the entire race," Knight says from Charlottesville, Virginia, where he trains with the Reebok Boston Track Club under the guidance of his former Orange coach, Chris Fox. "That was a really big deal for me, because it showed how much I've grown and how much stronger and faster I've gotten. For my first 5K in two years, it wasn't bad to start off on that note, and hopefully we can improve on that."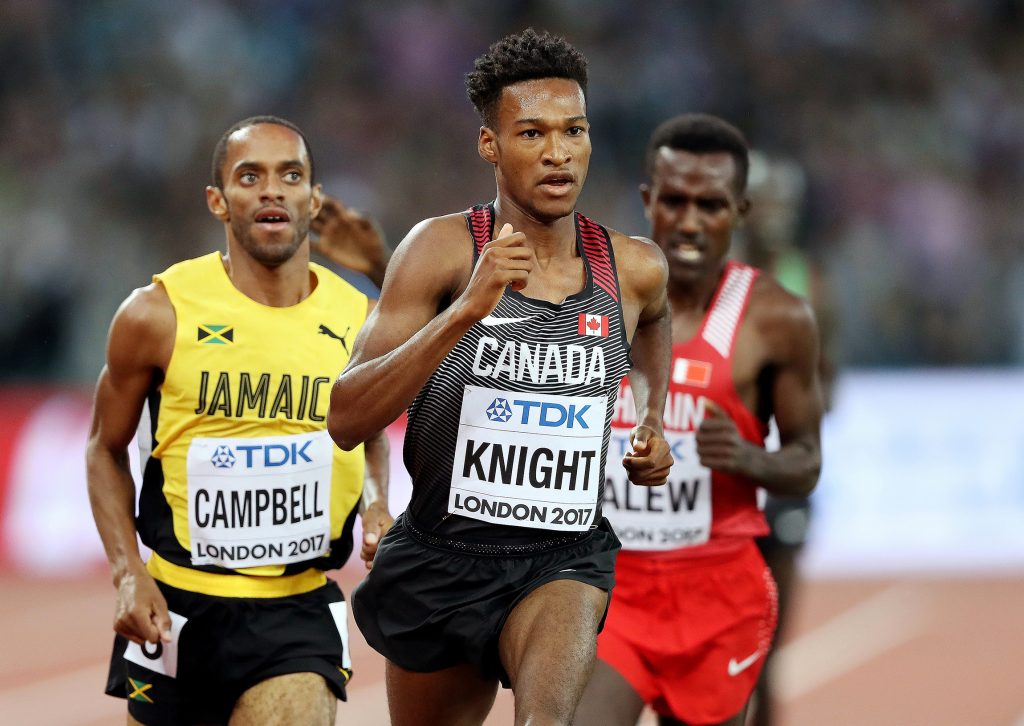 Knight, who will run the 5,000 in Tokyo, is considered Syracuse University's all-time greatest distance runner. As a senior, he won the 2017 NCAA Cross Country Championship and the 2018 NCAA 5,000-meter indoor title. He also helped lead the Orange to the 2015 NCAA cross country crown, placing fourth as a sophomore. During his Syracuse career, the Toronto native also collected 11 individual ACC titles and earned All-America honors 10 times.
Knight first represented Canada at the 2014 IAAF World Junior Championships, placing eighth in the 5,000 meters. He followed that up by clinching the 2015 Pan Am Games Junior Cross Country title. In the 5,000 at the 2017 and 2019 IAAF World Championships, he crossed the line in ninth and 10th, respectively.
For several months during the pandemic, Knight trained solo and worked on building his mileage base. He even got creative during some of his runs to hit the optimum pace he was after. "Sometimes my shadow would be slightly in front of me, and I'd pretend that shadow was a person and I was chasing it," he says. "It sounds really weird, but when you're desperate, you're desperate, and I had to come up with all these little ideas just to give myself some extra motivation."
That motivation enabled Knight to hold a faster pace for a longer period of time, and he says he's grown a lot mentally and physically over the past year and a half. When he steps up to the line in Tokyo, his right wrist will be wrapped in two handcrafted bead bracelets given to him by a friend from Kenya. One is red and white with the Canadian maple leaf and says Knight on it. The other is blue with Syracuse written in orange. He says it shows that no matter where he goes, he has his Canadian and Syracuse families with him. "I hold them very dear to my heart," he says. "It's really nice to be able to showcase them on the world stage."
The first round of the 5,000 meters is August 3, with the final scheduled for August 6.
'Cuse Conversations with Justyn Knight '18
Justyn Knight '18 shares how he altered his training regimen during COVID-19, the difficulty of training his body and mind for the Olympics, how the sting of missing out on the 2016 Olympics by less than one second fueled him over the last five years, and why he discovered a unique family atmosphere and sense of community at Syracuse University.