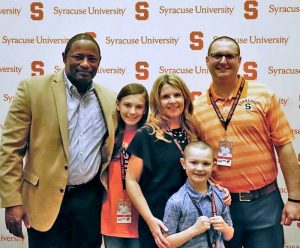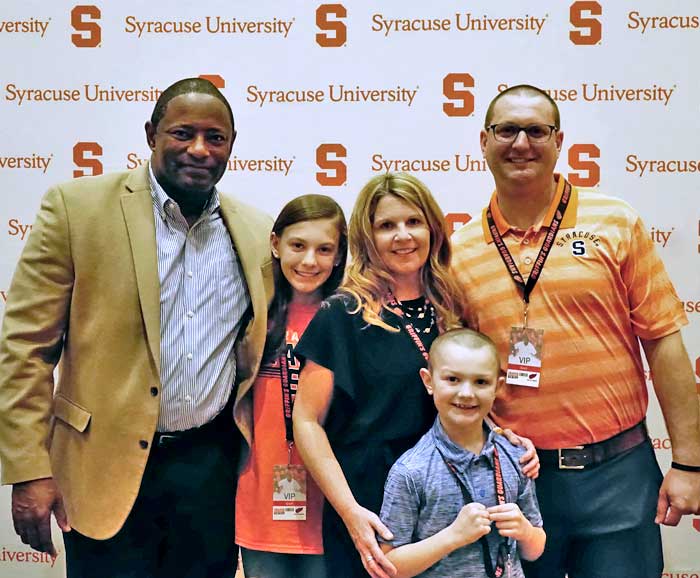 Syracuse University's Sport Venue and Event Management (SVEM) graduate program raised $15,000 during its Orange Guardians Kickoff fundraiser to benefit Griffins Guardians on April 8 at Embassy Suites at Destiny USA in Syracuse. The event included more than 150 attendees, a dinner and reception, entertainment, silent auction, and guest speakers.
Monies raised will support Griffins Guardians, which provides financial assistance to families in Central New York that have a child battling cancer.
"It's through organizations like Griffin's Guardians that patients and their families receive the resources they need to fight this disease," said Syracuse University head football coach Dino Babers. "I commend the Sport Venue and Event Management program for organizing this event."
This event connected event management courses, including experiential learning opportunities, and social responsibility, which are hallmarks of all academic programs across Syracuse University's Falk College. The execution of this event is part of the SVEM curriculum that requires students to organize an event to gain hands-on learning experience working in all facets of the sports industry.
"Being involved in all steps of the event planning and management process was a great way to learn and develop as industry professionals," said Sport Venue and Event Management graduate student Baylee Douglas '19. "The hands-on experience is truly invaluable. Griffin's Guardians is such a deserving partner and we really cherished furthering their efforts in bringing awareness to pediatric cancer."
The students worked on the event as part of their SPM 665 Advanced Event Management class and SPM 635 Marketing Sport Venues and Events class. Students were responsible for all aspects of the event, including selecting the community partner, operations, marketing, hospitality, fundraising, and sponsorships.
"The students decided to plan a different event than what was done in previous years," said Dr. Gina Pauline, Sport Management associate professor and undergraduate director. "The result was the creation of a top-notch experience for attendees that included guest speakers, cancer survivors and athletes such as Rex Culpepper and Rob Long, specialty food, music, and an incredible keynote speaker. Falk College is proud of our graduate students for bringing awareness to pediatric cancer while helping to raise funds for this very worthy cause."