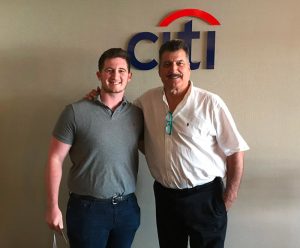 "Whether grabbing pizza at Varsity on Marshall Street, studying in Bird Library or sitting in class, everywhere you look you see others wearing orange, the color of their beloved University. This is why I love 'Cuse." says Alec Bieber '19. "It's an amazing place to be."
Alec is from Scarsdale, New York, located just North of New York City. Following his mother's lead, a Syracuse alumna of the Class of 1988, Alec grew up visiting campus to cheer on the Orange in the Carrier Dome every winter.
But Alec didn't start his college career at Syracuse. After spending his freshman year at another university, undecided about his major, the undeniable school spirit at Syracuse University captured his attention. "Not being at SU my freshman year simply felt wrong," he says. "I visited campus and knew right away that Syracuse was the place I needed to spend my next three years of college. Just walking around, with every other student wearing Syracuse orange, made me realize how proud people are of the University."
It was at Syracuse that Alec, an avid sports fan, discovered the sport management major at Syracuse University's Falk College. "I could find no better major for me to combine my passion of sports and my ultimate career goals and aspirations." He was accepted into the program and transferred to Syracuse University in 2016.
Now, two years later, Alec is completing his senior capstone in New York City, where he has been working for Lagardère Sports & Entertainment since May as a Strategic Consulting Intern for Lagardère Plus, gaining real-world experience. And this is the third internship he's had at while at Syracuse, previously at Morgan Stanley and then at MLB Advanced Media in the E-Commerce department, which fixed his career choice in sport management.
Even when he's far from campus, Alec feels supported by sport management faculty and staff, including internship placement coordinator Francesco Riverso. "The advisors are all easy to contact, talk to and are always looking out for their students. From day one, Francesco has helped me find internships and get involved," he says. In Falk College, every major has dedicated internship coordinators to connect students to opportunities regionally and internationally. "Whether it is emailing about postings, checking over cover letters or resumes, or just giving advice for phone or video interviews, the advising staff has been phenomenal."
Alec is minoring in public communications studies in Newhouse. So, it's no surprise that his two favorite courses "by far" have both been with professor of practice, Dennis Deninger, an Emmy-award winning television production executive with 25 years of experience at ESPN. "Learning about the history and evolution of sport communications in the world is extremely interesting. Professor Deninger is profoundly knowledgeable about the sport media landscape and is enthusiastic about his work. He has, without a doubt, had a large impact on my college education and career desires."
"This is why I wanted to be in the sport management program," he adds. "The professors' professional backgrounds align with my goals and their in- and out-of-class help and knowledge are always incredibly insightful."
Similarly, Alec has been inspired and mentored by the alumni connections at SU, particularly alumnus Brandon Steiner, chairman of the Sport Management Advisory Council and CEO of Steiner Sports. "I've known Brandon for number of years, and as I have matured and began my career, he has always stood as a source of inspiration and guidance," he says.
In his career, Alec hopes to head his own sport talent agency or sport media company.