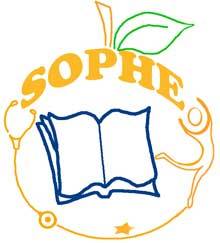 The Society for Public Health Education (SOPHE)
"Health is a state of complete physical, mental and social well-being, and not merely the absence of disease or infirmity."
World Health Organization, 1948
SOPHE is a student organization devoted to providing health education and resources to the SU campus and surrounding community. Its goal is to promote healthy lifestyles and physical well-being through educational programs and community outreach. SOPHE frequently collaborates with many other organizations and gives its members the opportunity to implement their ideas into successful events, furthering their development in leadership. SOPHE welcome students of different backgrounds and majors, offering unique opportunities to everyone.
For more information about SOPHE email Susan Scholl at sascholl@syr.edu or Megan Snow at mesnow@syr.edu. Please put SOPHE in the subject line.
Learn about our major events
Stress Busters (collaboration with Healthy Monday)
Stress Busters is an educational, relaxation-promoting event held in the first floor of Bird Library right before final exams begin. Care packages are provided to students at SU, ESF, which include but not limited to: water bottles, healthy snacks and fruits, and pencils are provided for all students. Pamphlets on relaxation and stress-reducing tips, as well as healthy foods to eat around campus are provided at the event. There are also two masseuses, from the Art of Massage, available to give free five minute massages to students that sing-up for time slots. A Zen board is provided for students to relax and take a break from studying. Relaxing music will be played at a very low level.
SAY YES Afterschool Program (Health Education)
The Say Yes education program is an after school program with kids in kindergarten through third grade with about fifteen students in each class. The program is designed to run throughout the entire academic year, both fall semester and spring semester. Volunteers are responsible to design a curriculum on health related topics such as healthy snacks, general hygiene, nutrition competitions, and other related health activities. SOPHE volunteers are scheduled to go in with a pre-approved agenda that will follow a typical format of an ice breaker, discussion, a group activity, and a concluding wrap-up. There will be coordination with the class teacher and the Say Yes site director and program coordinator.
Free Moving Meditation (combination of TaiChi and QiGong)
This moving meditation emphasizes mindfulness combined with intentional physical wellbeing. It is an on campus free stress-reduction resource offered by SOPHE to all students.
Amaus Drive (Winter clothing and shoes)
Amaus Medical Services at cathedral is a walk-in interim primary care facility for persons who are without insurance and with limited access to health care. It is to serve the community with a compassionate system of health management for many common diseases as well as sick visits. We are collaborating with the doctors and staff on gathering winter clothing donations (shoes, socks, and coats) for the uninsured patients at Amaus.
Campus Fitness Hall Collaboration (Free fitness classes)
Collaboration with Campus Fitness Hall provides an exciting opportunity for members to learn about a variety of health practices and stress reduction techniques. Campus Fitness Hall offers SOPHE members to participate and engage in many opportunities to "immerse themselves in the transformational practices of yoga, martial arts and artistic expression in a community of support, fun, and uplifting spirit".
Free Blood Pressure Screening (collaboration with Healthy Monday)
An event with Healthy Monday on offering free blood pressure screening for all students, we also look at the differences between pre and post char massage blood pressure. Handouts with blood pressure information are distributed.
Sextacular
Sextacular is an educational event held near Valentine's Day to inform students on safe sex practices such as the correct way to put on a condom, services offered at the health center related to sex and sexual abuse, and facts about sexually transmitted infections. The event is located at a table in the Schine atrium. Activities include a question game in which students are asked a question regarding sex and STIs and if they are right they can receive a goodie bag of condoms, highlighter, small information brochure on STIs and the SU Health Center, and candy. Another activity is to be able to put the condom on a wooden penis.