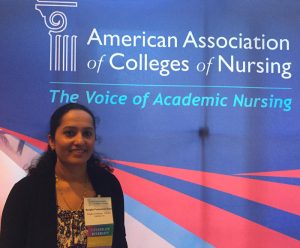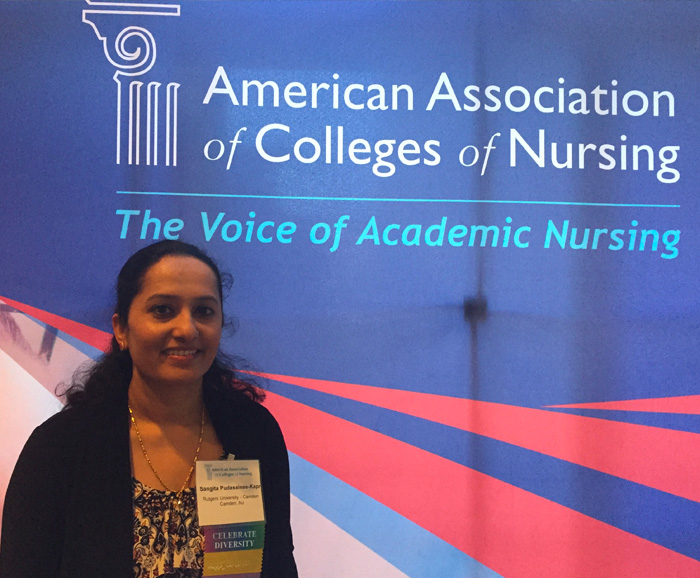 Sangita Pudasainee-Kapri '12, M.S., '14 C.A.S., '17 Ph.D. came to Syracuse from Nepal, where she worked as a registered nurse. "Working at central and local-level hospitals and health centers in Nepal, my interests leaned towards exploring and working with children and families," she says. That's what inspired her to pursue higher education in the United States. In 2010, she came to the Department of Human Development and Family Science in Syracuse University's Falk College, where she earned her master's degree and Ph.D. "A Ph.D. from Syracuse University means a lot for me—for my personal life as well as for my professional career. I acquired theoretical knowledge, research skills, teaching skills, and personal life skills during my study at Syracuse."
Now, Sangita is currently pursuing Doctor of Nursing Practice degree from Rutgers University, where she also teaches as a part-time lecturer in the School of Nursing. "I am utilizing my research skills, knowledge and experience that I gained during my graduate training at Syracuse University."
As a Ph.D. student at Syracuse University, she was awarded the Human Development and Family Science Doctorate Award for Research Excellence for her dissertation. "My dissertation examines the longitudinal associations among low birth weight, parenting factors, and children's developmental outcomes within an at-risk sample," she explains. In 2019, her dissertation work was published in the Journal of Early Child Development and Care.
"Syracuse University has a great structured program, honored faculty members and a very student-friendly, supportive environment. I am honored to have worked with Dr. Rachel Razza, my advisor for the M.S. and Ph.D. programs, and with Dr. Sandy Lane, my advisor for the global health C.A.S. I am grateful for all the faculty and staff at Falk College, and in particular the Department of Human Development and Family Science."
Last year, Sangita was selected by the American Association of Colleges of Nursing (AACN) and Johnson & Johnson as one of the 2018 Minority Nurse Faculty Scholars.. The program's purpose is to address a faculty shortage while also increasing diversity among nursing educators. According to the AACN, only 16 percent of full-time nursing faculty are from ethnically diverse populations. The scholarship program provides leadership development opportunities and financial support to rising educators from these populations.
"I am deeply committed to research and university teaching," she says. "I am very grateful to be selected as a Minority Nurse Faculty Scholar. It helps me to further my education, research, and university teaching. Since there are very limited minority faculties in the field of nursing, I hope it would make me able to mentor and inspire my colleagues to further their education and, as a result, join in academia and research."
The Department of Human Development and Family Science in Syracuse University's Falk College offers B.S., M.A., M.S., and Ph.D. degree programs which study human growth and development across the lifespan in diverse social and cultural settings.