Falk College's Department of Sport Management has introduced a new course titled "Race, Gender, and Diversity in Sport Organizations."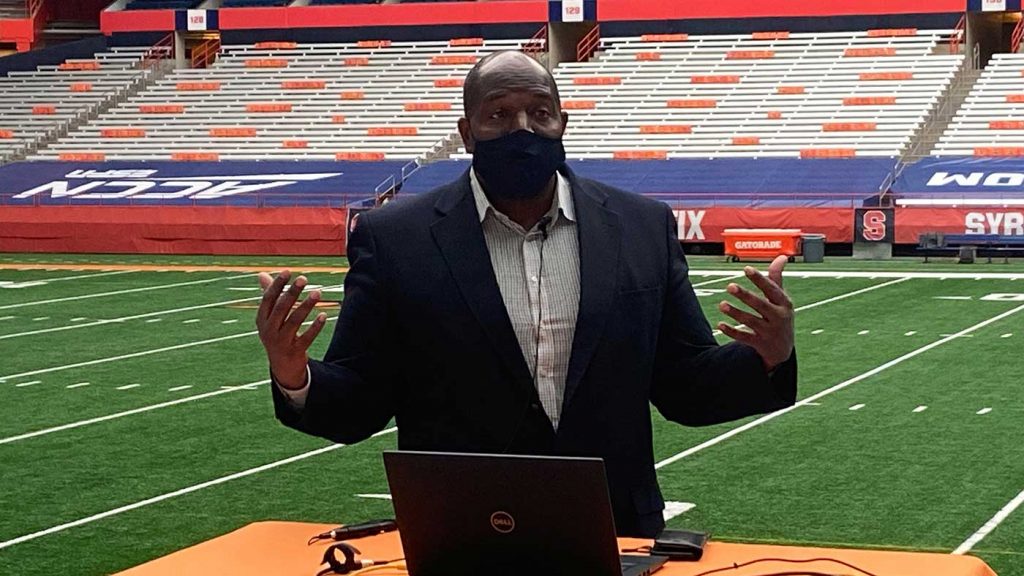 The new three-credit "Race, Gender, and Diversity in Sport Organizations" course was taught in the Spring 2021 semester by Sport Management professor Dr. Mary Graham and Sport Management alumnus Chris Robinson'15. Among other topics, the course covered identity, the history and policies of demographic categorization, intersectionality, and diversity management best practices, all with an emphasis on race, ethnicity, and gender in sport settings. The course culminated with students designing and implementing a final outreach, creative, or scholarly project.
Guest speakers included Thomas McMahon, Associate Dean for Diversity, Racial Equity, and Inclusion at the University of Texas at Arlington; Liz Mills, head coach of the Kenyan men's national basketball team; Dr. Salatha Willis, Associate Athletic Director for Diversity, Culture, and Climate at Syracuse University; Dr. Deborah Coolhart, Associate Professor of Marriage and Family Therapy at SU; and BJ Johnson, Director of College Scouting and Player Evaluation for the Brooklyn Nets.
Students worked in groups on projects focusing on comparing racial inclusion in NASCAR versus Formula One; harassment of women in sport media; athlete voice and protests; a Public Service Announcement to encourage more women coaches; extending the Rooney Rule to the NBA; and social justice activism by members of the US Women's National Soccer Team versus activism by players on WNBA teams.
"I enrolled in the class because it had the word sport in its title," said Sport Analytics major Benjamin Gansenberg '23. "I left the class having never felt more aware of other humans, and the way that negative words and actions have much larger implications than just hurting somebody's feelings. I feel comfortable, confident, and quite honestly, expected, to take a role in combatting the negativity that surrounds race, gender, and ethnicity."
The class will be taught each Spring.
For questions about the class, please contact Dr. Graham via email at megraham@syr.edu.