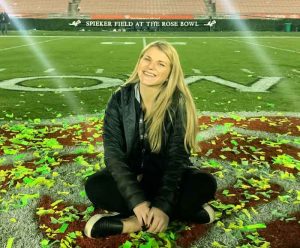 During the Fall 2019 semester, I completed my Senior Capstone in Pasadena, CA, with Legends at Rose Bowl Stadium. More specifically, I interned in the Rose Bowl Premium Seating Department as a marketing and sales intern.
I had the privilege of working many events, including a United States Women's National soccer team's victory tour match, a Rolling Stones concert, the entire 2019-2020 UCLA football season, and the 2020 Rose Bowl Game. With each event, I was exposed to event preparation and experienced what it took to successfully execute events of this magnitude. I coordinated with many departments, communicated event details with clients, and aimed to make each event an unforgettable experience for all that attended.
As the internship progressed, I took on more of a marketing role and was responsible for building the communications and marketing calendar while coordinating with the marketing manager. I completed numerous marketing pieces, social media content, and splash pages as well as email newsletters and event invitations.
My Capstone with Rose Bowl Premium Seating was an incredible journey filled with valuable experiences, life lessons, and unforgettable memories. I can confidently say I learned many skills that I will take with me as I begin my career in the sport industry. I am excited to apply my real-world experiences along with my passion for the world of sports to my career.