Sarah Kamya is working to put stories about and by people of color in Little Free Libraries all over the country.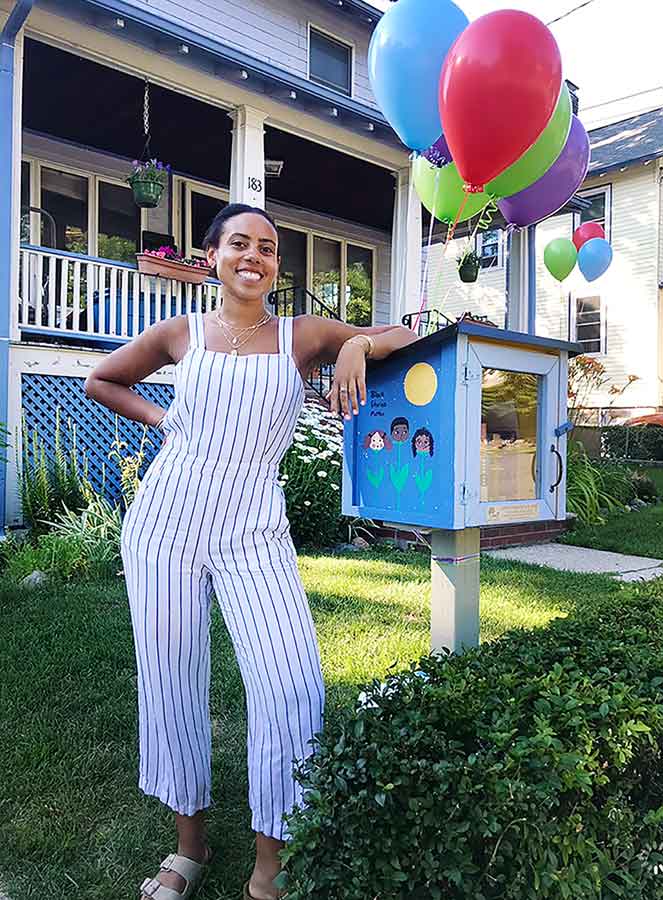 When in-person instruction at her school was canceled for the rest of the year because of the pandemic, school guidance counselor Sarah Kamya '17 decided to work from her hometown of Arlington, Massachusetts. Unlike her New York City apartment, her home in Arlington had enough room to accommodate a makeshift office.
After her online workday was over, Kamya often tried to spend time outside. "I would go on a lot of walks every day, and I passed a few Little Libraries in my neighborhood," she says. The Little Free Libraries are part of a national network of outdoor, weatherproof, publicly accessible bookshelves that serve as a free book exchange in many communities. "I found that they were a great place to get or share books," Kamya says. "When families go to one of these Little Libraries, parents often grab books for their children, but also maybe a book for themselves."
As an undergraduate majoring in child and family studies (now known as human development and family science) at Falk College, Kamya had interned at a local middle school. Although she enjoyed her hands-on experience, it underscored the fact that people of color are still underrepresented in materials used to support the curriculum—an observation Kamya recalled from her own childhood as a booklover who rarely saw herself represented. "That was really helpful in opening my eyes to the work I wanted to continue after college," she says.
For the past year, Kamya has been working at Manhattan's Public School 191, the Riverside School for Makers and Artists, where she has seen how important an inclusive curriculum is to the students, who are predominately people of color. "I think my school does an incredible job of amplifying Black voices, and really using the curriculum as a great steppingstone to have these conversations," Kamya says.
In the Little Free Libraries near her home office, Kamya saw an opportunity to enlighten her community. She began by placing books that offered full, relatable portrayals of Black characters. "It was a light bulb, and it just worked out with the timing of being home, the timing of the protests going on, and the systemic racism that's gone on in our country for too long," she says. "I knew that this project would be really simple. I think sharing a book is an easy way to share ideas. You can hold it, underline it, pass it along, or you can have it in your house for years. Why not take this opportunity to really spread awareness and open up people's eyes to things that they hadn't seen before?"
Kamya says these books can potentially enhance awareness, providing access to literature that is new to many families and giving all children an opportunity to read stories that feature Black excellence. She believes books have the power to create change. "That change may be within ourselves or spread to others." She calls her project Little Free Diverse Libraries.
'Cuse Conversations Podcast
Sarah Kamya '17: Amplifying Black Voices Through Little Free Diverse Library Project
Sarah joins the podcast to discuss how she's helping communities across America connect with literature that features people of color.
To finance books, she started with a request on social media. She asked her family and friends to make a donation and promised all proceeds would be spent at Black-owned bookstores. This idea resonated with people, and she raised $10,000. Then, New York City author Eva Chen amplified Kamya's message to her own 1.4 million followers and suggested a way to streamline the donation process. "She said, 'Why don't you make an Amazon Wishlist? And then people will be able to choose the books that they want to send you.'" The wish list has allowed the project to expand even faster, Kamya says. "I've probably received over 500 books on Amazon, and I've sent out over 600 books now to other people in different states." The first week the wish list was open, around 60 boxes of books arrived at Kamya's home. "People are really supportive of this project and have been helping me expand this further than I ever imagined."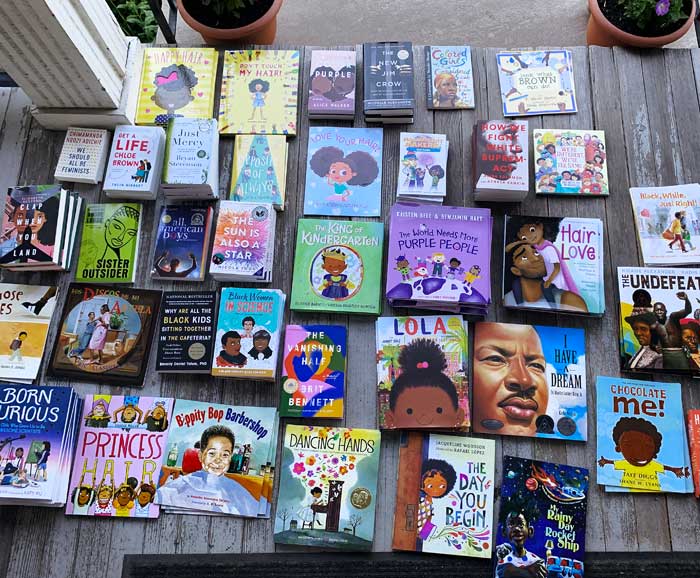 To date, 28 different states have received or will be receiving books from Kamya's collection. She filled 15 Little Libraries in her hometown of Arlington, and volunteers in Austin, Texas, filled five. Three Little Libraries in Los Angeles have received books like Undefeated, written by Kwame Alexander and illustrated by Kadir Nelson, and Hair Love, written by Matthew Cherry and illustrated by Vashti Harrison. Other examples include Angie Thomas' The Hate U Give, Michelle Obama's Becoming, and Beverly Daniel Tatum's Why Are All the Black Kids Sitting Together in the Cafeteria? "It keeps building. My friend, who lives in Kentucky, is filling about four libraries this weekend," says Kamya.
During her summer vacation, Kamya is spending a lot of time in her dining room processing the piles of books. She's enlisted friends and her parents, calling the project a team effort. "I had to make my mom relocate her at home office, but it's okay," she says. When donations arrive, Kamya spends at least an hour unboxing everything. Each book is outfitted with individual stickers that say: "Black stories matter. This book was chosen with love by anti-racist educators. Please treat it with care and return it to the Little Free Library so that others can enjoy it."
Although her project is time consuming, the potential benefits for people of color inspire Kamya. "My hope is that these younger people and students will really feel motivated. Hopefully students of color can see themselves represented and go out there and make change and not be afraid to step up into leadership roles or take on really challenging things, because they're capable." Kamya's goal is for these books to be accessible to all people and to inspire conversations. "I want the books to keep replenishing themselves. I want Black authors to keep writing books, and for characters that are minorities to be represented. Even if all the libraries were filled in the country, it doesn't stop there."
People interested in contributing to this project can do so at the Little Free Diverse Libraries Instagram profile.
~ Brandon Dyer
This story was published on July 16, 2020 as a Syracuse University Story.