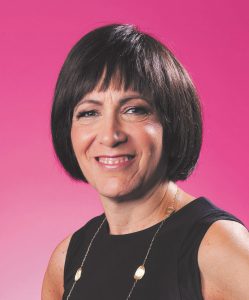 Wendy K. Goidel, Esq., '84, principal of the Goidel Law Group, founded the Geriatric Care Advocacy Center® to promote awareness about an alarming national epidemic – the shortage of geriatricians, allied health care professionals and other helping/service practitioners trained to support the aging population.
"I am passionate about helping seniors to safely and successfully age in place in the residence of their choice," says Goidel. Because the traditional elder law model is fragmented and fails to adequately address critical health and care needs, Goidel created an interdisciplinary, holistic approach that integrates the best practices of both geriatric social work and estate and long-term care planning to assist clients and their caregivers and families along the continuum of care.
Recognizing the invaluable benefits of working on a team with geriatric social workers, Goidel introduced her collaborative model to Falk College's School of Social Work. She is leading and funding an initiative between Goidel Law Group, Falk College, Syracuse University Law School's Elder and Health Law Clinic, and SUNY Upstate Medical Center to develop a medical-legal-social work partnership model at the academic level. This innovative initiative will inure not only to the benefit of students across the triad of disciplines, but ultimately to the growing demographic of aging Americans. This initiative is particularly synergistic with the goal of the School of Social Work's Field Office to provide internships in non-traditional settings, such as legal clinics.
Students are not typically exposed to internships in corporate settings. However, according to Goidel, "students and business leaders need to be educated about the unique value and perspective that social workers can provide to the for-profit sector."