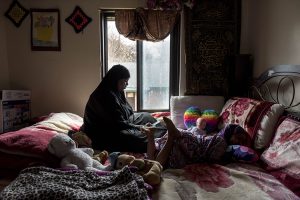 Deynaba Farah: Senior uses Muslim faith to influence positive change in Syracuse community
By Jackie Frere, staff writer. Courtesy of the Daily Orange.
When Deynaba Farah was 15 years old, she had trouble falling asleep at night. As she drifted to sleep in her bedroom, filled with Syracuse basketball memorabilia and an overflowing bookshelf filled with novels like "The Mis-Education of the Negro" and "Malcolm X," she stared out her window and focused on a bright red light blinking in the distance.
That light stands on the roof of Day Hall, and Farah stared at this symbol of her dream of attending Syracuse University every single day throughout high school. She would be the first person in her family to even think about attending an institution of higher education — or go to school at all — because they came as refugees from Somalia. But as a transfer from Onondaga Community College's 2+2 program her junior year, she finally made it to the Hill.
Although the 22-year-old senior social work major takes pride in her studies at SU, Farah uses her education to help further her work off campus. As president of the youth group of the Islamic Society of Central New York on Comstock Avenue, she volunteers and sits on the board of the Rahma Health Clinic, is on the board of Alliances of Communities Transforming Syracuse and trains their youth activity council, has an internship at Dr. King Elementary School helping in school social work, runs a Saturday tutoring program for Refugee and Immigrant Self-Empowerment and, on the weekends, hosts a school for children in her neighborhood to teach them about the Quran and the Muslim faith.
Farah doesn't have much time for herself, but that's the way she likes it.
"I'll never have this time again. I'm using the time that I have — my youth — to make my community better to leave a legacy for my children and for the youth that are coming after me so they know what to follow," she said. "The concept that I'll never have this time again comes from my religion. … I want all children of African descent to feel that they do have a place in this community.
"They do belong — they just have to find where they belong."
Farah was born in the Shabelle tribe by the Shabelle River in Somalia, but when she was around a year old, her family was forced out of their farmland. Her mother, Maey, and her father, Osman, spent many months walking to Kenya. The couple raised their family there for six years until they were "posted" and registered with the United Nations to move to Savannah, Georgia, in 2004.
"I'd like to go back one day to my roots, but Syracuse is the place for us," Farah said. "It was meant to be. I was able to go to school here and become a part of the community in advocacy and activism, and grow as an adult. That was the purpose of Syracuse."
Continue reading at dailyorange.com.