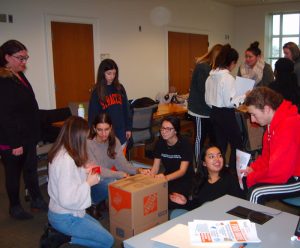 Seniors in the Falk College School of Social Work are hosting a food drive through Tuesday, November 13, 2018 to benefit Huntington Family Centers food pantry. Members of the University community are invited to contribute nonperishable food items and hygiene products. Donation boxes are available in each of the academic department suites located in the Falk Complex, as well as the student lounge located on the second floor across from the Falk Café on 2.
The following nonperishable food items are needed: canned fruit, vegetables, tuna, and chicken; soup; spaghetti sauce; 100% fruit juice; rice, pasta, macaroni and cheese; jelly; cereal.
The following hygiene products are needed: toothpaste, toothbrushes, soap, shampoo, deodorant, toilet paper, and feminine hygiene products.
The food drive is organized in collaboration with Huntington Family Centers, Inc. For more information, contact the School of Social Work at ljmarra@syr.edu or call 315.443.5562.