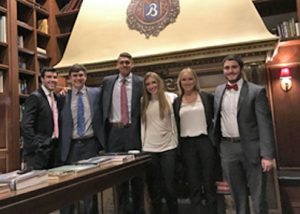 When class began in January 2017, students in Sport Management professor Rick Burton's SPM 324 Sport Sponsorship and Promotion class likely had no idea what was in store for them as the semester unfolded.
"When I was assigned to teach SPM 324, I began to imagine teaching the class in a very unique way," Burton said. "My plan was to involve a major corporation that would invest in our students in a novel fashion that could both inspire and motivate excellence."
Burton used his industry connections to secure Papa John's Pizza and have the global organization provide an assignment to the class that would result in the winning "agency" getting flown to a location of Papa John's choosing at the conclusion of the semester to present their research and conceptual designs.
Students Brian Robinson '17, Zach Thebner '17, Jack Van Ermen '17, Matt Van Loon '17, Nicole Wergiles '17, and Sydney Wysoczanski '17 were on that winning team, and were flown to Colorado Springs May 19-21 to attend Papa John's Global Operations Conference (OPCON).
"Spending the weekend in Colorado with Professor Burton and my five teammates was a rewarding experience for the hard work we put in throughout the semester," Robinson said. "It was a surreal experience to present to a room full of international marketers and definitely an invaluable experience that I will take with me throughout my career."
During the semester, the class was broken up into six groups, each thinking of themselves as a sports marketing agency that would ultimately bid on a series of projects. The agencies learned about sponsorship and promotion and how to research an assignment and then present strategic platforms buttressed by their tactical creativity.
On April 25, 2017 on campus, the groups were each given 30 minutes to present their research to two Papa John's executives on how the company could utilize eSports in sponsorship and promotion in 12 key countries important to Papa John's. Papa John's vice president of international marketing, Melissa Richards-Person (a Syracuse University alum), then selected the winning group.
"I believe this activity inside the Sport Management Department is a wonderful example of our commitment to giving our students the best possible theoretical and applied access to the major challenges facing the sports industry today," Burton said. "Collectively, these students had a unique experience this semester. For them to be able to attend the international conference in Colorado was what makes our program so very special."